We've updated our Privacy Policy.
By continuing to use this site, you are agreeing to the new Privacy Policy.
Pass-rusher Robert Ayers is taking a free agent visit, but his is different than most. The former Buccaneers defensive end will drive from Tampa Bay to Orlando to meet with teams one by one, according to Ian Rapoport of NFL Media. The Bucs released Ayers on Saturday. Ayers, 32, spent the past two seasons in [more]
Our second try at predicting the first round of the 2018 NFL Draft includes the repercussions of two trades already made, as well as the possibility of several more
This is a very interesting free agency period, and offseason in general, for the Tampa Bay Buccaneers. Not that that isn't the case every year, because it definitely is for every team, but the Bucs are currently in a weird place in their franchise. Lodged between having a ton of free cap space and needing to sign some of their young stars to new deals in the next year or so, Tampa...
LIKE WHAT YOU SEE?
GET THE DAILY NEWSLETTER: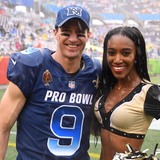 Drew Brees is back with the Saints on a two-year, $50MM deal that is arguably under market for what he provides. However, a deeper look at his contract shows some additional value. There is language in Brees's deal that prevents the team from using the franchise tag on him after the 2019 season, according to Nick Underhill of The Times-Picayune (on Twitter).This is familiar territory...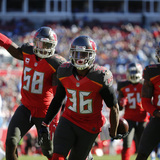 The Cardinals are among the teams interested in free agent cornerback Robert McClain, according to Aaron Wilson of the Houston Chronicle (on Twitter). Meanwhile, the incumbent Buccaneers are also hoping to re-sign him.McClain, 30 in July, saw time both on the outside and in the slot for Tampa Bay in 2017. He amassed 46 tackles, five passes defensed, three interceptions, and one touchdown...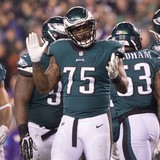 The Tampa Bay Buccaneers have reportedly added some edge pass-rush talent to go with All-Pro Gerald McCoy along the defensive line.According to ESPN's Jenna Laine, Tampa Bay has signed former Philadelphia Eagles defensive end Vinny Curry to a three-year, $27 million contract. Curry, 29, was released by the Eagles earlier in the week after the team couldn't find a trade partner. He...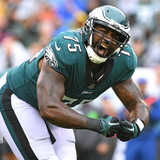 It didn't take long for defensive end Vinny Curry to find a new home. After failing to agree on a pay cut, the Philadelphia Eagles would let him go. However, it didn't take long for the Tampa Bay Buccaneers to swoop in. Again, the it comes down to finances for the Eagles. After all, they are looking to keep their window open after winning the Super Bowl. But that means letting non...
The Tampa Bay Buccaneers have been relatively quiet throughout the offseason. However, they have recently finalized massive, long-term contracts for tight end Cameron Brate and wide receiver Mike Evans. The Bucs signed Brate to a six-year deal, worth $41 million. Brate, who is a former Harvard football player, has had an interesting history with the Buccaneers organization. In 2014...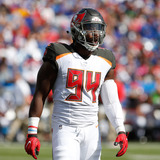 The Buccaneers have re-signed defensive end Will Clarke, according to Greg Auman of the Tampa Bay Times (Twitter link). It's a minimum benefit salary pact, and Clarke will receive a $700K base salary and a signing bonus of $90K. The Bengals selected Clarke in the third round of the 2014 draft, but he never lived up to that billing. Cincinnati waived Clarke after he failed to start...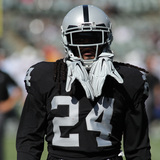 The Oakland Raiders agreed to terms on a one-year contract with former Tampa Bay Buccaneers running back Doug Martin on Thursday. This led many, including us here, to wonder if this meant Marshawn Lynch could be on his way out.According to Mike Silver of NFL Network, the answer to that question is a definitive no. There have been reports that Lynch could be released, along with Michael...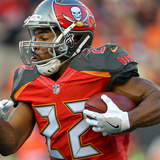 Doug Martin had an extremely disappointing last two seasons with the Tampa Bay Buccaneers before the team released him, but the veteran running back now has an opportunity to revive his career under Jon Gruden.Ian Rapoport of NFL Network reported on Thursday that the Oakland Raiders have agreed to a deal with Martin. Martin rushed for 1,402 yards and averaged 4.9 yards per carry...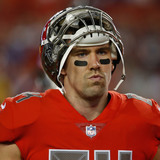 While free agent fever sweeps the NFL, the Tampa Bay Buccaneers are taking care of their own. On Monday, they would announce a six-year extension with tight end Cameron Brate.And while the contract is worth up to $41 million, that's not even close to what he will see."Source tells me that the Bucs and tight end Cameron Brate have agreed to a new deal for six years, $41 million, ...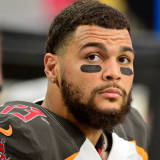 Mike Evans is getting paid.Evans and the Tampa Bay Buccaneers agreed to a five-year contract extension on Friday worth $82.5 million, according to ESPN's Adam Schefter. He says the deal included $55 million guaranteed.The Bucs had picked up Evans' option for 2018 at $13.2 million, which would have left the receiver as a free agent following the season. This contract keeps him locked...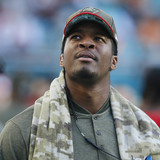 Tampa Bay Buccaneers quarterback Jameis Winston has been cited for careless driving after being involved in a minor collision last week.Florida Highway Patrol report indicates Winston failed to reduce speed in time as traffic backed up on Veterans Expressway and could not avoid rear-ending a car with his Ford F250. The accident occurred on Feb. 13 at approximately 5:05 p.m., per...
MORE STORIES >>
Buccaneers News

Delivered to your inbox

You'll also receive Yardbarker's daily Top 10, featuring the best sports stories from around the web. Customize your newsletter to get articles on your favorite sports and teams. And the best part? It's free!