We've updated our Privacy Policy.
By continuing to use this site, you are agreeing to the new Privacy Policy.
It was a pretty fantastic week for Blues defenseman Alex Pietrangelo, who led all NHL scorers with nine points in four games. But, no one could top the Kunlun Red Star netminder, whose 2018 exploits also include dominant Olympic performances for Finland.
The St. Louis Blues first hosted the Chicago Blackhawks early this season, at a time when hopes were still high for both teams. Chicago boasts the second-longest playoff appearance streak, with St. Louis trailing not far behind in fourth. However, a hugely disappointing season ensures that the Blackhawks will break their streak this year, and the Blues are in danger of following...
Blues forward Vladimir Tarasenko was ruled out for their 5-4 overtime win over Chicago due to an upper-body injury.
LIKE WHAT YOU SEE?
GET THE DAILY NEWSLETTER:
CHICAGO (AP) — Patrik Berglund scored 3:31 into overtime, and the St. Louis Blues came from behind for a big 5-4 victory over the lowly Chicago Blackhawks on Sunday night. Defensemen Alex Pietrangelo and Vince Dunn each had a goal and three assists for the Blues, who are trying to rally for a playoff wild card in the Western Conference. Alexander Steen had a goal and an assist, and...
ST. LOUIS (AP) — Vladimir Tarasenko left the St. Louis Blues' game against the New York Rangers on Saturday night with an upper body injury and will not return. Tarasenko played 7 minutes, 53 seconds in the first period and left the ice following his last shift of the period with no visual injury. He did not return to the Blues' bench to begin the second period. The Rangers lead...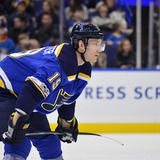 If the St. Louis Blues are going to make a late push for the playoffs, they'll have to do it without their most experienced defenseman. The team announced today that Jay Bouwmeester will be out for the remainder of the season dealing with his hip injury, and faces a four to six month recovery timeline. Scottie Upshall is also in danger of losing the rest of the year, and will be...
The St. Louis Blues are crashing and burning. With an ugly 8-3 loss to the Minnesota Wild, the Blues have now lost seven consecutive games and are looking like they should have sold more pieces at the deadline. The losing streak, which has been about as brutal as they come, is now their worst since the 2009-10 season. But hey, at least they scored a few goals against the Wild, right...
The St. Louis Blues made one of the larger trades on deadline day, sending Paul Stastny to the Winnipeg Jets in exchange for a conditional first-round pick in 2018, a conditional fourth-round pick in 2020 and prospect Erik Foley. This trade seemingly signaled the Blues were ready to throw in the towel on 2017-18. Despite their spot in the standings, that may have made sense given...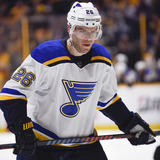 The Winnipeg Jets have acquired Paul Stastny from the St. Louis Blues in exchange for a 2018 first-round pick, forward Erik Foley and a conditional 2020 fourth-round pick. St. Louis will retain 50% of Stastny's remaining contract, which will expire at the end of this season.The fourth-round pick will not be sent if the Blues sign Foley, who is a junior at Providence College and...
The St. Louis Blues are once again in a familiar position. As the trade deadline approaches, the Blues are a team that has more questions than answers. As each game passes, they're looking like less of a contender and more of a pretender. How is it that each year Blues fans are forced to question this team's effort? Why is it that each year, regardless of who is head coach, there...
With only a week until the trade deadline it sounds as though the St. Louis Blues are going to be this year's big buyer. They are a team that are rumored to be in on almost everyone, and they have been specifically linked to the big names at the deadline who are more than just rental players. On Saturday they were rumored to be in on both Mike Hoffman and Derick Brassard of the Ottawa...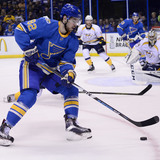 The St. Louis Blues are among those looking for help at the trade deadline, but they may just have found it from an internal source. Zach Sanford, the prospect included in last season's Kevin Shattenkirk deal, has been activated off injured reserve and assigned to the San Antonio Rampage. Sanford hadn't played yet this season as he worked his way back from a shoulder injury. Though...
The time has come. It's halfway through November and we finally have to admit it. The St. Louis Blues are good.There was suspicion ahead of the 2017-18 campaign that this Central Division team may be a sleeper competitor in the West. Then some preseason injuries squashed any belief in that, and many turned back to focusing on other teams. But now, a month and a half into the season...
MORE STORIES >>
Blues News

Delivered to your inbox

You'll also receive Yardbarker's daily Top 10, featuring the best sports stories from around the web. Customize your newsletter to get articles on your favorite sports and teams. And the best part? It's free!