We've updated our Privacy Policy.
By continuing to use this site, you are agreeing to the new Privacy Policy.
PHOENIX – You don't have to squint very hard to see what Stan Van Gundy envisions on the horizon.
For Chauncey Billups, it seems like more a matter of when, not if, he eventually leaves his analyst position with ESPN to take a general manager position with a NBA team. On Tuesday, he dispelled more rumors of such a move, denying interest of a possible reunion with the Detroit Pistons. The former NBA star — who played for seven teams during his 17-season professional career — has...
Energized by Reggie Jackson's return, the Detroit Pistons smashed the Phoenix Suns 115-88 on Tuesday night.  Jackson finished with five points and two assists in 12 minutes of play.  Blake Griffin flirted with a triple-double, posting 26 points, 10 assists and nine rebounds. The Detroit...
LIKE WHAT YOU SEE?
GET THE DAILY NEWSLETTER:
Jackson will be limited to 15 minutes in his first game back from ankle injury Reggie Jackson is back. The Detroit Pistons point guard, who has been sidelined since Dec. 26 with a severe ankle injury is finally making his return to the floor. Jackson will start and be limited to roughly 15 minutes overall and 3-4 minutes per quarter, as reported by the Detroit Free Press. It...
News broke Tuesday afternoon that the Detroit Pistons are interested in hiring Chauncey Billups as part of a "totally revamped front office."  Billups, who spent eight seasons with the franchise, is currently a television analyst for ESPN. The Detroit Pistons have expressed interest...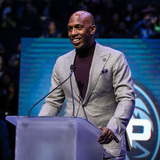 The Pistons retired Chauncey Billups' jersey, and he'll forever be linked to the franchise that he spent eight of his 20 seasons in the league with.Billups also helped the team win a title in 2004, a feat no one expected to happen. The former point guard made a number of big shots for the team down the stretch, and it's safe to say he'll never have to pay for a drink in Detroit ever...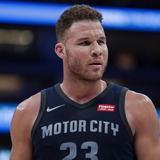 Blake Griffin likely believed he was going to be a Clipper for life when he signed a five-year, $171 contract with the team last summer, but things changed for him in a hurry. Now that he has had time to digest the trade that sent him to the Pistons, Griffin seems to be embracing the newest chapter of his career.In a candid interview with Marc J. Spears of The Undefeated, Griffin...
The sky is not falling guys. The Pistons are okay right now, and here's why. The sky is not falling, Chicken Little. I mean, Pistons fans. Everyone needs to put their big boy pants on and take a chill pill, seriously. Things aren't going great right now, but Pistons fans must be able...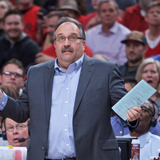 While the injury that has sidelined Reggie Jackson since December was referred to as an ankle sprain, the veteran point guard actually had complete tears of the ligaments in his right ankle, writes Keith Langlois of Pistons.com. When Jackson first went down with the injury, the Pistons announced he'd be re-evaluated in six to eight weeks, and he admits he thought he'd be back on...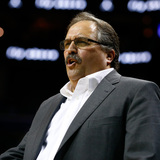 The NBA is handing out fines like it's Halloween night. This time, Detroit Pistons head coach Stan Van Gundy gets the $15K taken out of his wallet. This makes him the third coach in the past few days to receive a fine. The first two fines, of course, would fall to Doc Rivers and Alvin Gentry. Who's next?This is getting silly. On Saturday, Van Gundy would rip into the officiating...
The Detroit Pistons started a six-game road trip this week to try and salvage any hope they had of making of the playoffs. They responded the exact why fans expected, they forgot to show up. Tuesday at Utah Jazz- Loss The easiest way to sum up this game, was the Utah Jazz won as a team, and the Detroit Pistons lost as one. The injury to Reggie Bullock did not help, but the effort...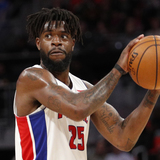 Detroit Pistons guard Reggie Bullock was the victim of a hit-and-run incident over the weekend.Bullock was on his way to practice on Sunday when his car was struck and the other driver fled, per Keith Langois of the team's official site. The fifth-year swingman was said to be OK but did not end up going through practice due to what Pistons head coach Stan Van Gundy called back spasms...
Whether you like it or not the Detroit Pistons head coach Stan Van Gundy is getting himself fired. After three years of disappointing play, Van Gundy is on track to produce a fourth. No postseason could mean no job for Van Gundy. This begs the question, is their someone better than him? Taking the President of Basketball Operations out of the picture, Van Gundy is a highly regarded...
MORE STORIES >>
Pistons News

Delivered to your inbox

You'll also receive Yardbarker's daily Top 10, featuring the best sports stories from around the web. Customize your newsletter to get articles on your favorite sports and teams. And the best part? It's free!