We've updated our Privacy Policy.
By continuing to use this site, you are agreeing to the new Privacy Policy.
Michael Bennett of the Philadelphia Eagles has been indicted by a grand jury in Texas related to Super Bowl LI. A few weeks ago, there was plenty of excitement surrounding the Philadelphia Eagles acquiring Michael Bennett from the Seattle Seahawks to make the defensive line even stronger...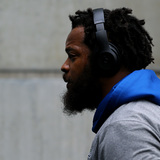 The Harris County, TX district attorney has issued a warrant for Michael Bennett's arrest over alleged elderly abuse at Super Bowl LI.According to charges filed Friday, Bennett injured a 66-year-old paraplegic who was controlling field access after the New England Patriots' win over the Atlanta Falcons as he tried to force his way onto the field. Bennett's brother Martellus was playing...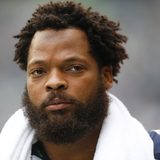 New Philadelphia Eagles defensive end Michael Bennett is in the news for a couple reasons. He's slated to release a controversial new book and had some choice words for a former Seattle Seahawks teammate recently.That's all background noise. Instead, news coming out of Houston Friday could be very troublesome for both Bennett and his new team.According to KHOU in Houston, Bennett...
LIKE WHAT YOU SEE?
GET THE DAILY NEWSLETTER:
New Philadelphia Eagles defensive end Michael Bennett has made it known more than once where he stands on the current state of this nation. Heck, immediately after he was traded from Seattle to the defending champs, Bennett used his latest career move to make a political statement.So we shouldn't be terribly surprised that Bennett is now releasing a book titled "Things That Make...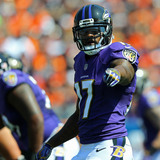 The Philadelphia Eagles have found their replacement for Torrey Smith.The Eagles and Wallace hae agreed to a one-year deal worth $2.5 million, according to NFL Media's Ian Rapoport.Wallace, 31, spent the past two seasons with the Baltimore Ravens, catching four touchdowns each season. He has struggled to replicate the same success he had early in his career with the Pittsburgh Steelers...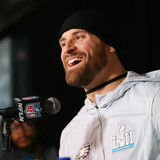 Chris Long has yet to address the retirement rumors surrounding him, but the latest word indicates that he's planning to play in 2018. Long signed the new contract that was offered to him last week, according to Jeff McLane of the Philadelphia Inquirer (on Twitter). As previously reported, the new deal guarantees Long $3M in 2018 and includes a jump in base salary from a non-guaranteed...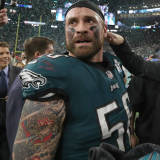 The Eagles have offered to restructure defensive end Chris Long's contract, but it's not a certainty that he'll play this season. Long is mulling retirement, according to Michael Silver of NFL.com.  The new deal would guarantee Long $3MM in 2018, according to Field Yates of ESPN.com (on Twitter). That includes a jump in base salary from a non-guaranteed $1MM to $2.5MM guaranteed...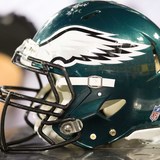 If you can find a woman that's down with this, we recommend putting a ring on her finger and thanking the gods the world over that she's okay with spending every day with you.During a wedding reception over the weekend, Philadelphia Eagles fans ran the now famed "Philly Special."It's all sorts of brilliant. It also needs a play-by-play before we show the video.The bouquet obviously...
One of the more unique situations professional sports franchises find themselves in is what to do after winning a championship. Simple logic says that winning a championship means nothing should change about a team if it was good enough to win it all. In reality, the number of factors going into a championship span longer than anyone could compile. The Philadelphia Eagles find themselves...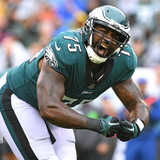 It didn't take long for defensive end Vinny Curry to find a new home. After failing to agree on a pay cut, the Philadelphia Eagles would let him go. However, it didn't take long for the Tampa Bay Buccaneers to swoop in. Again, the it comes down to finances for the Eagles. After all, they are looking to keep their window open after winning the Super Bowl. But that means letting non...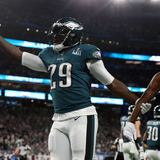 Now we know why Frank Gore left Detroit without a deal. Instead, the Lions opted for two-time defending Super Bowl champion LeGarrette Blount. After a 9-7 season, the Lions would shake things up by hiring Matt Patricia as head coach. And while Blount definitely helps the offense, that's not Detroit's problem. In fact, the Lions would finish with a bottom-half defense last season...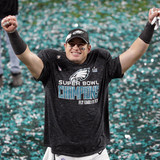 The Eagles tasted sweet revenge in Super Bowl LII, defeating the very team that ousted them when they last played in a February game in Super Bowl XXXIX.New England went into the game listed as the favorite, but it was Philadelphia that looked like the more prepared and more experienced team, as they jumped out to a 10-point lead at the half.The Eagles exposed the Patriots linebackers...
MORE STORIES >>
Eagles News

Delivered to your inbox

You'll also receive Yardbarker's daily Top 10, featuring the best sports stories from around the web. Customize your newsletter to get articles on your favorite sports and teams. And the best part? It's free!