We've updated our Privacy Policy.
By continuing to use this site, you are agreeing to the new Privacy Policy.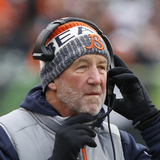 John Fox, who most recently coached the Chicago Bears from 2015-2017, will remain prominent in the NFL, only as an analyst.According to Richard Deitsch of The Athletic, Fox has been hired by ESPN, although his specific role is presently unknown.Sources tell The Athletic that the longtime NFL head coach, with stops in Carolina, Denver and Chicago over his 16 years leading teams, has...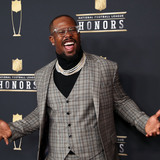 Denver Broncos linebacker Von Miller currently ranks 48th among SNIPdaily's NFL Top 100 for the year. And he obviously knows how to use that popularity for all the right reasons.In a photo captured by TMZ Sports, Miller was spotted near a docked yacht with an abundance of women clad in some pretty sexy beach wear. Hey, it is the NFL's offseason, so why not, right? Miller is probably...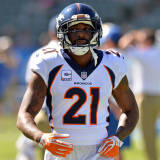 The Denver Broncos moved on quickly from cornerback Aqib Talib, and he's not thrilled about it.The longtime Denver cornerback, since traded to the Los Angeles Rams, reacted rather quickly to the announcement that the Broncos had given his No. 21 to new acquisition Trumaine Brock — and he wasn't pleased. Come on, Aqib. It's not going to be retired, so anybody has a right to wear it...
LIKE WHAT YOU SEE?
GET THE DAILY NEWSLETTER: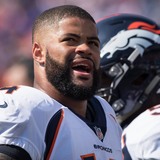 Cody Latimer will make the move from Denver to the Big Apple, announcing (via Twitter) he has agreed to terms with the Giants.Adam Schefter of ESPN.com confirmed the signing (Twitter link), which will relocate a former second-round pick who spent four seasons with the Broncos. Although Latimer didn't live up to his draft status, he served as a valuable special-teamer in Denver and...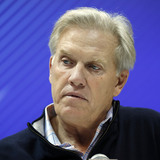 Kirk Cousins was one of the best free agent quarterbacks to hit the open market in several years, but he ended up being too expensive for many of the teams in need of help at the position. That includes the Denver Broncos, and they knew it right from the start.Cousins' agent, Mike McCartney, spoke at length with Peter King of The MMQB about the days and hours leading up to Cousins...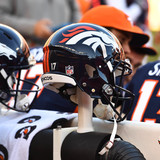 While the Broncos have made two Super Bowls in the past five seasons and have seen numerous players sign extensions or land lucrative deals elsewhere, they have not had much luck filling their right tackle job. Denver has assembled Week 1 lineups with five different right tackles since the 2013 season, and in 2018, the franchise could be set to extend that streak to six. The Broncos...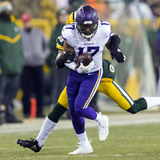 We learned earlier today that the Steelers signed Jon Bostic to a two-year deal as a potential fill-in for Ryan Shazier, and now we'll take a swing around a few other North division clubs: Paul Dehner Jr. and Jim Owczarski of the Cincinnati Enquirer think the Bengals did very well for themselves during the first week of the new league year, and they believe the club is done with...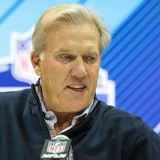 Broncos general manager John Elway really only had one main job on Friday, and he failed at it, which resulted in a pretty funny moment that has since gone viral.Elway and the Broncos held Case Keenum's introductory press conference, and it was then that the team's general manager announced their new quarterback. The only problem is that he did so incorrectly. The good news is that...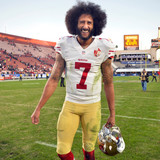 Season 2 of "will any teams reach out to quarterback Colin Kaepernick in free agency?" has officially begun. Everyone has their opinions as to why Kap remains unsigned when quarterbacks less talented are inking deals across the country.Campaigning on behalf of Kaepernick is Denver Broncos linebacker, Brandon Marshall. Marshall told TMZ Sports that when it comes to player support...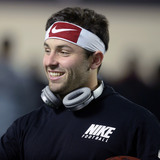 NFL teams flocked to Norman, Okla., to watch Baker Mayfield at his pro day, but the prized quarterback enjoyed a unique opportunity to impress a legend.According to ESPN's Jake Trotter, Mayfield acknowledged that it was "surreal" to throw in front of John Elway.Mayfield is among the generation that learned about Brett Favre, Dan Marino and Elway as the greatest quarterbacks of the...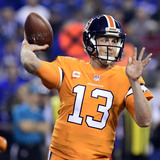 This offseason, the Minnesota Vikings would lose all three of Keenum, Bradford and Bridgewater to free agency. Therefore, they would need to bring in at least two quarterbacks. And while the Vikings are paying Kirk Cousins big money, that's not stopping them from making other moves.So on Wednesday, they would work to acquire quarterback Trevor Siemian from Denver. Siemian, of course...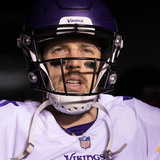 Case Keenum is expected to sign a deal with the Denver Broncos on Wednesday. And according to The Denver Post's Nicki Jhabvala, the Broncos got the quarterback the team was targeting the entire time, as the former Minnesota Vikings quarterback was deemed a "better fit" over Kirk Cousins. What's more, despite several members of the Broncos openly recruiting Cousins over the past few...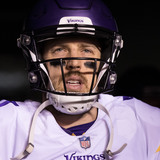 The Denver Broncos don't appear to be landing Kirk Cousins after all. Instead, Case Keenum intends to sign with Denver once free agency begins. Keenum, of course, comes off a season which saw him complete 67.6 percent of his passes with 3,547 yards and 22 touchdowns. Meanwhile, the Vikings have a pretty big question to answer now. They are without a quarterback, which means they...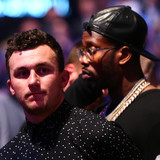 Von Miller wants the Denver Broncos to get QB Kirk Cousins. But in the meantime, he's rooting for Johnny Manziel."I talk to him probably once a week. I believe in him. … want to see him do great."Manziel, of course, is attempting a comeback to the NFL. But he hasn't seen the field since the 2015 season. Numerous off-field issues, including a domestic violence incident, has kept him...
MORE STORIES >>
Broncos News

Delivered to your inbox

You'll also receive Yardbarker's daily Top 10, featuring the best sports stories from around the web. Customize your newsletter to get articles on your favorite sports and teams. And the best part? It's free!