Jose Fernandez joins tragic list of premature departures
By Matt Whitener | Last updated 9/26/16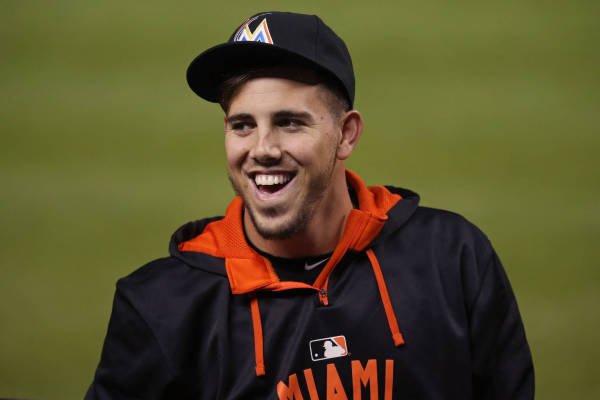 Jose Fernandez of the Miami Marlins laughs during the fourth inning of the game against the Atlanta Braves at Marlins Park on April 8, 2015. Fernandez was killed in a boating accident Sunday morning.
Rich Schultz/Getty Images
Sunday was a dark day in the sporting world from its onset, as news of the tragic death of Miami Marlins pitcher Jose Fernandez broke at dawn. Fernandez, one of the game's brightest young stars and frontline contender for the National League Cy Young Award, died early on Sunday morning when a speed boat he was a passenger on crashed and overturned.
Fernandez' death has sent a stunning current throughout not only the baseball community, but the nation in general. As much a part of the shocking demise of a player of his caliber of talent, it is also the sadness of such a young man departing from the world so quickly.
It is yet another in a line of shocking tragedies that have impacted the sports world in such a disheartening fashion in years past. Many notable athletes have died during their career; Roberto Clemente, Thurman Munson, Darryl Kile, Pat Tillman, Bobby Phills and Eddie Griffin standout among the many that have seen their lives and careers cut short due to tragic circumstances. But occasionally, the dually unfortunate combination of rare talent and extreme early age have combined to see early demises that change the potential history of their given sport. And the death of the 24-year-old Fernandez is without a doubt one of the latter.
With his passing still settling into collective consciousness of the baseball world, here is a look at other unfortunate early demises of elite level talents that never had the opportunity to fully see their legacies be cemented.
Jose Fernandez
With the unfortunate circumstances that caused for a recollection of this fashion to need to be compiled, it is only right to start with Fernandez. The 24-year-old right-hander had established himself as one of the best pitchers in baseball from the very onset of his career, winning the 2013 National League Rookie of the Year. His debut season saw him finish third in the NL Cy Young vote as well, behind a 2.19 ERA while leading his league in fewest hits allowed and most strikeouts per nine innings, as well as adjusted ERA+.
Fernandez continued to solidify his stature as one of the game's best arms, even amid two seasons shortened by Tommy John surgery. In his first full campaign back this season, he picked up right where he left off, winning 16 games and leading the NL in strikeouts per nine innings (12.4) and fielding-independent pitching (2.29).
He was force to be dealt with on the mound, but also a vibrant personality off of it as well. He was one of the most joyous players in the game, who radiated a true love and appreciation of his life. This was perhaps because of the road that led him to having it in the first place. Fernandez attempted to defect from his native Cuba four times before finally succeeding at age 15, even having to save his mother's life on the final trip. He built his life from the ground up in the Tampa area once arriving and had only began to see the heights that he will sadly never reach. Fernandez passed just short of two months removed from his 24th
birthday after a tragic boating accident early on Sunday morning. He was in line not only to be perhaps the greatest Cuban pitcher in history, but also a driving force in Latin American baseball in the United States.
Len Bias
Bias' death comes as a cautionary tale of the times he lived in, the superstar lifestyle and the sequential career lost because of it.
Bias was the best player in the ACC since Michael Jordan, becoming a two-time ACC Player of the Year in 1985 and 1986, as well as a consensus All-American in his senior year for the Maryland Terrapins. Standing at 6'9, he displayed an all-around game that was rare for his size at the time, and averaged 23.2 points and seven rebounds per night in his final season. As a result, Bias was one of the most anticipated prospects in years headed into the '86 NBA Draft.
Bias was taken second overall in the '86 Draft by the Boston Celtics, who were the defending NBA Champions. The idea of the enormous talent of Bias joining the Boston core of Larry Bird, Kevin McHale, Robert Parish and more was a tantalizing idea that seemed to project the 80's Boston dynasty well into the next decade.
But none of this was to be, as Bias' died of a cocaine overdose just two days after the draft during a party on campus at the University of Maryland. His death sent a shockwave through the sporting world, especially the NBA, whom had been plagued by substance abuse for years. His death ended what could have been a generational level rivalry with Jordan and his Bulls, and cemented Bias as perhaps the greatest player to never play professional basketball.
Hank Gathers
No athletes has had more ever-present and shocking death than fateful last moments of Gathers' life. The 6'7" forward led the nation in both scoring and rebounding as a senior at Loyola Marymount, with totals of 32.7 points per game and 13.7 boards. He was on the shortlist for National Player of the Year honors, as well as to become a lottery pick in the 1990 NBA Draft. However, he was also plagued by an irregular heartbeat, and had been prescribed a medication that could aid the issue and allow him to play.
Gathers had collapsed early in the 1989-90 season during a game due to his heart issues, but had continued to play on after a brief hiatus. These issues led to him collapsing mid game in March of 1990, on a nationally televised contest during the West Coast Conference Tournament. Despite being taken off of the court, Gathers died shortly afterwards at a local hospital at only 23 years old.
Reggie Lewis
Tragedy again struck the Celtics in early '90s, when yet another of their promising stars fell to an early demise. Lewis was the Celts first round pick the year after the death of Bias, but was limited initially in his court time due to the depth of his talented team. However, an injury to Bird granted him a chance to breakout in his second season, which he did by averaging 18.5 points per game. Lewis stayed at close to that level for his entire career, two times topping 18 points a night, before averaging 20.8 per in each of his final two seasons and becoming an All-Star in the process.
Sadly, Lewis' rise was abruptly ended at age 27, when he died of a heart attack during an offseason practice. His death shook the foundation of the Celtics organization, who mourned its second premature death in under a decade. Lewis' #35 was retired by the organization, making him one of two non-Basketball Hall of Fame members to ever get the honor from the prestigious franchise.
Drazen Petrovic
He was the Michael Jordan of European basketball; a dazzling shooter and leader of the early wave of the expansion of top-tier basketball across the Atlantic Ocean. So good was Petrovic that he averaged over 30 points per game in seven different seasons in his native Croatia, and once scored 112 points in single game as a 21 year old.
Petrovic brought his talents to the NBA in 1989 and ultimately spent five years between the Portland Trailblazers and New Jersey Nets. His final season in 1992-93 was his best, as he averaged 22.3 points per game and shot 44% from behind the arc. After a stretch of being misused and receiving limited minutes early in his career, Petrovic had finally been able to get the floor time to show what he was capable of, making the All-NBA third team.
Tragically, he died following the season during a trip between Poland and Croatia in a car accident with his girlfriend at only 28 years old. Petrovic is a national hero in his native country and remains one of the most revered players that was never able to give his best in the NBA.
Steve Prefontaine
Prefontaine was one of the first rock star track and field competitors in American history, as at one time he held seven separate records at once in middle-to-long distance events. Fewer runners in history have dominated the amateur ranks to the extent that Prefontaine did. He was dominant in a fashion that is best compared to Michael Phelps more recent legendary run. During his collegiate career at the University of Oregon, "Pre" never lost a race at three miles, 5,000 meters, six miles or 10,000 meters. He only lost three times in his entire collegiate career, with each coming in the mile race.
He was rambunctious competitor and made the cover of Sports Illustrated at age 19, in route to becoming a national celebrity headed towards the 1976 Olympic Games. However it was not to be, as Prefontaine died in a single car accident following a party on the campus of the University of Oregon. The car flipped and pinned him beneath it, ending perhaps the greatest US amateur sporting career that never was able to be competed at the Olympic level.
Sean Taylor
One of the most promising talents in the NFL in many years at the safety position, Taylor's life met a tragic end not by accident or by personal fault, but at the hand of domestic violence.
Taylor had become a star in short order upon reaching the NFL, becoming a Pro Bowler by his fourth season and one of the biggest defensive playmakers in the game. He was both a punishing tackler, but also capable of playing both safety positions with equal ease and effectiveness.
Yet while his star was hitting new heights and clarity, as he started to build a young family, it was also brought to a heartbreaking end. Taylor was shot in his home, as he attempted to confront a burglar in the middle of the night. His girlfriend and 18-month old daughter were in the home at the time. Taylor was only 24 years old.
MORE FROM YARDBARKER
MLB News

Delivered to your inbox

You'll also receive Yardbarker's daily Top 10, featuring the best sports stories from around the web. Customize your newsletter to get articles on your favorite sports and teams. And the best part? It's free!