Nationals' biggest challenge right now is survival
Washington Nationals starting pitcher Max Scherzer turned to the team in grand style this week holding the Marlins to one run over seven innings on Monday, Aug. 28, 2017.
Brad Mills-USA TODAY Sports
It should seem self-evident what type of shape a team that is approaching 30 games over .500 in late August is in. The easy answer should be that they are putting the finishing touches on what has been a spectacular season, and should be counted among the very best in the game.

Perhaps no word is more synonymous with the Washington Nationals than 'should,' because it sums up both the recent history and immediate condition of the franchise so well. They are a team that boasts the reigning National League Cy Young winner in Max Scherzer, as well as one of the game's most prodigious talents in Bryce Harper, who is just two years removed from a precocious Most Valuable Player award in his own right. Mix in the presence of last season's MVP runner-up in Daniel Murphy, a stockpile of highly lauded prospects made good upon in the likes of Stephen Strasburg, Anthony Rendon and Trea Turner and cap it off with one of the most impressive veteran revivals in recent years in Ryan Zimmerman, and the Nationals should be considered an unbreakable force headed into the postseason.

But because of what has been, that perception cannot be fully embraced. That impressive collection of talents is nothing new in the nation's capital. If anything, no team in the National League has looked more impressive on paper than the Nationals have over the last half decade. Since 2012, they have won the NL East three times and finished no lower than second place in any season. In those championship seasons, their average season record has been 96-66 and have held home-field advantage in each series.

Despite this, they have failed to win a single postseason series over the same timespan, securing a deserved reputation as the game's most reliable underachievers. It has been a "Groundhog's Day" dilemma of sorts: win big early, before flaring out late. In the last six years, three different managers have been tasked with getting them over the hump, with Dusty Baker the latest to come up short. Both of his predecessors – Davey Johnson and Matt Williams – won NL Manager of the Year while in D.C., an honor that could find Baker this season, and were replaced the following the year. And due to this checkered past, it has seemed impossible to trust the Nationals to live up their potential. But this year, something seems different. Maybe, after all the years of failing early in the battle, the Nationals have developed a callous to the wounds of defeat; the type of scar tissue that allows them to trudge forward regardless of the obstacles along the way.

And those obstacles have been plentiful, as the summer of 2017 has presented a plethora of complications unlike any the previous incarnations of the team has endured. On the year, there have been 11 different starting pitchers have been deployed, with another 15 different relievers being in the mix behind them. 13 different outfielders have suited up, while nine different pitchers have tried (and largely failed) at closing out games within a regularly resurfaced bullpen that has spent much of the year as the National League's worst. At the peak of club's health and wellness misfortune last week, 12 different members of the roster inhabited the disabled list at once, including five members of the Opening Day lineup.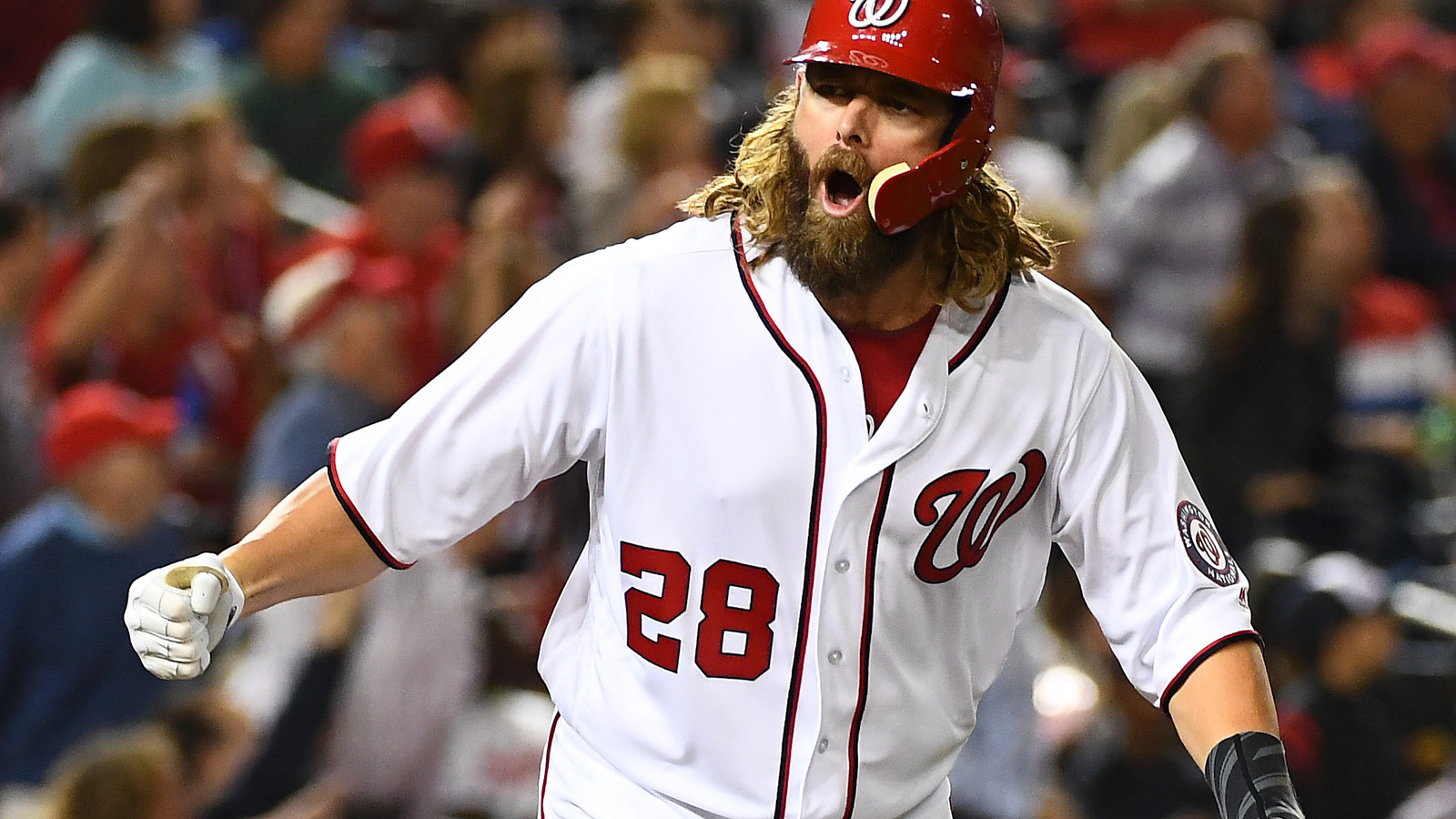 Washington Nationals left fielder Jayson Werth reacts after hitting a two run home run against the Miami Marlins during the fourth inning on Aug. 28, 2017.
Brad Mills-USA TODAY Sports
Yet throughout all the decimation of their best laid plans, the Nationals have still stood tall. They have not spent a day with less than a 10.5 game lead in the NL East since July 18, despite carrying a roster that has regularly changed over that time. It is a lead that has been aided by the association with a handful of the NL's worst teams, but the Nationals cannot help who they are regional paired with. However, what is easily within their control is how they perform against their playoff-bound peers, a pairing which has yielded encouraging results thus far. In contests with teams currently inhabiting playoff slots, they are 16-10 on the year and carry a losing record against none. It is without a doubt a strong showing for a team that rarely has enough time together to constitute true cohesion.
However, while it has been a testament to the depth of the roster and ability for who is left standing to step up, there should be no illusion that a makeshift version of the team will not do when October rolls around. In an NL postseason scene that is shaping up to have the experience of the defending champion Cubs, as well as a trio of particularly potent wild card players options in Arizona, Colorado and Milwaukee, not to mention a historically significant Dodger team that is getting healthier by the week, the road ahead will be unfriendly terrain to any team bringing less than its best troops to the wars ahead in October.
The good news is that currently, the odds of a restocked Nationals team are improving on the daily. Scherzer returned on Monday night without skipping a beat, holding the Marlins to one run over seven innings, while striking out 10 en route to his 13th victory. Joining Scherzer in making his return to action was left fielder Jayson Werth, who had been out of action since early June. Werth made his presence known, hitting a two-run homer in his second at-bat back.
And the good news will continue Tuesday, as the team's dynamic shortstop Turner will return as well from a wrist fracture. The 24-year-old had stolen 35 bases in 68 games before heading out of action back on June 29, and still ranks third in the league in the category despite missing exactly two months.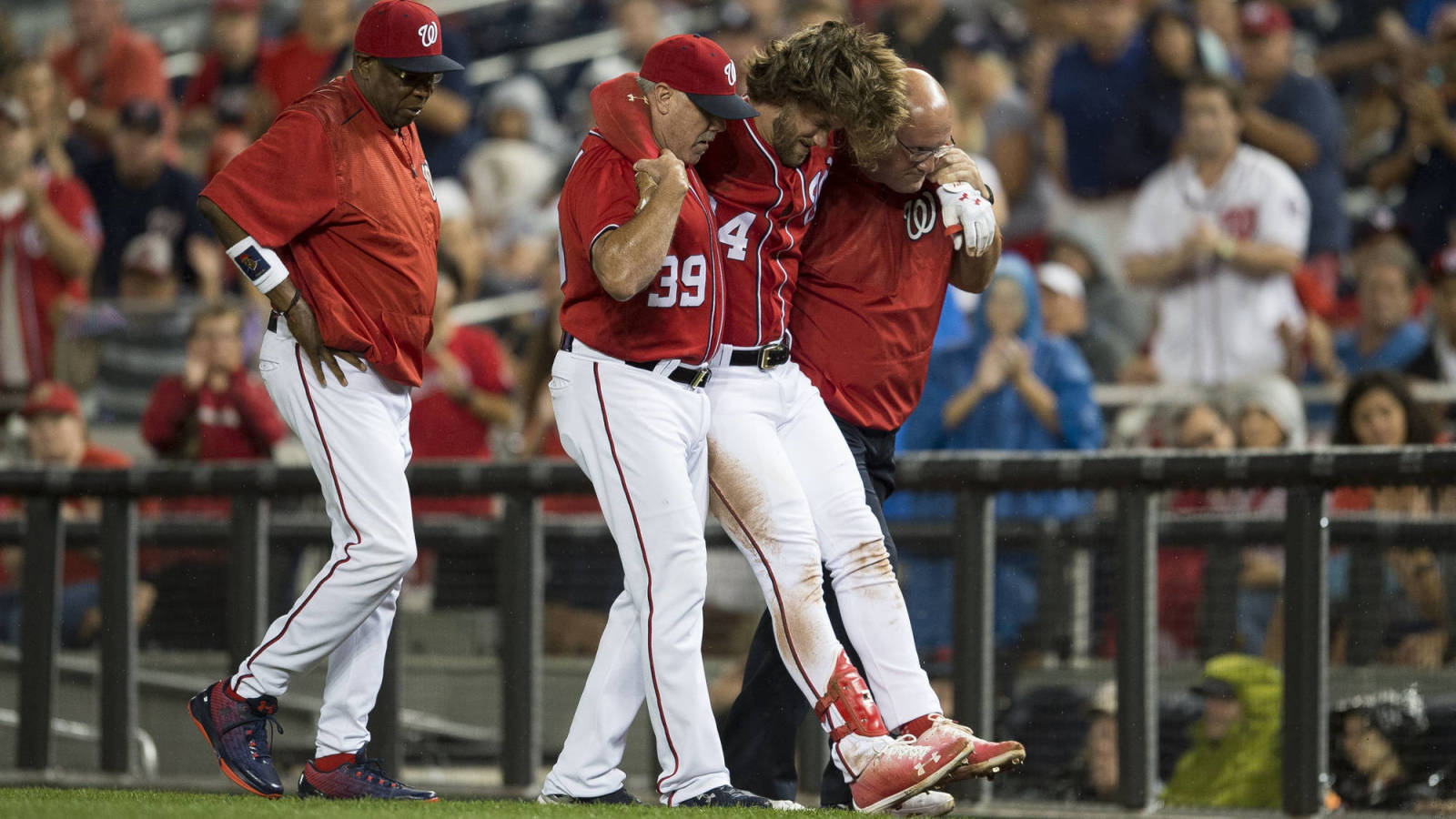 Washington Nationals right fielder Bryce Harper is helped off the field by hitting coach Rick Schu and trainer Paul Lessard after suffering an apparent injury against the San Francisco Giants during the first inning at Nationals Park on Aug. 12, 2017.
Michael Owens-USA TODAY Sports
Yet the biggest wild card in the mix is the availability of Harper. Out of action since narrowly avoiding what looked to be a catastrophic injury running the wet bases in early August, Harper still hasn't resumed baseball activities. But with such a sizable lead in hand and their destiny of opening the postseason as the No. 2 seed in the National League already secured, there is no reason to rush him back prior to the beginning of the NLDS. But his presence will be essential if the Nationals' full potential is to be realized on the year.
Credit must be given to a team whose tenacity has finally learned to match its talent base. But regardless of the perils they have endured along the way, the final expectations for the Nationals will be tempered until they can finally breakthrough the glass ceiling that has lingered above the franchise for so long. Will this year finally be the year? Who knows, but one thing that is for certain, if an exorcism of the ghosts of postseason past is to finally take place, the Nationals' internal game of "Survivor" must end soon.
Nationals News

Delivered to your inbox

You'll also receive Yardbarker's daily Top 10, featuring the best sports stories from around the web. Customize your newsletter to get articles on your favorite sports and teams. And the best part? It's free!
MORE FROM YARDBARKER:
QUIZ: Every MLB player to win both ROY and MVP honors
There have been 26 MLB players who have earned both Rookie of the Year and Most Valuable Player honors in their career. How many can you name?
1951 NL ROY, 1954 and 1965 NL MVP
1956 AL ROY, 1961 NL and 1966 AL MVP
1968 NL ROY, 1970 and 1972 NL MVP
2001 NL ROY, 2005 and 2008 NL MVP
2012 AL ROY, 2014 and 2016 AL MVP
MORE FROM YARDBARKER
Nationals News

Delivered to your inbox

You'll also receive Yardbarker's daily Top 10, featuring the best sports stories from around the web. Customize your newsletter to get articles on your favorite sports and teams. And the best part? It's free!