Sorting out a crowded National League MVP scene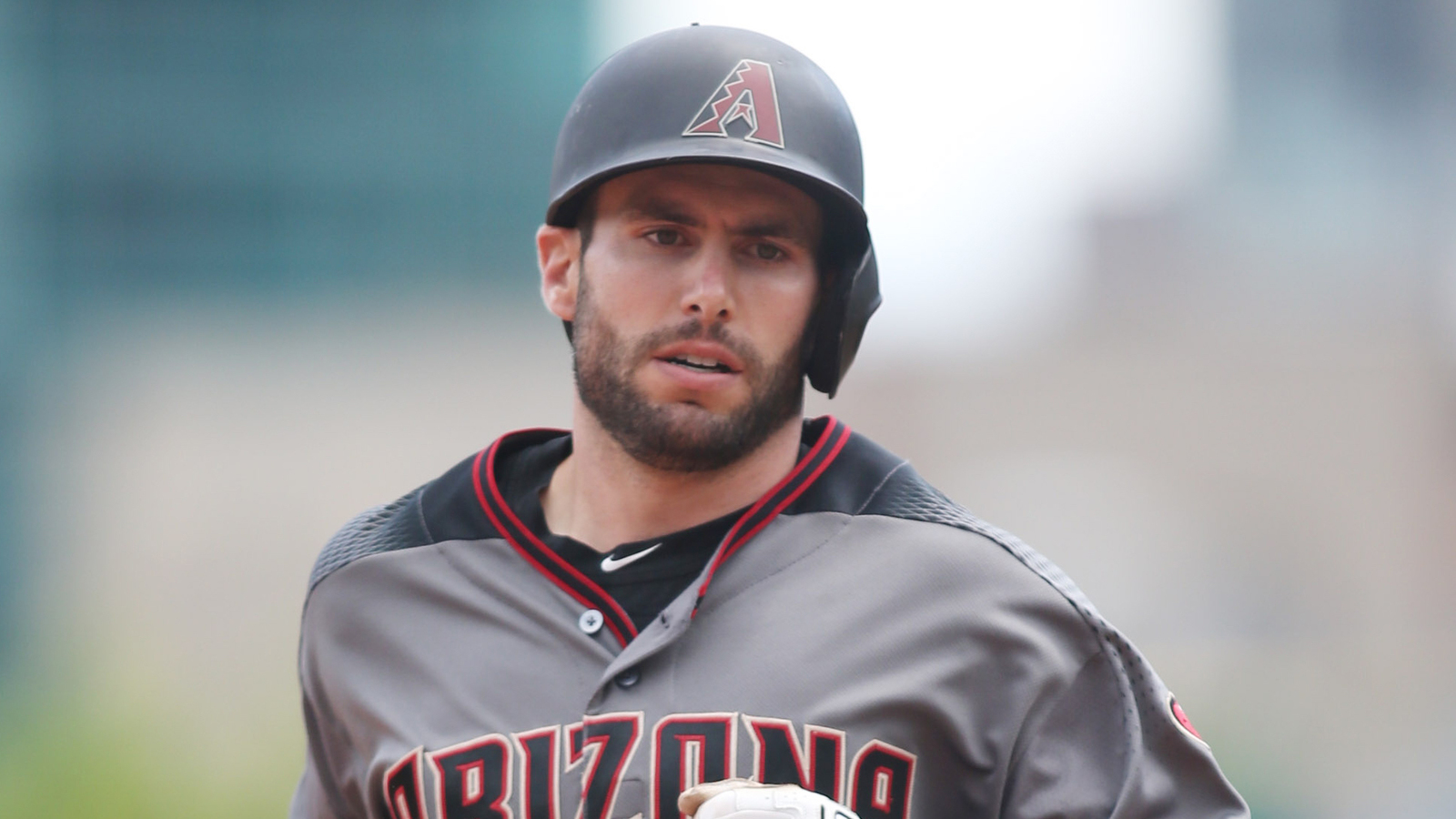 Diamondbacks first baseman Paul Goldschmidt has finished second in NL MVP voting twice.
Charles LeClaire-USA TODAY Sports
When Bryce Harper fell on the rain-soaked bases of Nationals Park late in a game against the San Francisco Giants, it did more than just put a streak of collective terror through the nation's capital. It instantly changed the entire National League MVP picture.

While Harper has been out of action for nearly a month, his mark on the NL season is still tough to miss. In addition to the 14-game cushion the Nationals continue to enjoy that he helped to build, Harper still checks in on multiple NL leaderboards, including a mention in the top 10 of the Triple Crown categories. It was a quite a season that the 24-year-old wunderkind was experiencing, one that seemed to position Harper to take home his second MVP in three years before he went on the disabled list.

With Harper out of commission for the rest of the regular season, it's opened up the competition for who will be crowned top dog at the end of the slate. In a crowded NL field, another singular favorite has been slow to emerge and decisively take the lead, but with the season's final month set to start later in the week, it is a prime opportunity to dissect the case for each of those top MVP candidates who could take home the award — which would be first-time victory for all — as they each prepare to put the finishing touches on a handful of career-best campaigns.
Nolan Arenado, Rockies. While Giancarlo Stanton's onslaught has essentially ended any opportunity of Arenado leading the NL in home runs for a third straight season, he is on pace for the best overall season of his career. His split line numbers of .306/.363/.589/.951 are all career highs, and while his homer streak is coming to an end, he is leading the NL in RBI for the third straight season. Arenado is on pace to score 100 runs, push for 50 doubles, and his 2.2 dWAR leads all Major League third baseman, putting a fifth straight Gold Glove in his sights.

What's more, he is finally getting to have his numbers count down the stretch for the first time, as the Rockies are fighting for their first postseason invite of his career. Arenado is hovering around perennial status in the MVP picture and putting up his best case to win the award to date.
Cody Bellinger, Dodgers. While Bellinger's late start to the season and recent injury will not stand in the way of him taking home Rookie of the Year honors, they do complicate his candidacy for MVP honors. After all, many put stock in league-leading stat totals playing into the picture. Just as there is much to be said about sustained excellence, there is much to be said for making a tangible, easy to identify difference as well. Bellinger's emergence was a pivotal part of launching the Dodgers on the larger-than-life run they have taken toward the postseason. His 13 home runs led the NL in June, and he is second in the NL in home runs on the year despite having nearly 90 fewer at-bats than any other of the league's top 10 in the category, excluding the injured Harper and Jay Bruce, who has left for Cleveland.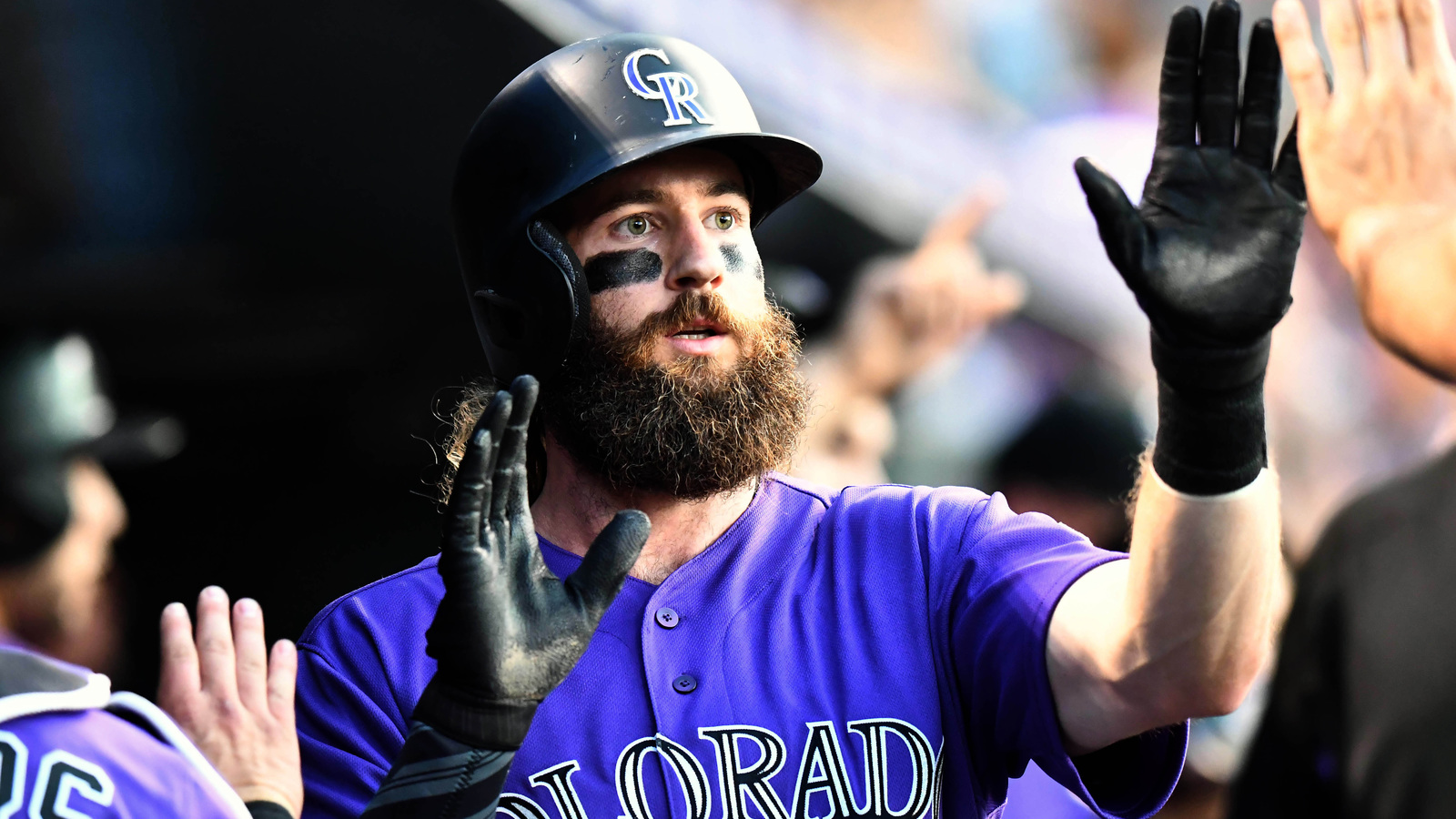 Don't count out Rockies center fielder Charlie Blackmon in the NL MVP race.
Ron Chenoy-USA TODAY Sports
Charlie Blackmon, Rockies. Although he is eclipsed in star power and raw eye-popping numbers by his teammate Arenado, it could easily be argued that nobody has played a better supporting role this year than Blackmon. "Chuck Nazty" (who is a shoo-in for best nickname of the year) is leading the NL in batting average (.339), hits (by nearly 20 at 181) and runs scored (119). Only Stanton has a better slugging percentage than Blackmon's .618, and he is the only player in the game with 150 hits, 20 doubles, 10 triples, 30 home runs, 80 RBI and 10 stolen bases. He is a daily one-man blitzkrieg but runs the risk of being lost in the shuffle behind more easily recognizable names within the MVP picture.
Paul Goldschmidt, Diamondbacks. While he isn't leading in any category, there isn't another player who finds himself toward the top of more league leaderboards than Goldschmidt, yet again. The Arizona first baseman finds himself in the NL top five of each of the Triple Crown categories (.318/32/105), as well as OPS (1.026), runs scored (98), walks (84), stolen bases (17) and slugging percentage (.599). It is an all-around display of brilliance that has twice found Goldschmidt as the runner-up in previous MVP races in 2013 and 2015. With the rise of the D-backs accompanying his performance this year — along with the absence of Harper keeping him from once again blocking his best efforts — Goldschmidt could be the favorite when the dust settles.
Anthony Rendon, Nationals. Although the Nationals took an indisputable loss when Harper was sidelined, the cupboard wasn't left bare. The presence of Rendon on an everyday basis has made life without the former-MVP favorite a reality that is easier to face, as his impact shouldn't be underestimated. The dependable Rendon's WAR is just a hair behind that of Arenado and a mixture of elite defensive presence (10 defensive runs saved) and dependable offensive output (.303 average, 85 RBI, two more strikeouts than walks at 71 vs. 73) has made him the definition of a high value daily contributor.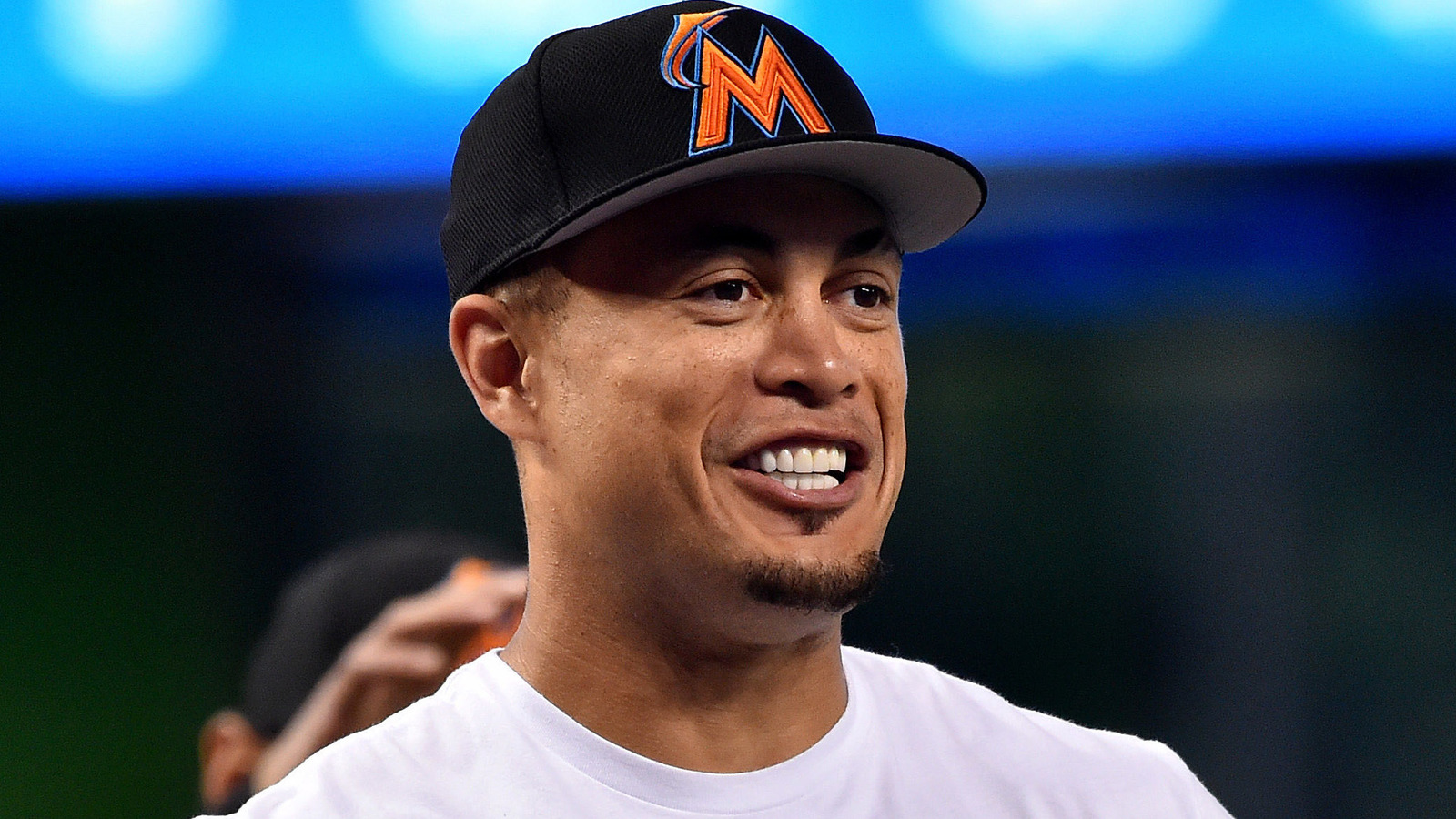 Giancarlo Stanton's power surge in Miami has made him a leading MVP candidate.
Steve Mitchell-USA TODAY Sports
Giancarlo Stanton, Marlins. Stanton has turned in a season's worth of production since the All-Star break (he has a legitimate shot at 30 post-ASG homers) and is putting together one of those rare campaigns where his level of performance is so great that it supersedes the fact he is a member of a team that likely does not have the postseason awaiting it.

Stanton has already become the first player since Barry Bonds in 2001 to reach 50 home runs by August and is on pace to hit 63 on the year, a total that would place him firmly in range of making a claim as the "legitimate" single-season home run king. It is the type of singular, high-profile dominance that could separate Stanton from the pack in a year where parity is ruling the roost among the NL's elite performers. While using the validity of a record is a controversial lane to turn down, it is one that could garner some support among an MVP voting committee who still remains divided on the topic 15+ years after Bonds rewrote the record book in the summer of '01.
Joey Votto, Reds. The only player mentioned here who has previously taken home MVP honors, Votto is a much better player now than he was when he won the award back in 2010. The 33-year-old first baseman has cornered the market on being the best player on a bad team in baseball and continues put out the type of effort that makes tuning in to the Reds worth it for his at-bats.
Votto's 6.3 WAR is tops among MLB first basemen, and he has walked nearly 40 times more than any other player in the league. And the claims that he passes up on chances to drive in runs in favor of reaching base have been put to bed as well, as Votto is on pace to set personal bests in home runs (33) and RBI (90), while still reaching base at a higher clip than any other hitter in the game (.449). This effort was aided by the fact he nearly broke Ted Williams's record for most consecutive games reaching base multiple times, as he tied the Splendid Splinter at 20 games doing so.
PLAYERS:
Joey Votto
,
Giancarlo Stanton
,
Anthony Rendon
,
Paul Goldschmidt
,
Charlie Blackmon
,
Cody Bellinger
,
Nolan Arenado
TEAMS:
Cincinnati Reds
,
Miami Marlins
,
Washington Nationals
,
Arizona Diamondbacks
,
Colorado Rockies
,
Los Angeles Dodgers
MORE FROM YARDBARKER:
QUIZ: Name the last three MVPs for each position in the NL and AL
The Most Valuable Player Award in MLB spreads across the entire playing field awarding players for excellence in the game with varying skill sets each year. Who are the last three MVPs for each position in the NL and AL in MLB?
Clue: Position-League-Team-Year
MORE FROM YARDBARKER
MLB News

Delivered to your inbox

You'll also receive Yardbarker's daily Top 10, featuring the best sports stories from around the web. Customize your newsletter to get articles on your favorite sports and teams. And the best part? It's free!