Three Up, Three Down: Cleveland hits historic heights while Cubs struggle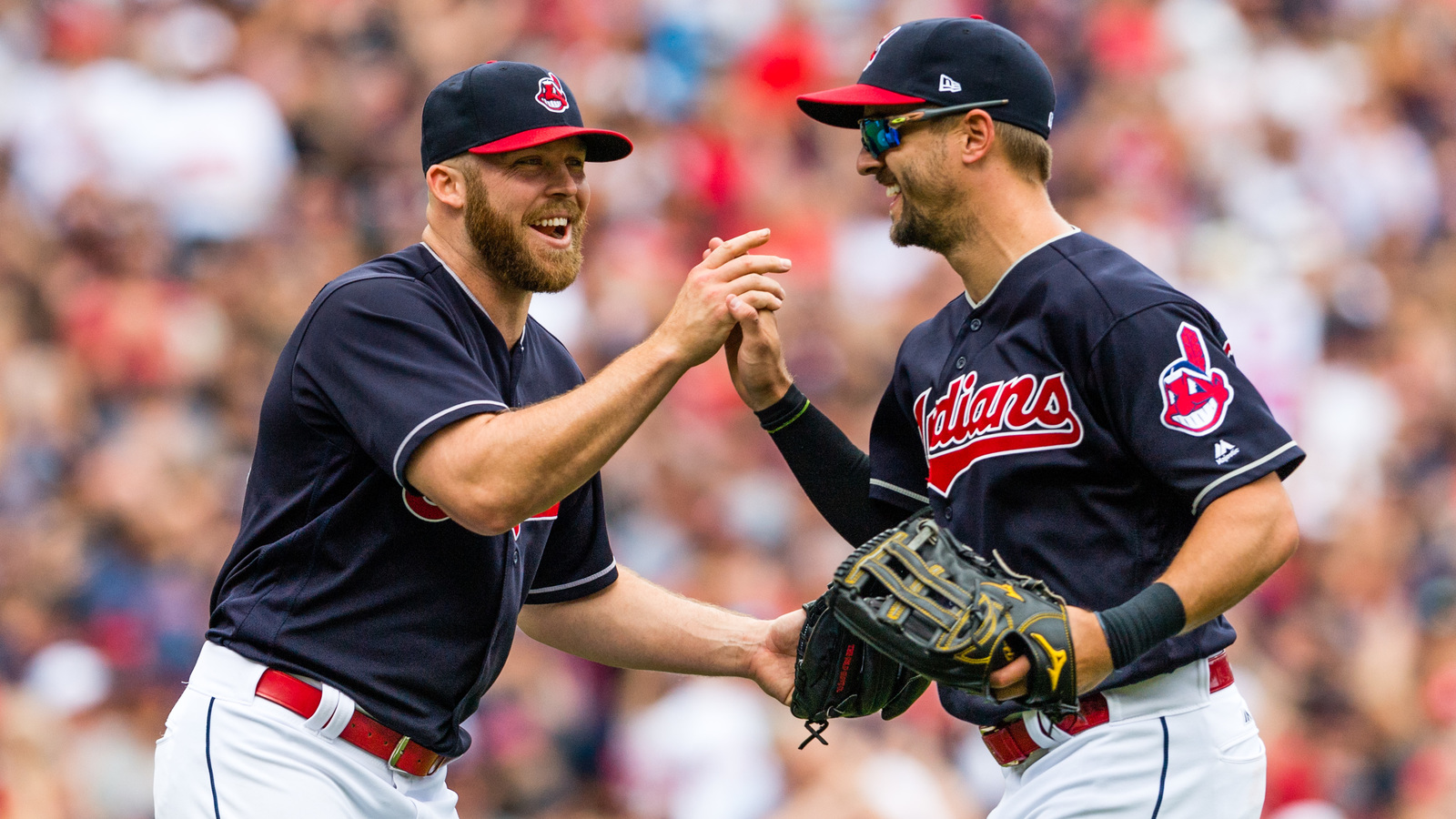 Closing pitcher Cody Allen celebrates with left fielder Lonnie Chisenhall of the Cleveland Indians who made the final catch to defeat the Detroit Tigers at Progressive Field on September 13, 2017. The Indians defeated the Tigers to win 21 straight games. 
Jason Miller/Getty Images
Welcome to this week's edition of Three Up, Three Down — your weekly catch-up of the three best highlights (and lowlights) from around the league. We're here for all of the cheers and the jeers, because it's baseball. You can't have a winner without someone losing along the way.
Up: Cleveland's winning streak reaches historic heights
The last time we checked in with you guys, Cleveland was on a 14-game winning streak and the Diamondbacks were also in the midst of a double-digit win streak. I declared that the D-backs were the hottest team in baseball, but then Cleveland decided that they wouldn't lose from now until the time I wrote this. Cleveland now owns the American League record for consecutive games won after they beat the Tigers 5-3 on Wednesday afternoon to push the streak to 21 games
Now, baseball has been around for a very, very long time. Yet, only a handful of teams in the vast history of this game have ever reached the lofty heights of a 21-game winning streak and this year's Cleveland team is now one of those teams. We're witnessing history, and if you're a fan of the Tribe then I sincerely hope that you're enjoying every last moment of this incredible run.
Down: This really should not have been an inside-the-park grand slam
An inside-the-park home run is always exciting, and an inside-the-park grand slam is even more exciting. That's exactly what the Nationals achieved last Friday when Michael Taylor hit a looping liner to center field that made it to the wall and allowed the Nats on base to all make it home safely. With all due credit to Taylor, this probably shouldn't have happened.
As you can see in this video, Odubel Hererra is the one who deserves the most credit for making this happen. He misplayed the liner and tried to make a jumping catch, which went right over his head. It then took him forever to get to the ball, then his throw to the cutoff man was bad, and that was contagious for the cutoff man since his throw as bad as well. It was a comedy of errors and a gift of four runs to the NL East Champions. 
Up: Shohei Otani is coming to the United States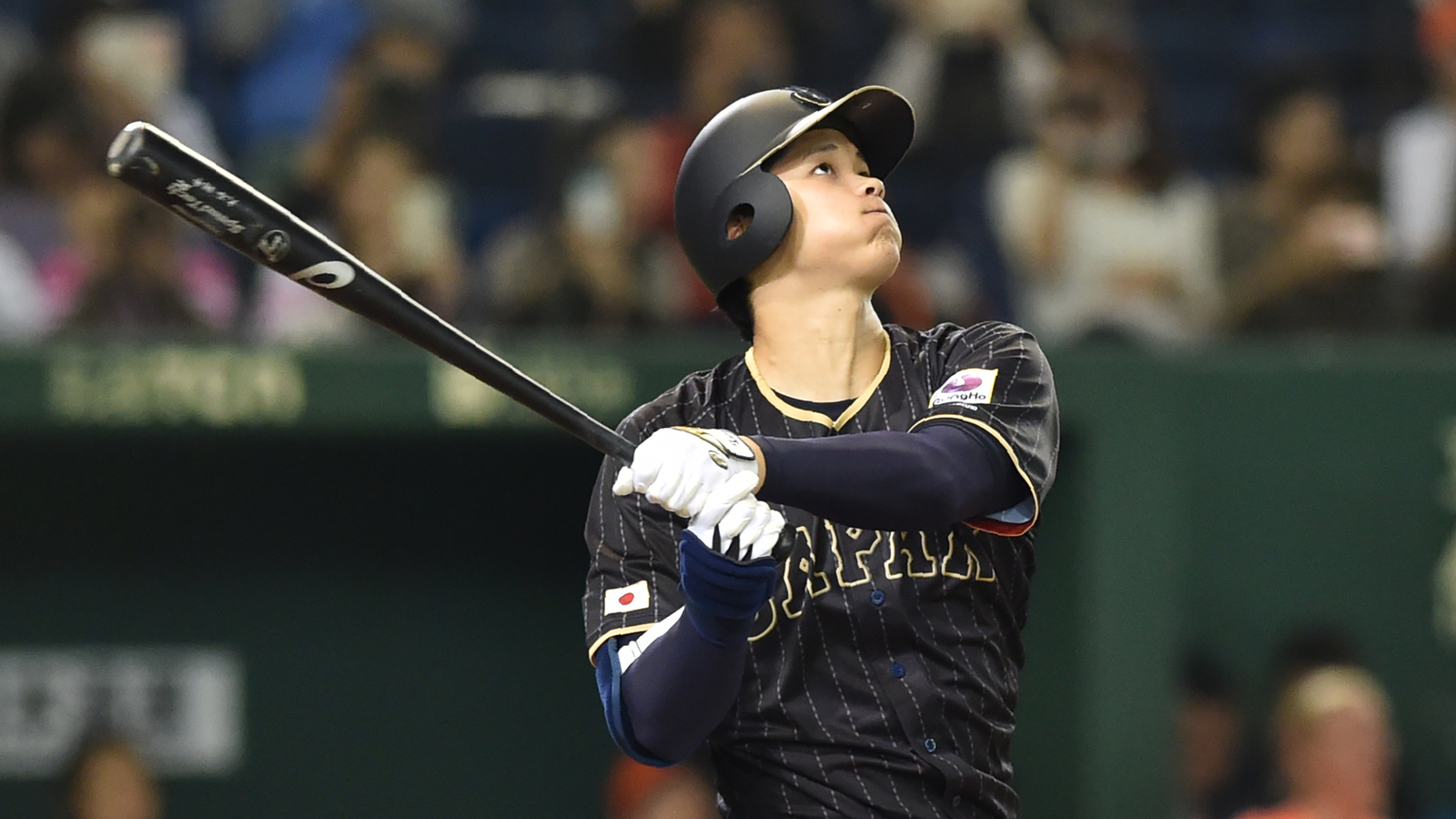 KAZUHIRO NOGI/AFP/Getty Images
We're still a couple of months away from prime Hot Stove season, but we already know that there's going to be a huge prize this offseason. Shohei Otani has been rumored to make his move from Japan to the United States for a long time now, and word came out this past week that he will be posted and MLB teams will be free to bid for his services.
Now, if you're a fan of players making as much money as possible and you were the one writing this article, you'd probably place Otani in the "Down" section since he's actually leaving hundreds of millions of dollars on the table by not waiting a couple of years to come over. Still, Otani is going to make some team happy with his pitching ability and he's also got a great bat to go along with it. The bidding war for Otani will be fierce this offseason, and even more so since it won't cost the teams nearly as much.
Down: The Cubs are in a big-time fight for the NL Central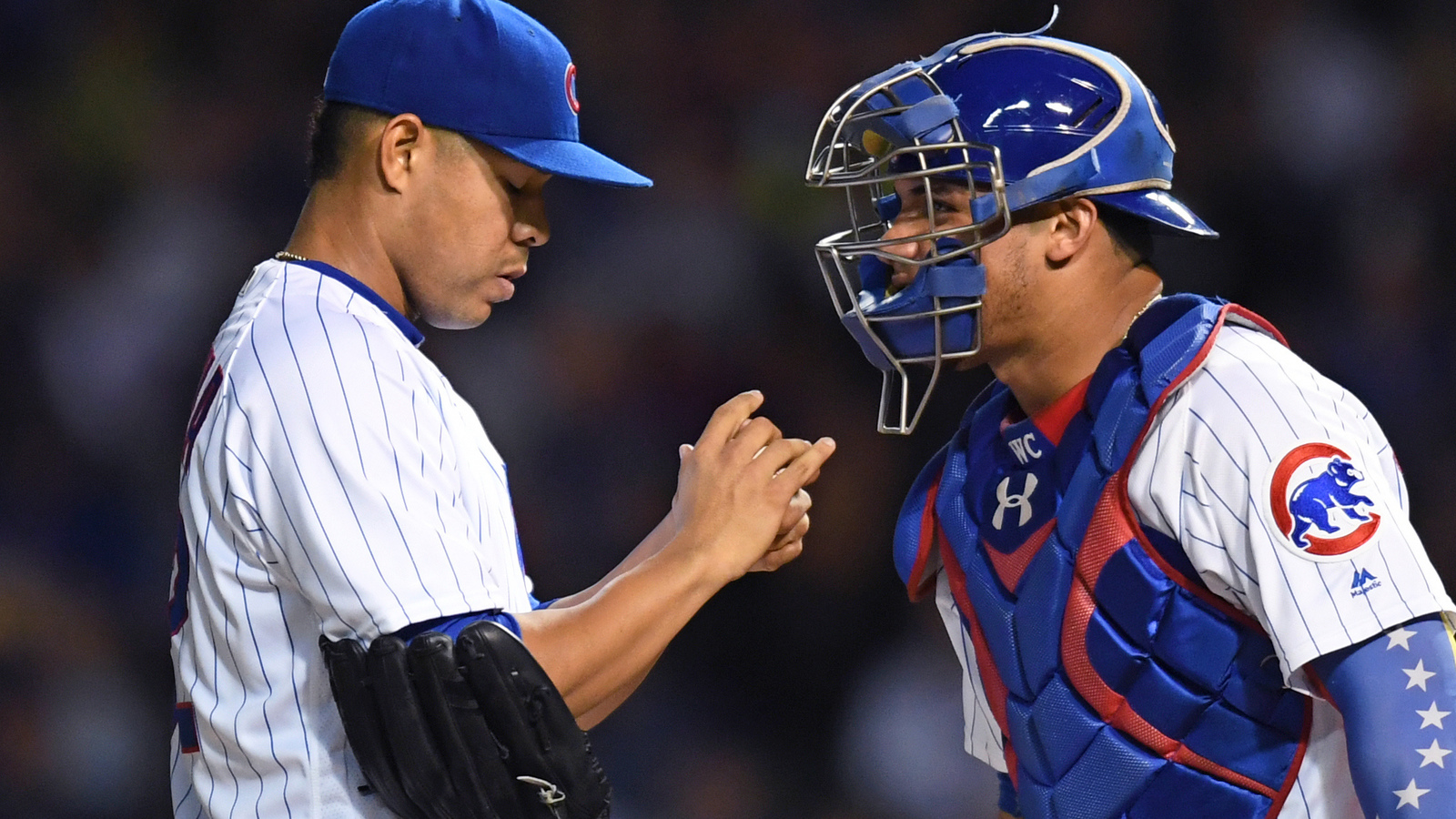 Jose Quintana, Willson Contreras and the rest of the Cubs have plenty to be worried about in the National League Central.
Patrick Gorski-USA TODAY Sports
While most of the divisional races across baseball are just about settled, there are still a few that are in doubt. Both Wild Card races are still interesting, and the AL East is still up for grabs as well. However, I don't think that anybody in baseball would've figured that not only would the NL Central still be in doubt this late in the season, but that it would be a three-horse race as well.
The Cubs are still on top in the division, but the Brewers and Cardinals just refuse to fade away. The Brewers in particular have been a thorn in Chicago's side, and they proved it by sweeping them over this past weekend. The sweep brought Milwaukee very close to the Cubs in the standings, which means that the defending World Series champions are now in a huge fight just to even make it back to the playoffs to defend their title. Yikes!
Up: Twins hit seven homers in seven straight innings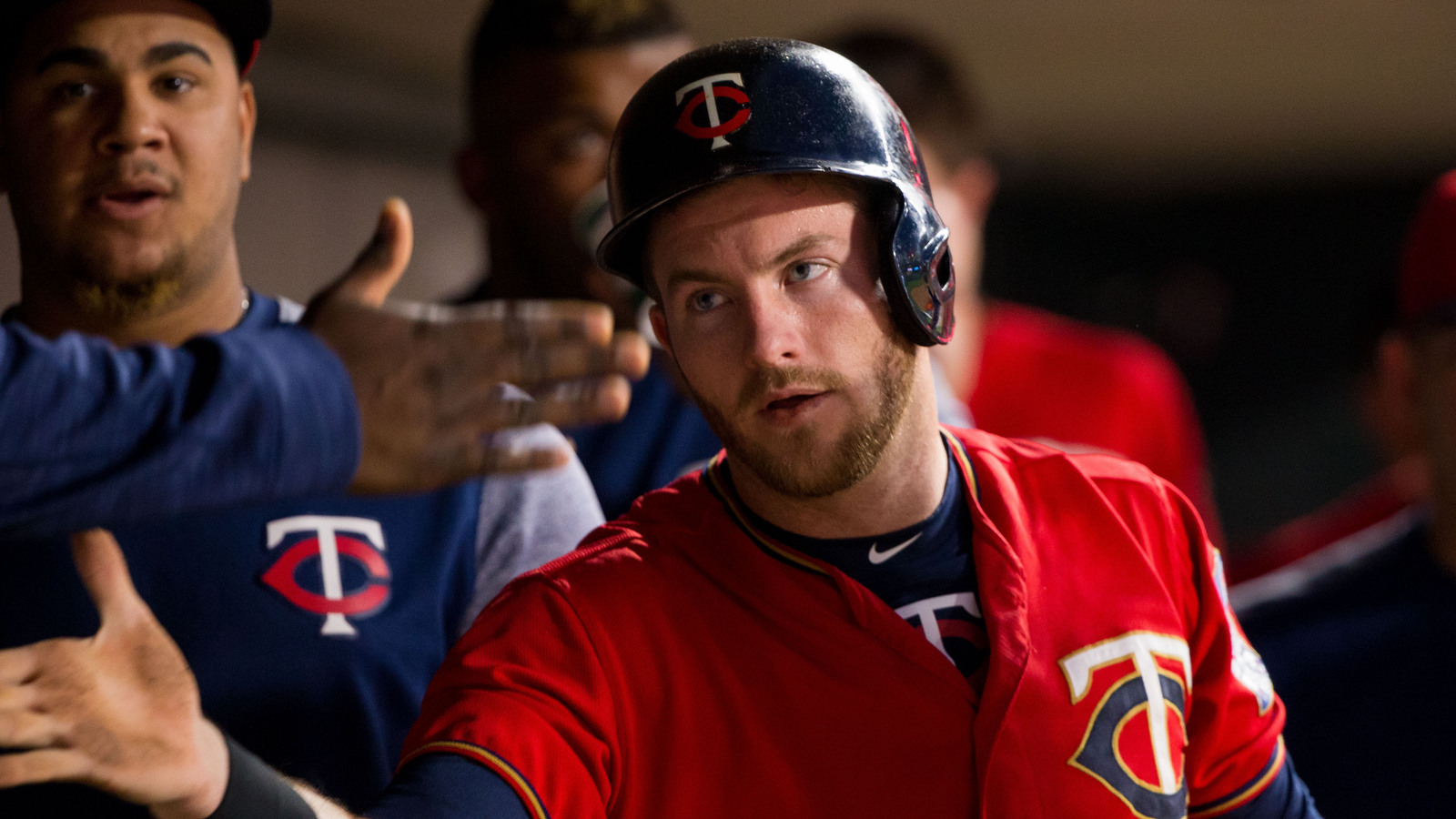 Minnesota Twins designated hitter Robbie Grossman celebrates after scoring a run in the second inning against the San Diego Padres on Sept. 12, 2017.
Brad Rempel-USA TODAY Sports
The Twins were supposed to be in the midst of a rebuilding year, but instead they are very much entrenched in the clogged AL Wild Card race. They've grabbed a hold on the second and final Wild Card spot and look determined to ride it all the way to October. If they keep playing like they did on Tuesday, then they could very well topple the apple cart and make it to the playoffs.
They beat the Padres 16-0 on Tuesday and made history while doing so. Brian Dozier hit a home run in the first inning, and the Twins proceeded to hit dingers in every inning until the eighth inning of that game. That's right – they hit a home run in seven straight innings to start the game. Between this and Cleveland's 21-game winning streak, there's something strange in the water in the AL Central.
Down: Oakland will host a free game next year, and we're all jealous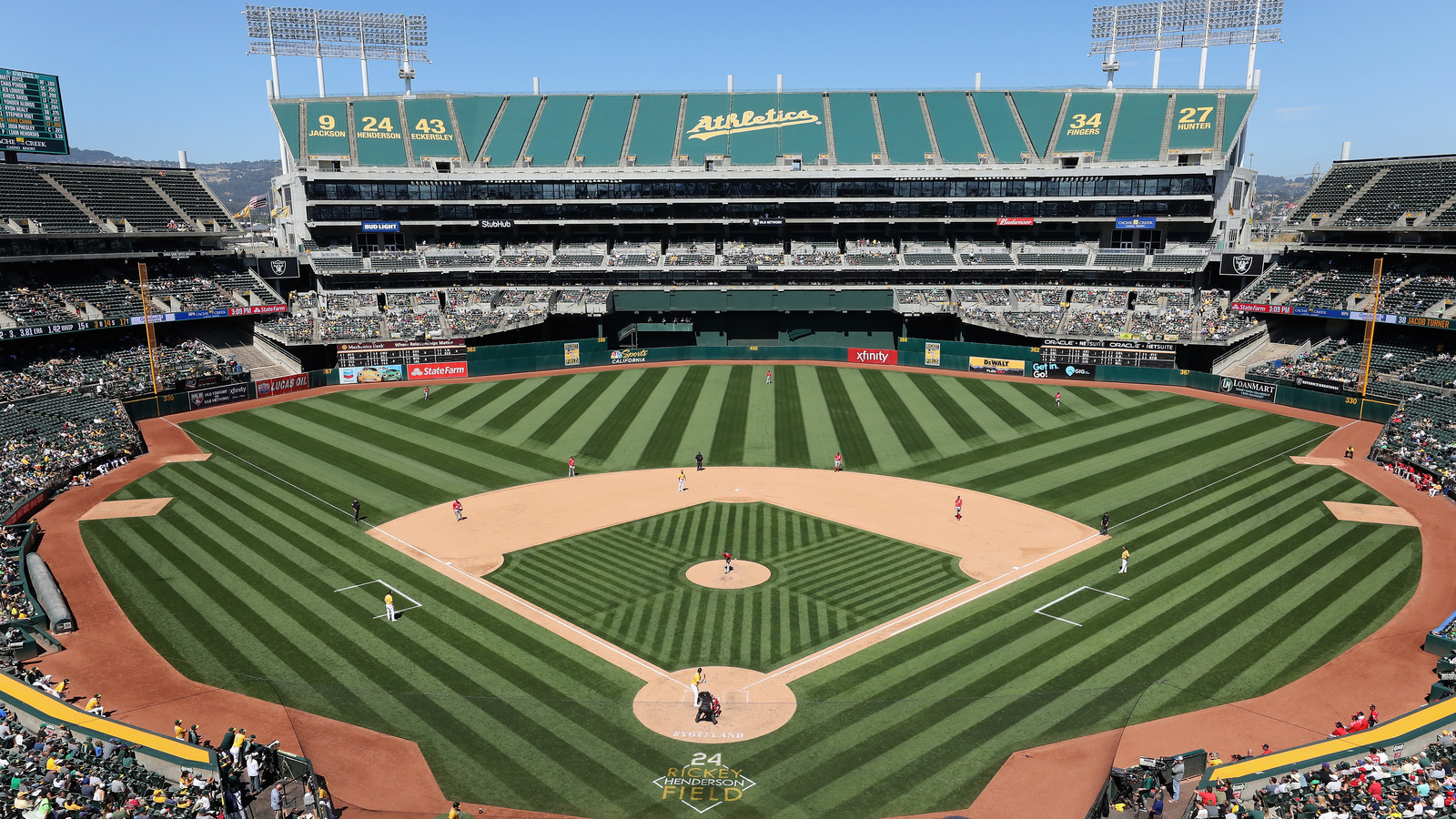 Christian Petersen/Getty Images
The schedule for next season has been released, and as usual there wasn't too much hype surrounding the announcement. After all, it's hard to get excited about next season while this season is still going on. With that being said, there are a couple of reasons to get hyped for next season: Opening Day will actually feature the entire league playing on the same day, and there will be a free game in Oakland next year.
Indeed, the A's are celebrating 50 years at the Oakland Coliseum by letting fans in for free for their April 17 game against the White Sox. This is an awesome idea, but of course the big question now is "Where's mine at?" I want my local baseball team to give us a free game now, and I'm sure that fans of every other team in baseball will be clamoring for a free game as well. Give our pockets a break, MLB. Let us in for free sometime!
MLB News

Delivered to your inbox

You'll also receive Yardbarker's daily Top 10, featuring the best sports stories from around the web. Customize your newsletter to get articles on your favorite sports and teams. And the best part? It's free!
MORE FROM YARDBARKER:
QUIZ: Name every MLB player 5'9" or smaller to have hit at least 30 home runs in a season
In the history of MLB, a total of 12 players 5'9" or smaller have hit 30 or more home runs in a season 31 times. How many of the short, not-necessarily-short-stops can you name?
Clue: Number of home runs - Height of player/Year-Team
MORE FROM YARDBARKER
MLB News

Delivered to your inbox

You'll also receive Yardbarker's daily Top 10, featuring the best sports stories from around the web. Customize your newsletter to get articles on your favorite sports and teams. And the best part? It's free!