Joel Embiid and displacing fundamental truths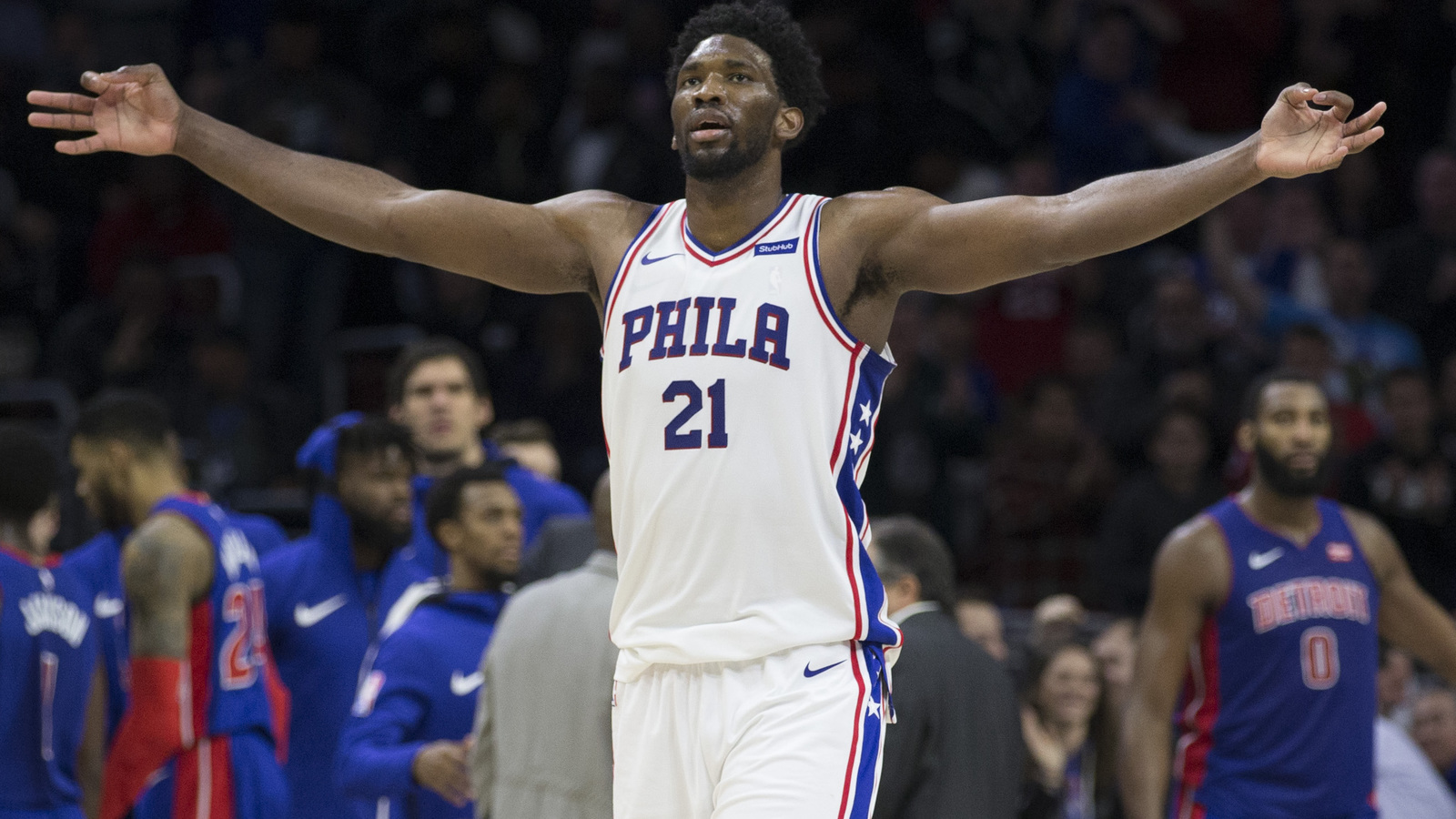 Mitchell Leff/Getty Images
Everyone wants to talk about Joel Embiid, but what I want to talk about is the future that Joel Embiid's short career alludes to. I want to talk about an NBA in which NBA titles only matter to provide context to a point in time instead of a watermarked description of what the league presumably was for that particular season. I want to talk about the increasing fluidity of positionality and how size can still determine, at the very least, a bit of your future. I want to talk about how raw talent means nothing if there are no opportunities for it to cook.

I don't want to talk about "The Process," but I want to talk about processes and how the NBA has built on them through players like Embiid. I want to talk about transcendence, but more importantly, I want to talk about the truth in an era where "The Answer" — and players like him — doesn't exist anymore.

Everything and nothing about the slow and then suddenly accelerated start to Embiid's career makes sense. His skill set shouldn't be this polished, his impact shouldn't shake the very foundations of a franchise and his personality shouldn't be this endearing. Embiid is, however, all of these things and more.

This year, Embiid is averaging 27.7 points, 13.6 rebounds and 3.7 assists per 36 minutes, a feat only accomplished by seven players since the turn of the millennium before their 24th birthday. If these numbers remain consistent for the rest of the season, he'll join the likes of Kobe Bryant, LeBron James, Kevin Durant, Tracy McGrady, Anthony Davis and Carmelo Anthony as the only players to produce at this level this early in their careers. Just like James and Anthony were the future of the NBA and Bryant and McGrady before them, Embiid is the NBA's de facto time machine, and we're getting a look at 2027 through his limited time on the court.

He's strong but plays with finesse and savvy, qualities he may have picked up on the tennis court. In Lee Jenkins's wonderful profile of Embiid before the start of last season, 76ers development coach Chris Babcock talks about playing tennis on some evenings with Embiid on public courts in Philadelphia:

"You'd expect him to hit the ball really hard, right?" Babcock says. Embiid is actually a finesse player and a drop-shot artist. He is self-taught, in tennis as well as basketball, an audacious copycat of both Shaq and Fed.

He not only picked up English shortly after moving to the United States from Cameroon, but also American humor and Internet culture at an unbelievable rate. He's legitimately funny in the same way that he's legitimately brilliant on the court. Few people have the hand-eye coordination to swing a tennis racket with enough control to rally with an opponent. There are even fewer people who can teach themselves how to play by watching the complicated, calculated style of who may have been the best to ever play the sport. This is why Embiid is such an intriguing, otherworldly figure — his learning curve is as shallow as a three-foot pool to a seven-footer.

While watching Embiid's career unfold, what I'm starting to realize is that transcendence in sports is the disruption or displacement of what was previously a fundamental truth. In basketball, this is happening at an alarming rate, and the movement from one truth to the next is what's driving people in droves to watch the NBA.

According to Nielsen, NBA viewership for nationally televised games is up 32 percent from last year, and the league is seeing its highest ratings since the 2010-11 season, a year that followed a second Lakers vs. Celtics NBA Finals matchup in three years. What we knew about the league — what made it interesting and what teams needed "to be" — has seen several dramatic shifts. Just look at the collective consciousness of how we've viewed the NBA over the last seven years:
"The NBA needs premier franchises in the Finals to market itself."
"Super-teams cannot make up for inherent team chemistry."
"Today, you cannot win an NBA title without at least three generational talents on the roster."
"Death. Taxes. Spurs."
"You cannot win an NBA title with a bunch of jump shooters."
"You cannot win an NBA title without shooters."
"Death. Taxes. Lebron."
The above is the NBA from 2011-2017. As we approach the meat of this season, we're in the midst of another shift in the way we think about the NBA, and it's as exciting as it's ever been. While there were undertones about what the future might be in the recent past, we're now starting to see that the future is the only thing that matters largely because of how both Stephen Curry and LeBron James have changed the league. Curry's sublime ability to shoot the ball from distance has created a culture in Golden State that is going to keep this team one of the title favorites for years to come, while James's ability to dictate his career has created a culture of mini-super-teams that will ostensibly challenge the Warriors during their reign atop the league.
Having a fairly good idea of who is going to have deep runs in the postseason feels like a problem that would tear fans away from the game, but it's done quite the opposite. It's made the regular season far more interesting than any of the other three major sports. We're starting to see new stars emerge who look and play nothing like those who assumed the mantle before them, and we're watching these young players grow alongside established pillars in the game create nightly clashes in style that are impossible to re-create in football, baseball or hockey.
With the offensive ethos of space and pace dominating nearly every franchise's approach, we're starting to see a splintering of how this idea is interpreted. Every team's ultimate goal in today's NBA is to get a look at the rim or a look beyond the perimeter, and that analytically driven strategy is churning some awfully creative new sets that are deriving from basic hoops principles. There is literally something for everyone in a league with a deep talent pool both on the court and on the sidelines — and this everlasting tango to find a unique way to disrupt the last unique way is why almost every universal truth about the NBA today could be obliterated by the start of training camp next season.
What won't change, however, is the fact that Embiid is going to have the attention of the hoops world for the better part of the next decade as long as he stays healthy. His career won't be defined by the number of titles he does or does not win, the points he will or will not score, or whether or not "The Process" did or did not work. Embiid's legacy will, in large part, revolve around the number of fundamental truths he's able to displace as a professional basketball player and personality. He can change everything or he can change nothing, but he's going to be given every opportunity to fall somewhere in between.
76ers News

Delivered to your inbox

You'll also receive Yardbarker's daily Top 10, featuring the best sports stories from around the web. Customize your newsletter to get articles on your favorite sports and teams. And the best part? It's free!
MORE FROM YARDBARKER:
QUIZ: Name the top three picks in the NBA draft since 1985
Since the start of the lottery era, we've seen 96 players get selected as the top three picks of the NBA draft. How many can you name?
MORE FROM YARDBARKER
76ers News

Delivered to your inbox

You'll also receive Yardbarker's daily Top 10, featuring the best sports stories from around the web. Customize your newsletter to get articles on your favorite sports and teams. And the best part? It's free!