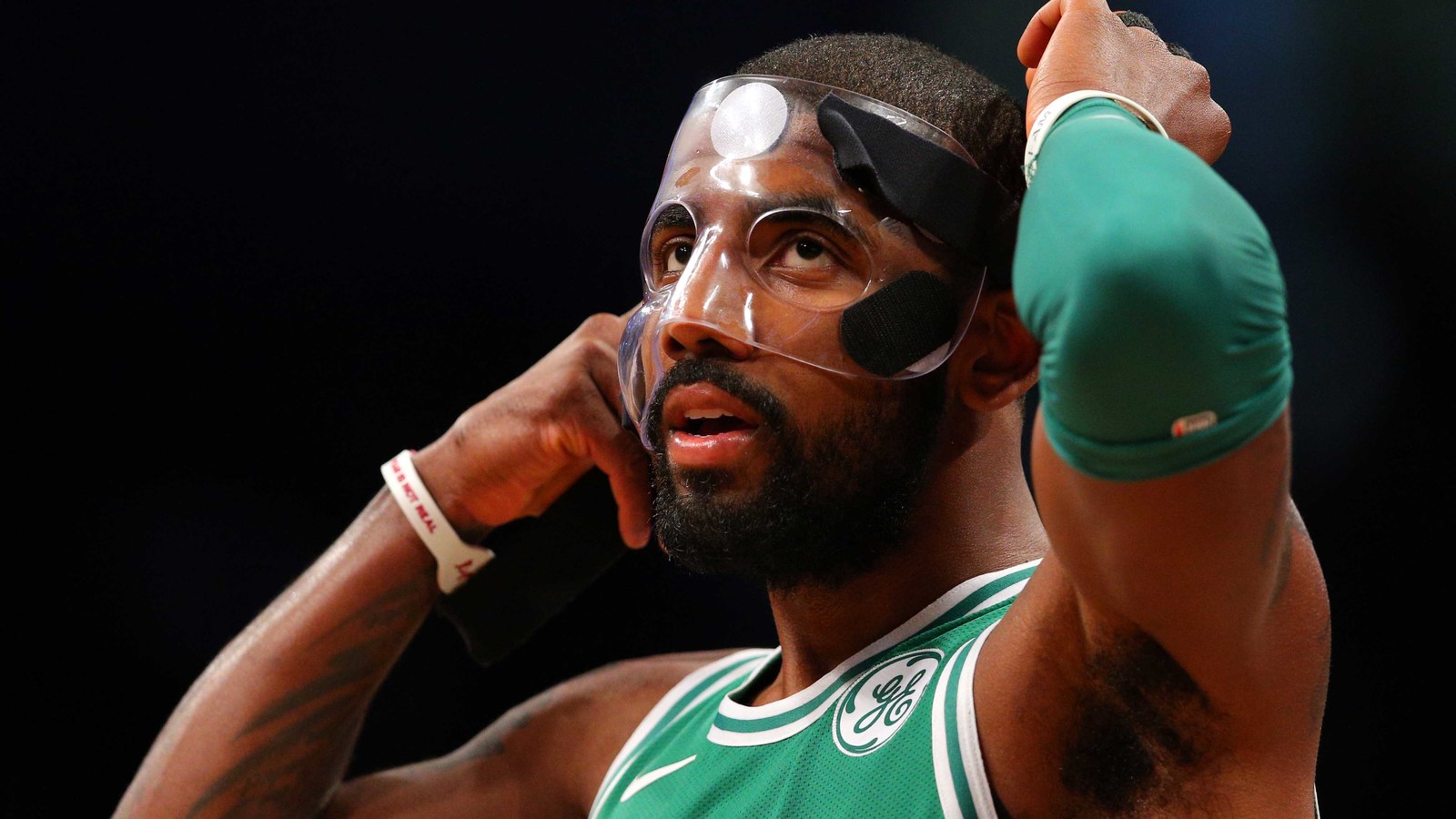 Brad Penner-USA TODAY Sports
Those who follow the NBA closely may recall that back in 2012, Kyrie Irving wore a black mask and blew up for 41 points in a game against the New York Knicks. He was wearing the black mask to protect himself after breaking a bone in his jaw.
Fast forward to this week, and Irving needed to wear a mask again after suffering a facial fracture on Friday. The difference is this time around, the Boston Celtics guard wore a clear mask.
So why the change in mask color? Irving says his peripheral vision is improved by going clear.
"I was telling some of my teammates, some of the fans, too, they were asking me whether I was going to wear the black mask. The difference with the black mask is that [teammates are] not getting the ball, because I couldn't see outside of my [direct] eyesight," Irving said on Tuesday night via ESPN. "So a lot of my peripheral vision and driving, I could only see what's in front of me. That black mask, like, it just takes away your vision."
Irving scored a team-high 25 points in Boston's win over Brooklyn on Tuesday. He also had five assists in the game.
Even though his peripheral vision is better with the clear mask than the black one, Irving says neither are optimal, because the mask can get fogged up while you're playing. He's hoping he won't have to wear it too long. It sounds like it may only last a few weeks. Unfortunately we won't be seeing the awesome Batman-like mask the way LeBron and Kobe did in recent years.
MORE FROM YARDBARKER:
QUIZ: Name the teams of the Basketball Association of America
The Basketball Association of America (BAA) was a professional basketball league in North America, founded in 1946. Following its third season, 1948–49, the BAA and the National Basketball League (NBL) merged to create the National Basketball Association (NBA).
The BAA had 16 teams. How many of them can you name?
Note: Two teams from Buffalo and Indianapolis were planned, but they ceased operations before the start of the inaugural season.
MORE FROM YARDBARKER
NBA News

Delivered to your inbox

You'll also receive Yardbarker's daily Top 10, featuring the best sports stories from around the web. Customize your newsletter to get articles on your favorite sports and teams. And the best part? It's free!