The winners and losers of the 2017 NBA Finals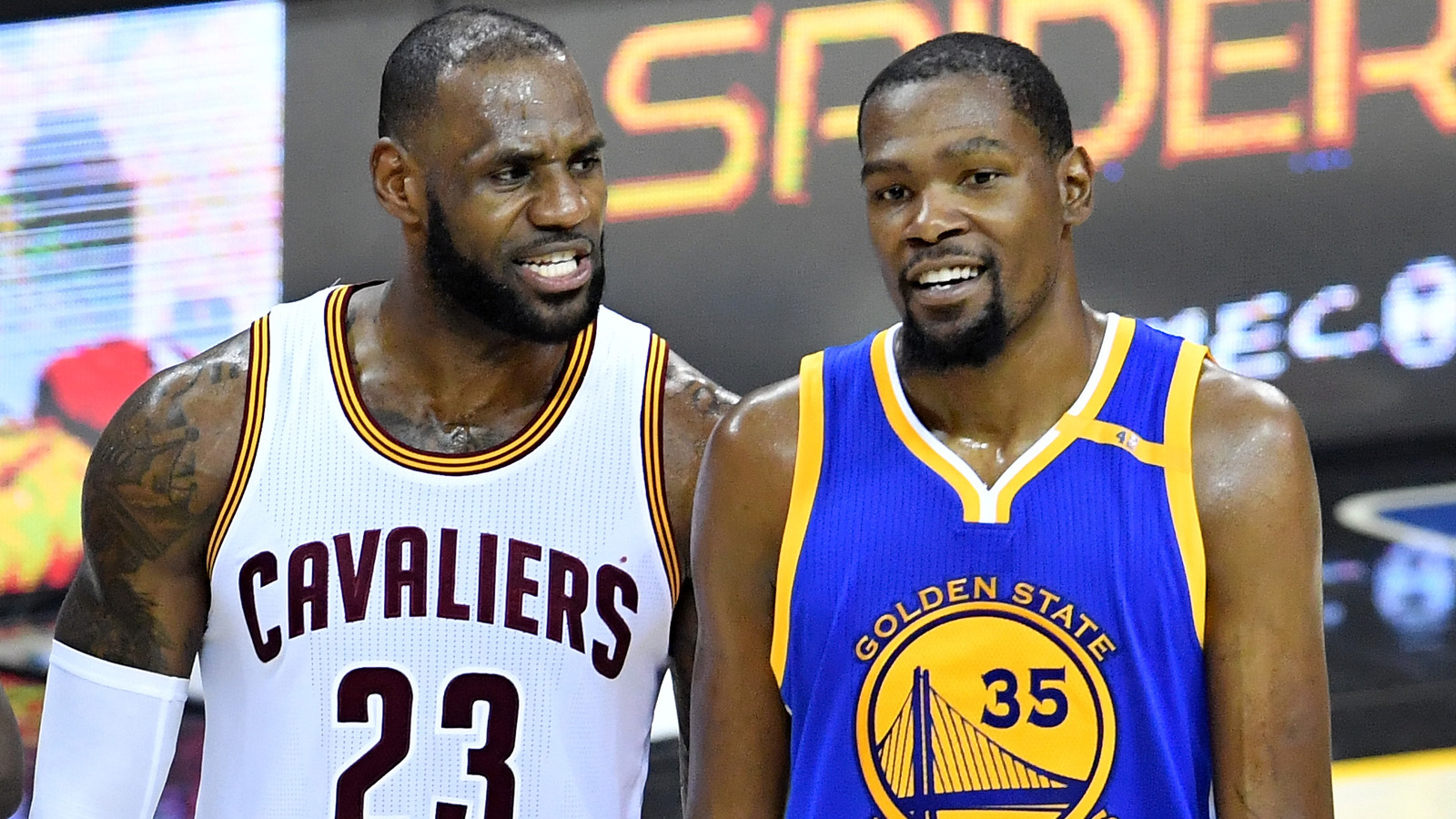 While only one team won the championship, both LeBron James and Kevin Durant came out winners after their performance in the 2017 NBA Finals. 
Jason Miller/Getty Images
Every championship round has a winner and a loser. (Wow, I just felt like Magic Johnson's Twitter account writing that.) But in truth, every NBA Finals has its own winners and losers, beyond just one team hoisting the Larry O'Brien trophy, and the other going home to sulk as the runner-up. Here are the winners and losers from the 2016-17 NBA Finals.
Winners
LeBron's legacy
In his seventh consecutive Finals, LeBron James has never felt more at ease with his place in the game. Even after the Cavs fell behind 3-0 in the series, he referenced Theodore Roosevelt's "The Man in the Arena" speech to explain why he's no longer bothered by criticism. The part of the speech that stands out in relation to how we view LeBron's legacy based on his Finals results: "...if he fails, at least fails while daring greatly, so that his place shall never be with those cold and timid souls who neither know victory nor defeat."
The Finals loss is LeBron's third in four seasons, and drops his overall record to 3-5 in the Finals. But consider: Draymond Green placed a call to Kevin Durant in the parking lot of Oracle Arena in the immediate aftermath of last year's Game 7 loss. The Warriors, a team that won 73 games last season, added Durant in an effort to topple LeBron, who just came off the most iconic Finals performance of his career. If anything, the existence of this Golden State super team is the best indicator of where LeBron stands among the all-time greats.
Add in the fact he just averaged 33.6 points, 12.0 rebounds and 10.0 assists in the Finals in his 14th season in the league, there's a reason why LeBron seems completely at peace with the results of these Finals regardless of the outcome. Figuring out how to win a championship while this Warriors team is in tact will be difficult. Figuring out LeBron's legacy even as the Finals losses pile up will not be at all.
Kevin Durant
Set all the "KD joined a 73-win team that came back from 3-1 to deny him a Finals appearance" narratives aside, and zoom out and assess this Warriors season as a whole, and you can appreciate how successful the incorporation of Durant into Golden State's lineup was, especially after a Christmas Day loss to the Cavs, when Durant and Stephen Curry slowly figured out how to maximize their talents together on the court. 
But as Draymond Green said earlier in the Finals: the Warriors didn't need Durant for the regular season. He was acquired for these playoffs, and specifically the Finals against LeBron and the Cavs. Durant's Finals performance, which earned him the unanimous Finals MVP award, left no doubt as to whether leaving the Thunder was the right choice for his career, even if many would still argue it was the incorrect one. 39 points on 14-for-20 shooting in the Finals clincher. 35.2 points, 8.4 rebounds and 5.4 assists on 55.5/47.4/92.7 shooting in the series. All of our Kevin Durant narratives are now officially dead.  
Rihanna
Let's never forget Rihanna's legendary courtside performance in Game 1:
She even left the game on a high-note: 
Jeff Van Gundy
JVG had himself two signature highlights from these Finals. First:
Second, correctly going after everyone who is so quick to blame whoever a player is dating whenever they don't play well, a tried and true idiotic way to diagnose any athlete's struggles:
Stephen Curry
No more 3-1 jokes. No more the unanimous MVP was stopped by Kevin Love in the closing seconds of Game 7. Even no more Under Armour shoe jokes! The Curry 4s were actually adequately looking (I'm not about to declare them fresh though). Curry finished the Finals with averages of 26.8 points, 8.0 rebounds and 9.4 assists. And:
Kevin Durant now calling Steph Curry "Two-time"

— Anthony Slater (@anthonyVslater) June 13, 2017
Draymond Green
Draymond personally blamed himself for costing the Warriors the championship last season, then came back this year, kept himself under control, and there were no suspensions or distractions in the playoffs as his Warriors went 16-1. Add to the fact that he officially kicked off recruiting Kevin Durant in the parking lot of Oracle Arena in the aftermath of last year's Game 7 loss, Draymond might want to personally give himself credit for creating a dynasty in Golden State.
Kyrie Irving
The title of "LeBron's best teammate ever" (with apologies to James Jones) might belong to Kyrie Irving by the time it's all set and done. Even in a losing effort, Irving again reminded us of his offensive brilliance, an "AND 1" player existing in an NBA Finals point guard's body, the world's most famous flat-earth truther bent space and time on his way to averaging 29.4 points on 47.2/41.9/90.0 shooting in the series.
The toaster Klay Thompson signed
Expect every Warriors fan to bring a toaster to autograph signings next season:
I'm the only person ever with a rat tail and a NBA championship! Let that sink in!

— Javale McGee (@JaValeMcGee34) June 13, 2017
Losers
Any team not named the Cavs or Warriors
We covered this a bit in The Mulligan this month, but watching the Cavs compete with the Warriors in these Finals, teams around the league have to ask themselves: when will we ever get close to competing with these teams. There's no one in the East who can consider themselves legitimate contenders to Cleveland's throne next season. Meanwhile, good luck chasing the Warriors. The Cavs were considered a potential threat to upset Golden State, and look at where all their hard-earned effort got them: one win. To everyone else in the NBA: good luck! 
Kevin Love
It's probably not fair to put Kevin Love in the losers section especially after he asserted himself quite well in the Finals, averaging 16.0 points and 11.2 rebounds and playing adequate defense as well. But, this is the curse of being the third banana on this team. LeBron is LeBron. Kyrie has proven himself to be a ridiculous second scoring option, and Love – well, he just wrapped up his best season in Cleveland but there will surely be a million trade rumors linked to him this offseason, and then a few hundred more when the season begins. That's just the cost of being on a LeBron super team.  
Dahntay Jones
How you come out of the season having earned the equivalent of a pair of Kyries?
Dan Gilbert
Dan Gilbert paid a bunch of money to bring LeBron back to Cleveland and assemble a championship team and all he got at the championship parade was a half-hearted thumbs up from the King last year. Despite losing these Finals, the Cavs have the highest payroll in the league and the bill will continue to get heftier for Gilbert as he keeps this group together and will likely have to continue adding to the supporting cast at LeBron's request to even keep up with this Warriors team. It might be a pretty large sum of money poured into a team that might not deliver another championship as Golden State ushers in a new era of dominance.  
The officials from Game 4
In the end, Cleveland's wild Game 4 win over the Warriors was inconsequential, just a blip in Golden State's 16-1 postseason run. But man, that third quarter, when Draymond was ejected and then we all realized he wasn't because a first half technical assessed to him actually went to Steve Kerr. And all hell breaking loose, including a Dahntay Jones technical when he wasn't even in the game, or a skirmish between Zaza Pachulia and Iman Shumpert where the refs missed a few things. Add it all up, it was not the greatest officiating performance, but in time, we'll probably forget about. Just not today, not for this list.
MORE FROM YARDBARKER:
QUIZ: Name every NBA player to win multiple MVP awards
Thirteen different players have won multiple NBA Most Valuable Player honors. How many can you name?
MORE FROM YARDBARKER
NBA News

Delivered to your inbox

You'll also receive Yardbarker's daily Top 10, featuring the best sports stories from around the web. Customize your newsletter to get articles on your favorite sports and teams. And the best part? It's free!