NBA Referee Hotline Bling: Chris Paul dials up his rehab
The NBA has created a new hotline for players' referee complaints. Players and coaches alike can call in to plead their cases, get rules clarifications, and learn whether you have to take three-and-a-half steps to get a traveling call or a full four. It's like 411 for guys who are 6-11. We know when that hotline blings, it can only mean one thing: Chris Paul is standing with his arms outstretched, screaming at a cell phone.

Chris Paul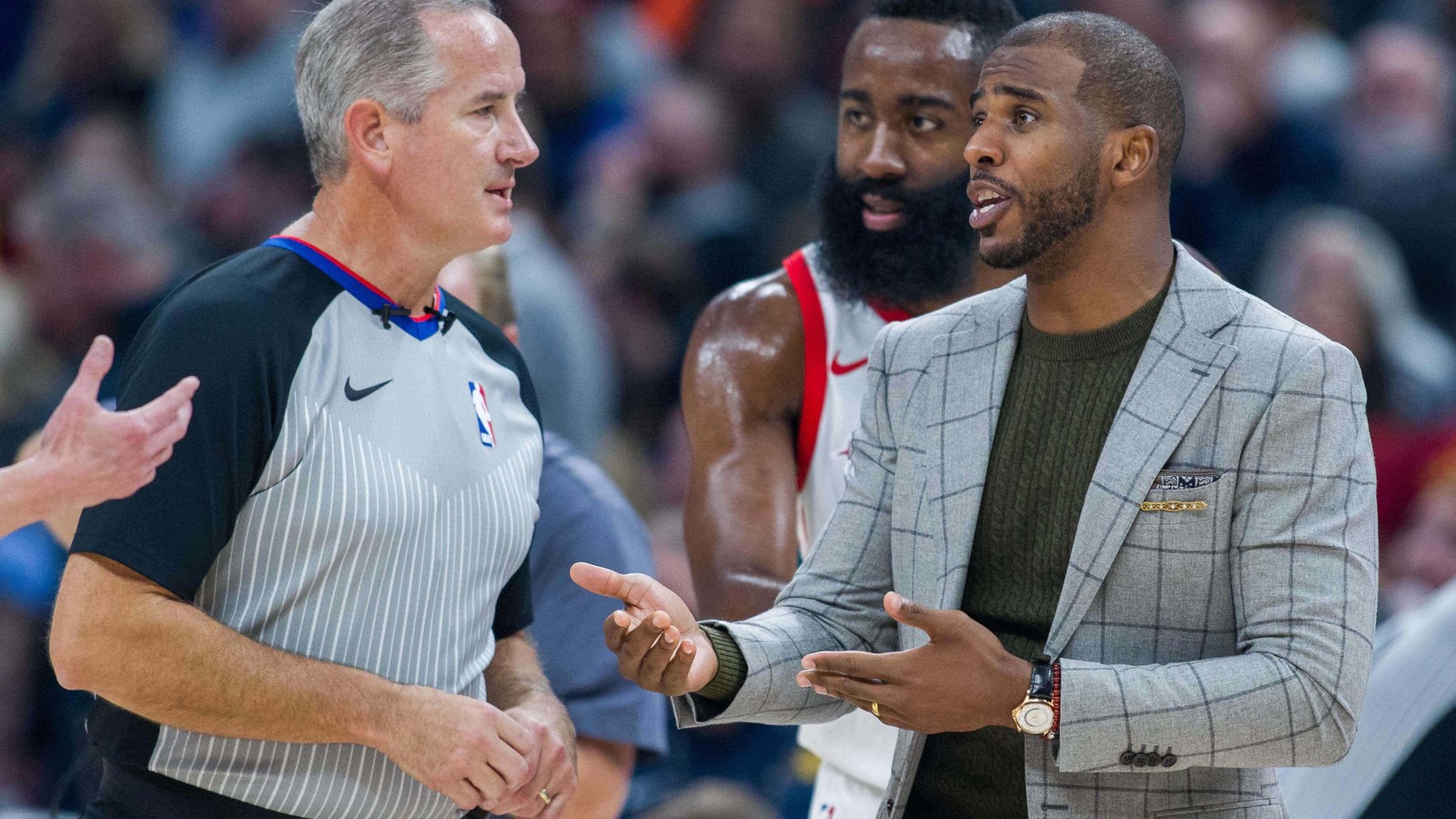 Trevor Ruszkowski-USA TODAY Sports
Dear Chris Paul,
Thank you for your many calls during your injury rehabilitation. It's nice to see you checking in, and it's nice to see that the Rockets are still thriving with you on the shelf. However, we must reiterate that your complaints are about team doctors and the training staff, who are not referees.
First, let's take your insistence that "Referee David Crumbie" kept unfairly calling you for traveling. Doctor Crumbie is an orthopedist, and he didn't call traveling on you — he said you shouldn't travel with your knee injury. Then you said Referee Motoko Fujii (he's an assistant trainer, not a ref) didn't understand the defensive three seconds rule — he actually asked you to hold your wall squats for more than five seconds. And you have not been "unfairly called for a charge" nearly every day of the season by Referee James Muntz — he's a doctor, and he has to charge you a $10 co-pay for each office visit.
Chris, we know you are frustrated, but you can't keep yelling at radiology technicians! Plus, when you throw your arms way out to the side to protest your innocence, it really screws up your MRIs! You'll be back on the court in no time, but make sure you do all the exercises your officials doctors tell you to. Remember, James Harden is playing great without you, and a bruised ego can be even more painful than a bruised knee.
Medically Yours, NBA Referee Hotline
LeBron James
Dear LeBron James,

People call the hotline from any way you can imagine: cell phone from the locker room, satellite phone from the deck of a yacht, pre-paid burner phone from Slovenia (that's Nikola Vucevic only). But this is the first time anyone has managed to send us a meme — specifically a meme of beloved cartoon aardvark Arthur clenching his fists in anger, which is apparently your "current mood."

It's not clear what exactly was angering you. Was it Frank Ntilikina, the French point guard you bad-mouthed? We're not sure where the resentment comes from, but Kevin Garnett called to say that he highly approves of your antagonizing a smaller Euro point guard. Was it Enes Kanter, whom you had a highly charged, double-technical confrontation with? He came to Frank's defense, the first time in his NBA career he's displayed any interest in defending. But you won the game and seemed happy afterward. So we have to look deeper.

Arthur the aardvark has a loving family but is often frustrated by his little sister tagging along wherever he goes. What's her name? D.W. She complains, she wants attention and she'd probably start taking shots at Tyronn Lue if she had to begin coming off the bench. You have a D.W. as well, LeBron, and his name is Dwyane Wade. Just tell him you're sick of him! We will do our best to find a gif of Arthur pushing away a plate of sea bass.

Arthoritatively Yours, NBA Referee Hotline
Lonzo Ball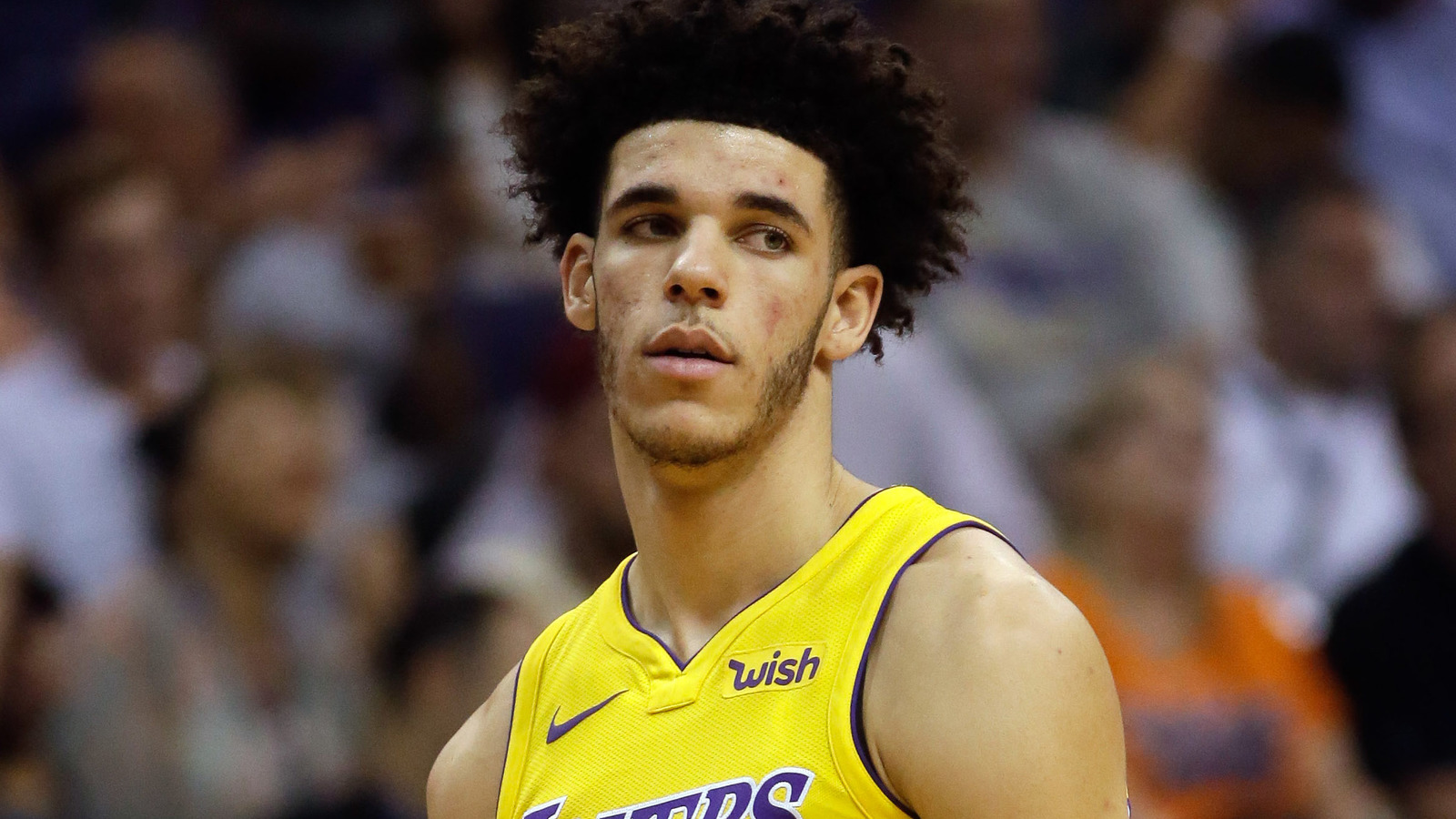 Rick Scuteri-USA TODAY Sports
Dear Lonzo Ball,

We share your concerns about your brother LiAngelo, arrested for shoplifting in China, but we regret to inform you that the NBA league office has very little sway over foreign law enforcement. On top of that, LiAngelo isn't an NBA player yet! Sure, he's going to lose his NCAA eligibility any day now once his signature shoe comes out, but he's still not in the league! Also we can't help because LiAngelo stole our phones.

We didn't think anything of it when the joint UCLA basketball team came to tour our facilities in Secaucus. We were excited to show off all the stuff — the special soundproof whistle lab, the petting zoo full of zebras, the block/charge roller-coaster and the booth where Dick Bavetta gives out free eye exams. But when we waved goodbye, we realized that all of our phones were missing. The only thing left was a set of footprints, clearly from the tread of a Z02 Big Baller Brand shoe, and a Chino Hills High School sweatband. It had to be LiAngelo.

Feloniously Yours, NBA Referee Hotline

Carmelo Anthony 

Dear Carmelo Anthony,

We do agree that it's rare for a player to get ejected on a play where he draws a shooting foul and in fact makes the bucket. But this is a special circumstance! You directed your elbow into Jusuf Nurkic's face, you changed the path of your drive and you sought out dangerous contact. But most of all, you did this in Portland, where the rules are a little bit different.

You see, in Portland, calling fouls involves more than verticality or replay reviews. We have to consider micro-aggressions as well. As the pregame announcement at the Moda Center clearly states, the area under the basket is not simply the block-charge circle in Portland — it is a designated safe space. No hate speech, no violence and no artificial scents — Meyers Leonard is very sensitive. Plus you were playing power forward at the time, and that's a very problematic term. Maybe see if Billy Donovan will list you as a "plus-sized wing" or "listening non-judgmentally forward."

Our review also found that you ate both animal products and gluten before the game, you rode a bike that had multiple gears, you drank coffee from Starbucks rather than a local roastery, and you are insufficiently supporting the local indie rock scene. Reports that you considered Voodoo Voodoo Donuts to be "trying too hard" could not be confirmed but contributed to the upholding of your ejection. There will be no suspension, but the next time you come to Portland, it would be nice if you could bring Nurkic some rare vinyl or a homemade craft project.

Portlandishly Yours, NBA Referee Hotline
NBA News

Delivered to your inbox

You'll also receive Yardbarker's daily Top 10, featuring the best sports stories from around the web. Customize your newsletter to get articles on your favorite sports and teams. And the best part? It's free!
MORE FROM YARDBARKER:
MORE FROM YARDBARKER
NBA News

Delivered to your inbox

You'll also receive Yardbarker's daily Top 10, featuring the best sports stories from around the web. Customize your newsletter to get articles on your favorite sports and teams. And the best part? It's free!