Referee Hotline Bling: LeBron gets obscene about a call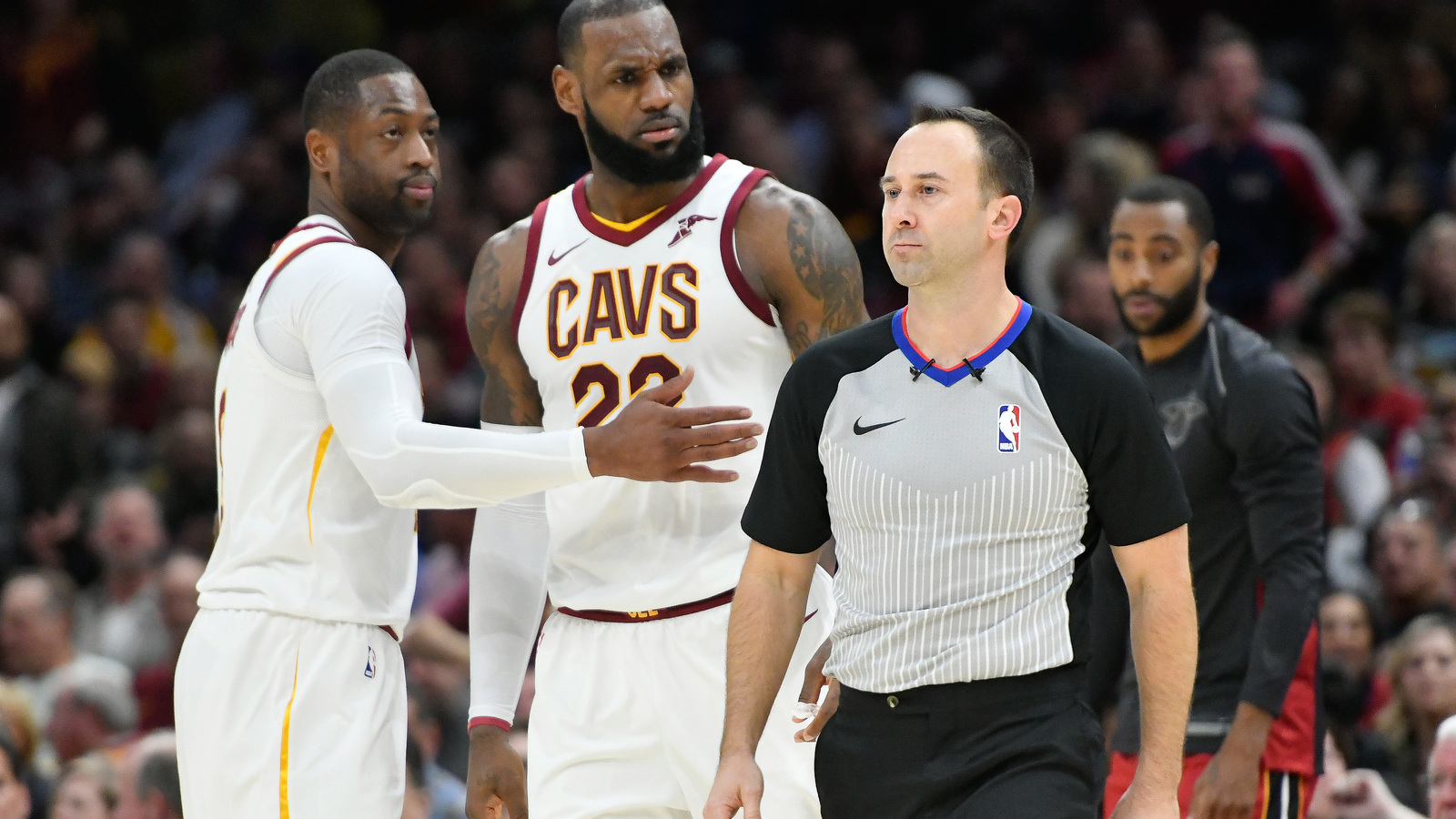 "Eject what now?" - LeBron James, upon his first career ejection. (Probably.) 
David Richard-USA TODAY Sports
The NBA has a new hotline for players to sound off about referees. They can dispute calls, critique the behavior of officials, and even though it's dangerously meta, review replay reviews. It's like a Yelp review for a restaurant that only serves blocking fouls. Yardbarker has obtained access to these responses, which are about as real as Marv Albert's shampoo and conditioner. We know when that hotline blings, it can only mean one thing: The King is getting royally screwed. 

LeBron James 
Dear LeBron James,

We are sorry to hear that you got your first career ejection. Normally you're very respectful to the officials, which is why they in turn look the other way when you blatantly travel. It's usually a very healthy relationship. But this time, you were a little too LeBrazen with your protests. While we are happy to clarify the reasoning, we are impressed by your efficiency in getting ejected from just one technical – your True Disputing Percentage is going to be off the charts!

First, you punched the air, but in the direction of an official. That's going to be a technical foul every time. If you want to throw fake punches at someone, you need to convince the Cavs to sign Mario Chalmers. Failing that, may we suggest Jeff Green?

Next, you delivered what the ref termed "a vulgarity," another clear no-no. LeBron, you're far too smart to think you'd get away with that, and you're also too smart to settle for regular profanity. There's no reason to call the official an a------; just say "Phil Jackson." Never tell anyone on the court to "go f--- yourself;" just say "go sign a long-term contract with the Kings." Calling a referee a m-----f----- is going to be an automatic technical foul, if not an ejection. But if you call him "Delonte West," you'll be fine.

Hope this helps!

See You Next Tuesday, NBA Referee Hotline 
Anthony Davis 

Dear Anthony Davis,

Thank you for your explanation of the outburst from the Timberwolves game that got you your first career ejection. It was very confusing at first, to see you raging at an official, while DeMarcus Cousins played peacemaker. But now it makes sense: You and Boogie were holding a magical skull when you both wished that you could change places. And now you're stuck!

We know this has got to be difficult. You've each got to figure out where Boogie keeps his headbands, and vice versa. You have to answer to the other's name when Rajon Rondo badgers you to play Connect Four after practice.  And above all, you've got to make sure Boogie doesn't try to get his, that is your, eyebrows waxed.

It's already bad enough that Boogie strained your abductor muscle. But there's a solution. You need to find a Zoltar Speaks machine at a carnival, wish to have your regular bodies back, do your elaborate friendship handshake, and voila! Just don't try to play "Heart and Soul" on a giant toy keyboard, because you are both far too heavy.

Sock You In The Stomach Three More Times, NBA Referee Hotline 
Kevin Durant 

Dear Kevin Durant,

Much like your friend LeBron, you got a one-technical ejection, very obviously due to profanity. Yes, the referee missed a shooting foul on the previous play, but there's no reason to say, "Call that s----. F--- you." That's filthy language, although not as filthy as a mouthpiece covered in slobber, like the one your teammate Steph Curry like to toss around. We'd tell you to wash your mouth out with soap, but there's only one person whose mouth truly needs cleansing on this team, and that's Chef Curry.

You also got ejected against New Orleans, and we are beginning to worry. We think that the Warriors frontcourt might be a bad influence on you. Draymond Green and Zaza Pachulia may seem cool, with their trash talk and their tough, bullying screens. They're quick to spit out insults, although thankfully not their mouthpieces. But what's cool is being yourself. Kevin, both on and off the court. And the internet. We don't want to see you start making dirty plays like kneeing opponents in the groin or getting under a shooter's feet as they land. Though that's not nearly as dirty as Steph's mouthpiece. There could be 200 different types of bacteria on that thing!

Kevin, you have your whole future ahead of you. Straighten up, be polite to the officials, and watch your mouth. But also, wash your mouthpiece.

Hygienically Yours, NBA Referee Hotline 
Meyers Leonard 

Dear Meyers Leonard,

After reviewing the video of your confrontation with Boogie Cousins, we have decided to grant your request. This is unorthodox, but we've contacted the federal government, and they've agreed to place you in the Witness Protection Program. Clearly you're not safe anymore.

You meet all the criteria. You clearly fear for your life. There's a history of abuse. Two years ago, DeMarcus repeatedly slid under your feet in a preseason game. And then this week, he put up 38 points on you. And now the fans at the Moda Center are booing you at home games – clearly this is an inhospitable living situation.

We are going to change your name so you can easily slip into the crowd of semi-skilled jump-shooting Caucasian big men. You can either be "Leonard Myers" or "Meyers Plumlee." Plus, we will send you to a new location where you can be totally anonymous, where no one cares about basketball or pays any attention whatsoever. Meyers, you're going to love playing for the Orlando Magic!

Protectively Yours, NBA Referee Hotline 
Shaun Livingston 

Dear Shaun Livingston,

We are very disappointed in your first regular-season ejection, particularly due to the current social climate. You argued with the official, but once your head made contact with his, you were automatically out. Shaun, this is non-consensual touching in the workplace! The NBA has a zero-tolerance policy on this!

Your explanation was that the referee walked towards you. So, what, he was asking for it? Next you're going to claim that his tight-fitting uniform gave you no choice but to rub your forehead against his. Unacceptable. Honestly, this is why referees have to carry whistles when they're walking along the baseline alone. Sure, the defender did hit you during your shot on the previous play, but just like a man caught sending explicit DMs, "I was hacked" is not a valid defense for this behavior.

Consensually Yours, NBA Referee Hotline
NBA News

Delivered to your inbox

You'll also receive Yardbarker's daily Top 10, featuring the best sports stories from around the web. Customize your newsletter to get articles on your favorite sports and teams. And the best part? It's free!
MORE FROM YARDBARKER:
MORE FROM YARDBARKER
NBA News

Delivered to your inbox

You'll also receive Yardbarker's daily Top 10, featuring the best sports stories from around the web. Customize your newsletter to get articles on your favorite sports and teams. And the best part? It's free!