NBA Weekend Awards: Who will wear Cinderella's Glass Slipper?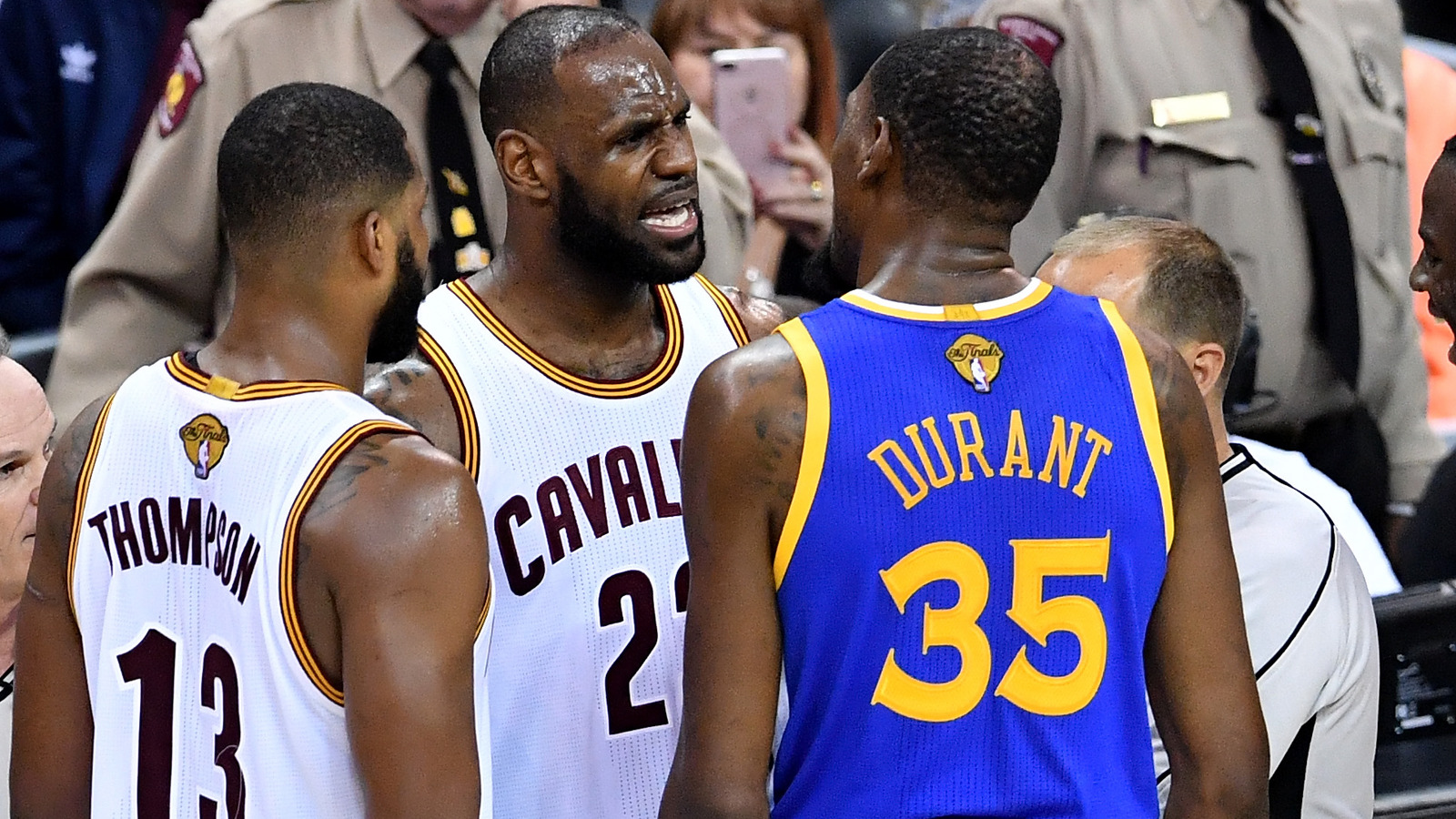 LeBron James of the Cleveland Cavaliers and Kevin Durant of the Golden State Warriors speak after a foul in the third quarter in Game 4 of the 2017 NBA Finals at Quicken Loans Arena on June 9, 2017 
Jason Miller/Getty Images
Soon we will learn which team will raise the Larry O'Brien Trophy in triumph – it could be as early as tonight! And while Kevin Durant and LeBron James are the only real Finals MVP candidates, we've got plenty of awards for all the heroes of the NBA Finals, be they superstars, scrubs, or Kyle Korver. Here's the weekend awards for the NBA – though you should check the official scoresheet to make sure the Game 4 refs didn't give these awards to the wrong player without telling anyone.
Cinderella's Glass Slipper: This goes to the Cavs, who aren't getting this because they're an underdog story. They've got three future Hall of Famers! No, they get Cinderella's Slipper because they avoided being swept, and instead balled out in Game 4. They didn't leave a shoe behind, but it's extremely likely J.R. Smith left the arena without his shirt. Who needs Prince Charming when you have King James? (Note: If anyone in LeBron's entourage is tasked with reading this article to him, please stress that we did not say "bald out." His hairline should remain intact at least until midnight on Monday.)
Wilt Chamberlain Trophy: For unstoppable, prolific scoring. To Kyrie Irving. His three-point shot deserted him in Game Three, but he still managed to score 38 points by going 16-22 on all other field goals. In Game 4, Irving put up 40, thanks to a 7-12 performance from long-range. As good as Kyrie's outside shot looked, the truly amazing thing was his finishing around the rim. Not even Sir Mix-A-Lot had this much success putting it on the glass. Kyrie puts so much English on his layups, he took a parliament seat away from the Tories. And he might have the most effective performance in isolation since Thoreau went to Walden Pond. We imagine Wilt Chamberlain would have been most impressed by this Game 4 menage a quoi, where Kyrie went 1-on-4 and still scored.
The Fantastic Mister Fox Award: For picking up way too many fowls. To Draymond Green, whose foul trouble has limited him to 33 minutes per game. He's committed too many cussed reach-ins, retaliated like a dumb-cuss after turnovers, and also cussed at the officials. He even managed to commit two different technicals and still stay in Game 4 after the officials apparently drank a warehouse's worth of cider and got confused. Draymond has got to be smarter and more disciplined, or the Cavs are going to swipe the Larry O'Brien Trophy out from under him. You know LeBron will be working his tail off.
The J-Law-Chris Martin Award: For improbable rebounds. To Steph Curry, who grabbed 13 big rebounds in Game 3, a feat almost as unlikely as America's sweetheart Jennifer Lawrence shacking up with a post-conscious-uncoupling Chris Martin. Curry swooped in for rebounds time and time again, while the Cavs big men weren't emotionally available to box him out. He single-handedly negated the Cleveland size advantage, and eventually Tyronn Lue dumped Tristan Thompson. Unfortunately, Steph went full Chris Martin in Game Four. 2-9 on threes? That's some cold play.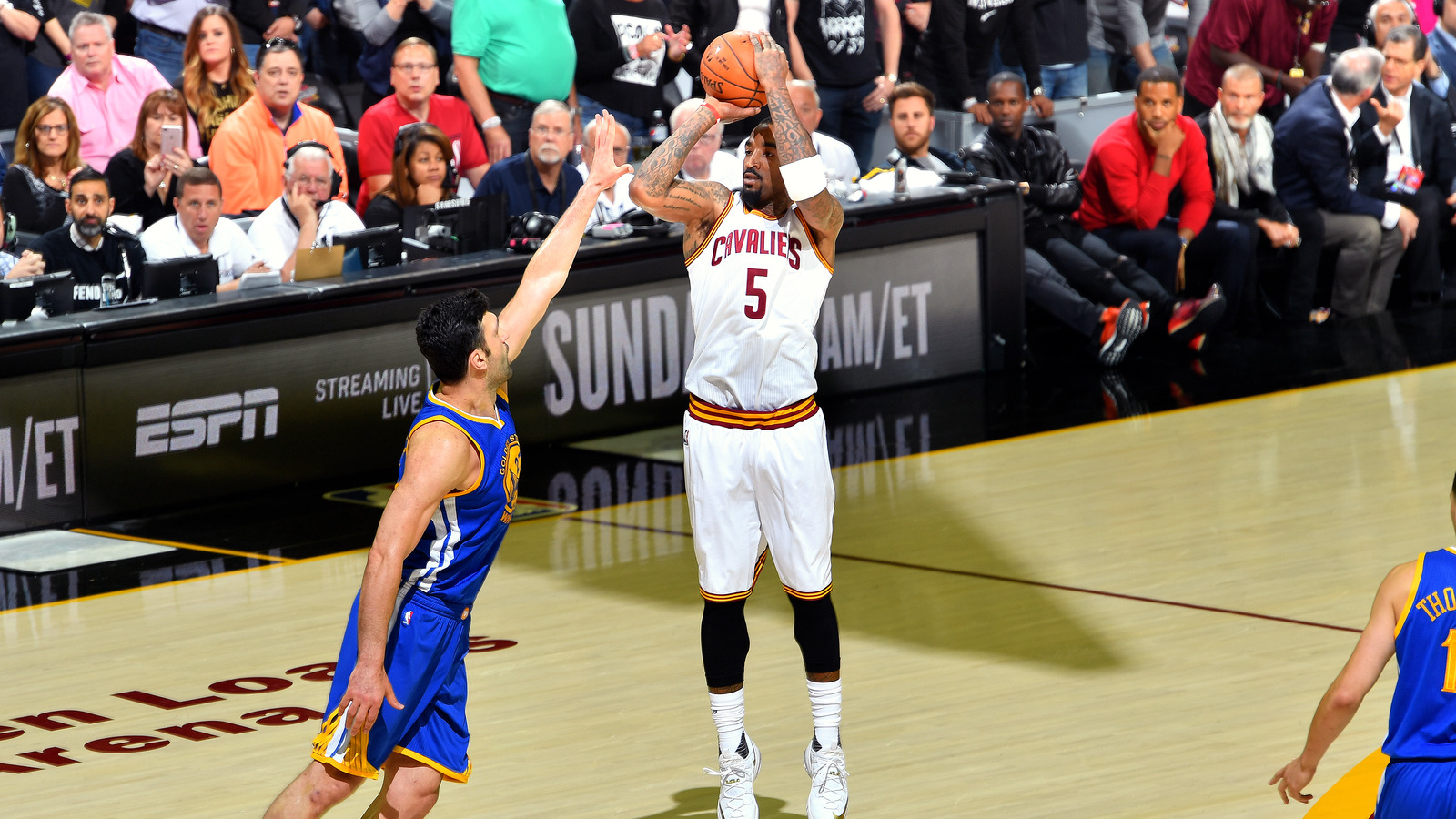 J.R. Smith has made deep attempts into surreal art.
Jesse D. Garrabrant/NBAE via Getty Image
Guernica Award: For crazy bombing from distance. To J.R. Smith, who spent Games 3 and 4 firing up long bombs from the wing, from the corner, from 30 feet from the basket, and on Twitter, where he tweeted "Cavs in 7" seconds after the end of Game 3. His commitment to long-distance assaults is pure: he's only attempted three two-pointers in the series, and hasn't made a single one. The individual shots seem wild and random, but when you look at the box score at the end of the game, it's a work of art.
The Biggie-Tupac Memorial Bulletproof Vest: For rap beef. This goes to the hip-hop duo of Kevin Durant and LeBron James, who recorded a rap song together in 2011 for Durant's epic film, "Thunderstruck." Apparently they couldn't make it onto the soundtrack, or nudge out music luminaries like Nomadik, Freddy Rawsh, Bellringer, and the DNC, which is apparently Debbie Wasserman-Schultz's rap group. No word why the track has resurfaced now, but it's possible that noted Russian hacker Zydrunas Ilgauskas could have stolen it from the DNC's servers.
LeBron and KD traded shots throughout the third game, though Durant was very quiet in the third quarter, almost as if an unathletic Oklahoma City teenager had stolen his basketball talent. But in the 4th quarter, the Cavs had no response, as Durant hit 'em up for 14 points, including a go-ahead three-pointer that ethered King James. Maybe LeBron can borrow John Wall's Suge Knight impersonator for Game 5.
The Shaquille O'Neal Shattered Backboard Award: For self-destructive dunking.
To Kyle Korver, who shocked the NBA world by throwing down a dunk, despite being 36 years old. It was an amazing, epic moment, where America's expectations were shattered like a basket support after an assault by the Diesel. But Korver may have used too much of his remaining life force, or hit the turbo button too hard, as he missed his last three shots in the third quarter. His form looked like a shot clock landed on his arm, to be honest. For the Cavs' sake, let's hope he stays in his lane – literally – and lays it in like the good Creighton Bluejay he is. The Jock Jams Platinum Record: For an inspirational music performance. To Cleveland's own Bone Thugs-n-Harmony, who set the tone for the Cavs with their halftime performance in Game 4. It was no coincidence that the Cavaliers played their most thuggish and most ruggish game of the series, boxing out aggressively on rebounds, and bang-banging Steph Curry every time he tried to run around screens. And now, despite winning the first three games, the Warriors now face their first 3-1 lead of the playoffs, and it seems pretty clear they're at a crossroads.
PLAYERS:
Kevin Durant
,
LeBron James
,
Kyle Korver
,
J.R. Smith
,
Wilt Chamberlain
,
Kyrie Irving
,
Draymond Green
,
Jennifer Lawrence
,
Tyronn Lue
,
Tristan Thompson
,
Zydrunas Ilgauskas
TEAMS:
Golden State Warriors
,
Cleveland Cavaliers
MORE FROM YARDBARKER:
QUIZ: Name the players on the 2016 Team USA basketball squad
The 2016 United States Men's Olympic Basketball team won the USA's 15th gold medal at the 2016 Summer Olympic Games in Rio de Janeiro. Can you name the 12 members of this squad, plus its coach?
MORE FROM YARDBARKER
NBA News

Delivered to your inbox

You'll also receive Yardbarker's daily Top 10, featuring the best sports stories from around the web. Customize your newsletter to get articles on your favorite sports and teams. And the best part? It's free!