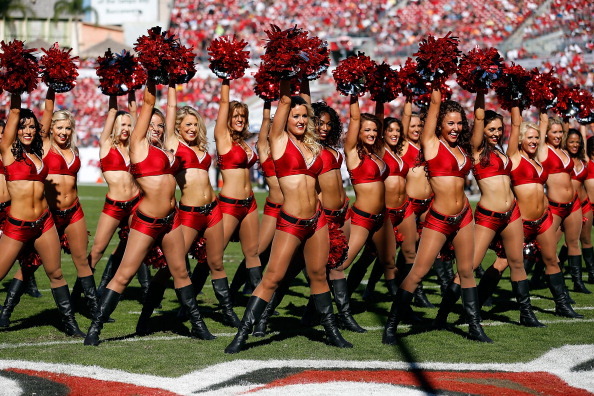 The lawsuit was filed on behalf of the 2012 Tampa Bay Buccaneers cheerleading squad for underpayment.
J. Meric/Getty Images
By Larry Brown
A group of Tampa Bay Buccaneers cheerleaders settled for $825,000 after winning a lawsuit filed against the team.
Former Bucs cheerleader Manouchcar Pierre-Val filed a lawsuit against the team last May alleging that they only paid the cheerleaders $100 per game and nothing for practice and only limited money for other team events. The class action suit was brought up by Pierre-Val on behalf of her and 93 other Bucs cheerleaders (you can read the filing here).
According to TMZ, Pierre-Val was demanding $661,000 and received over $800,000 after settling with the team. After $264,000 goes to lawyers, the cheerleaders will be able to split $561,000, which works out to nearly $6,000 per woman.
Pierre-Val started with the Bucs in the 2012 season and also worked full-time as a registered nurse.
MORE FROM YARDBARKER
Buccaneers News

Delivered to your inbox

You'll also receive Yardbarker's daily Top 10, featuring the best sports stories from around the web. Customize your newsletter to get articles on your favorite sports and teams. And the best part? It's free!