NFL Referee Hotline Bling: Eli Manning doesn't want to forward any calls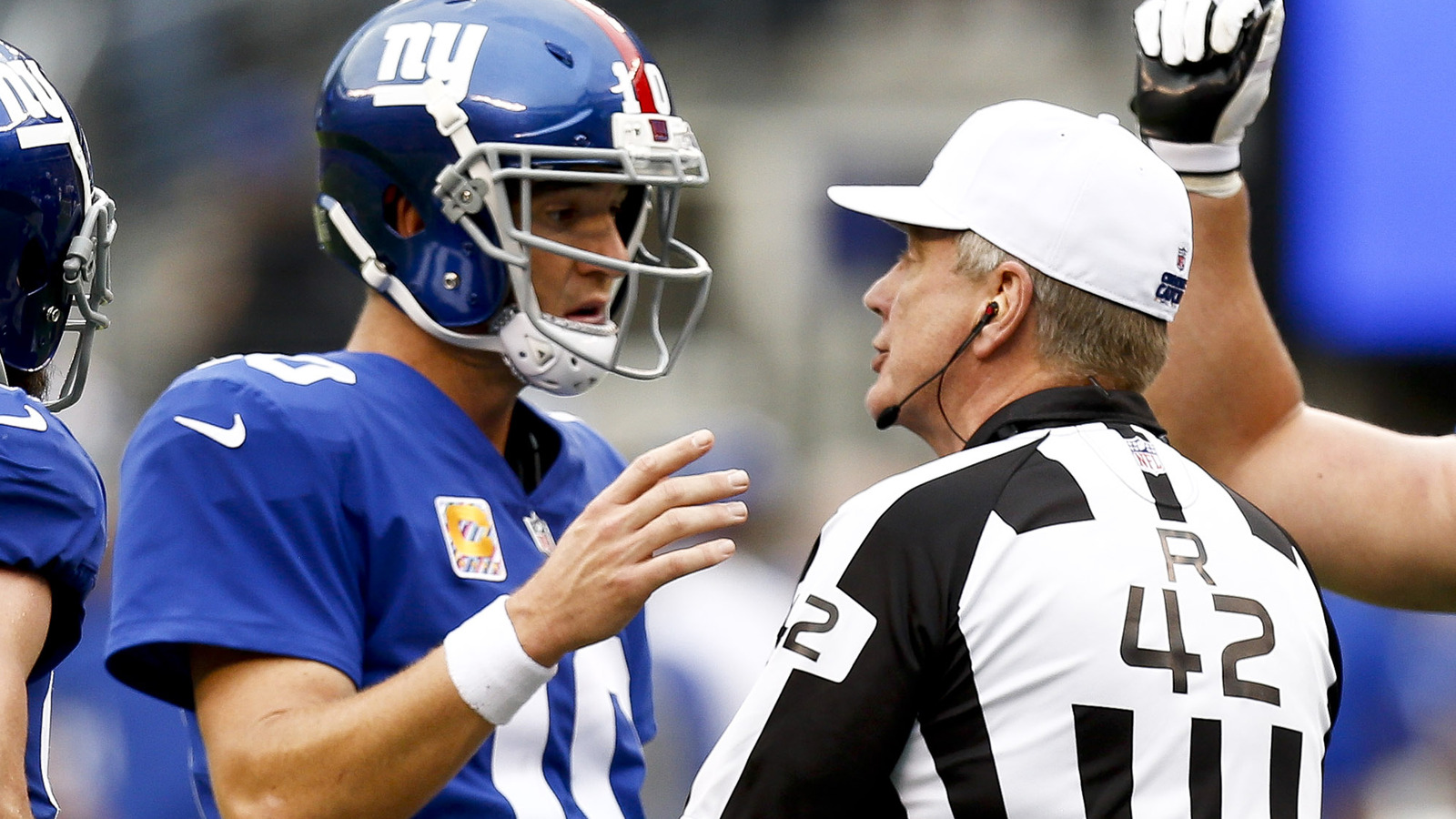 Eli Manning takes his complaints directly to Jeff Triplette on the field. 
Jeff Zelevansky/Getty Images
Last season, the NBA established a new hotline for players to complain about officiating this year, but as they say, the NFL is a copycat league. Thus, we've obtained access to the league's official referee hotline, responses to questions about penalties, protests, and whether dabbing is considered illegal hands to the face. All of these responses are about as real as the LA Chargers' home-field advantage. We know when that hotline blings, that can only mean one thing: a New York quarterback is calling for an ambulance. 

Giants vs. Chargers 
Dear Eli Manning,

We're going to get right to it. It is extremely unlikely that the NFL will decide to outlaw the forward pass. We are sympathetic to the injuries decimating your receiving corps, but after 84 years, the NFL is fairly committed to legal downfield passing.

It was terrible when Odell Beckham Jr. fractured his ankle. This after Brandon Marshall hurt his ankle making an acrobatic catch and landing on a banana peel. Then Sterling Shepard stepped in a bear trap. Why was that thing on the sidelines at all? And then Dwayne Harris inexplicably tried to guard Russell Westbrook in the open court at halftime, and he got his ankles broken, too. (Also we hear Eric Engram may have contracted trench foot.)

Still, the forward pass is an integral part of the game and we can't get rid of it for one team's injuries. Maybe if it was your brother we could pull some strings, but you're just Eli. You're going to have to suck it up and throw passes to whoever is out there; Shane Vereen, Rhett Ellison, Jeremy Shockey, Phil McConkey, a golden retriever who can play sports, Terrell Owens, Derek Jeter, Tim Tebow, Rooney Mara – really anyone with a healthy ankle joint and a pulse. Because you're a Manning. And Mannings don't run. Because y'all are way too slow.

Passively Yours, NFL Referee Hotline

Colts vs. 49ers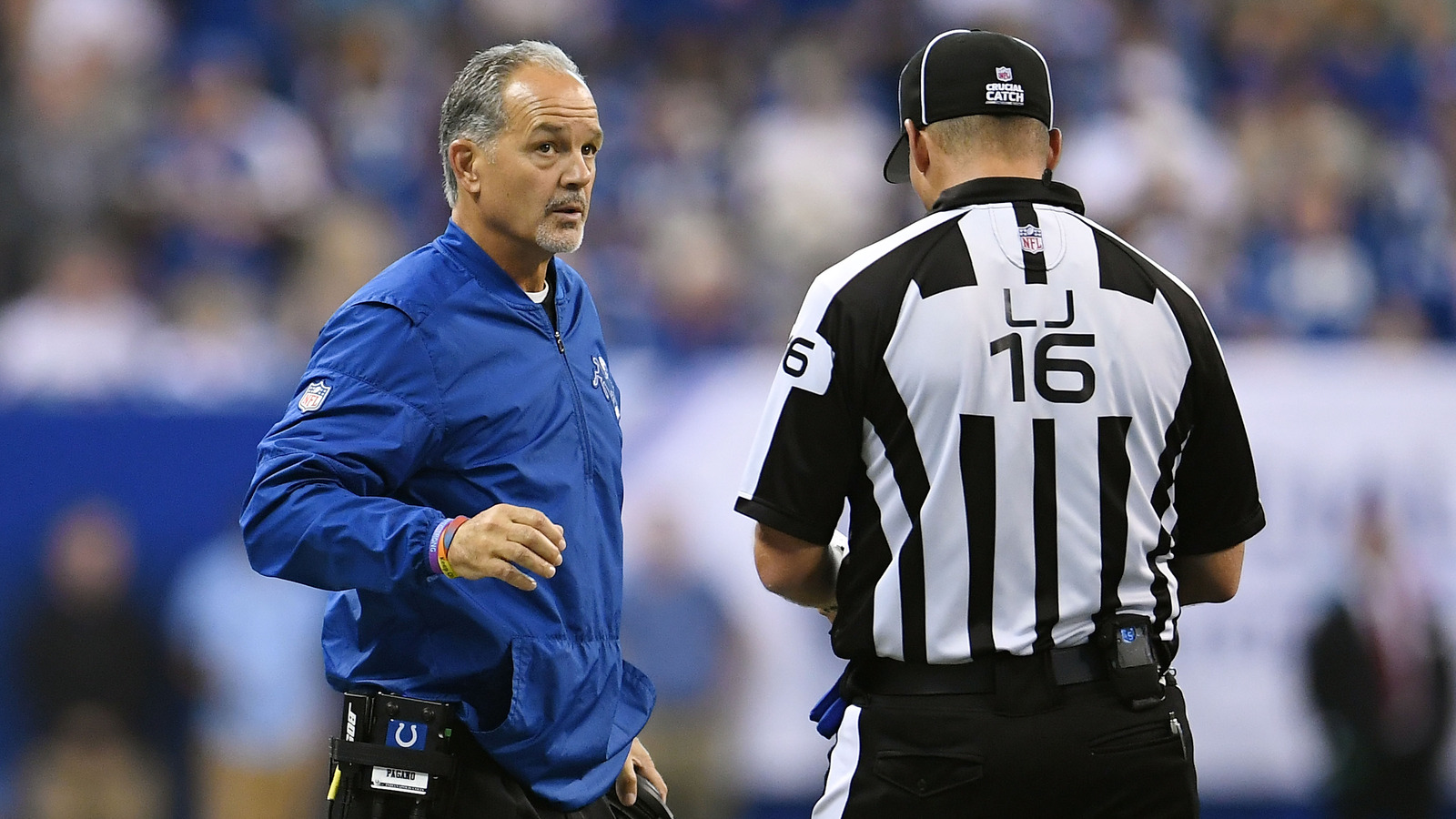 Stacy Revere/Getty Images
Dear Chuck Pagano,

Thank you for your call. Normally we try to keep politics out of these rules discussions, but we felt the need to answer your question here. Yes, Mike Pence attended the Colts-49ers game, and left after some players protested during the national anthem. No, you can't also leave after the anthem. You have to stay and coach the Colts.

We understand that it can be frustrating for patriotic Americans to see players kneeling for the anthem, and also frustrating for NFL coaches to see opposing quarterbacks kneeling in the victory formation. But no matter how offensive you find the protests, or how bad your offense is with Scott Tolzien under center, you just can't walk out.

We know you have sympathy for the vice president. Last fall, you both almost lost your jobs in Indiana. People say neither of you would have succeeded at all if it weren't for the lack of competition in the South! But still, you've got to stick it out, because even though 538 thinks you have no statistical chance of winning it all, they've been wrong before.

Chuck, you've got to make the AFC great again. Grab this season by the pigskin, and go out there and beat up on the failing Tennessee Titans.

Anthemically Yours, NFL Referee Hotline
Titans vs. Dolphins 

Dear Mike Mularkey,

Thank you for your call, but we have to say, Tuesday morning is a little late to challenge a call. To recap, the Dolphins were awarded a first down late in Sunday's game on a play where Jay Ajayi appeared to down short of the marker. You did not challenge the spot, claiming you didn't want to forfeit a timeout if the challenge failed. Then you waited thirty seconds and called timeout anyway, but even then, did not challenge.

Mike, you lose the timeout either way! In fact, if you win the spot call, not only do the Dolphins face fourth down, you keep the timeout! This really calls your decision-making into question, and not just for this reason. Our investigators revealed that though it's the only grocery store you frequent, you don't have a Kroger Plus card, and thus pay full price even for weekly specials. You shower before working out. You went to Vegas and only played roulette, while insisting on paying full price for all of your drinks and food. And you haven't activated your online access to the New York Times, despite subscribing to the print edition!

We hate to say this, but there's only one word for this kind of behavior: Malarkey.

Disappointedly Yours, NFL Referee hotline

Indians vs. Yankees 

Dear Joe Girardi,

There are many events in the NFL which are, by definition, unreviewable. Penalties. A fumble after the whistle has blown, whether the whistle is inadvertent or not. Forward progress is a judgment call. And hit-by-pitches. Not because they are judgment calls, but rather because they happen in baseball.

Even if the pitch to Cleveland Indians outfielder Lonnie Chisenhall were reviewable, you threw your challenge flag far, far too late. You have only until the next play begins. You can't wait your press conference the next day! And more crucial than the timing was that the play occurred in baseball, not football, and thus not subject to NFL rules or challenge flags of any sort.

We don't believe there is any rule against throwing a red challenge flag onto a baseball diamond, but you can also simply tell the umpire within thirty seconds of the play. Or point to a guy with a headset. It's baseball! You can play it drunk! It's not that formal! The only thing you cannot do is wait a full day, and then call a different sports league to complain. Because again, and we cannot stress this enough, we have no jurisdiction over major league baseball. That being said, if Aaron Judge would like to try out as a wide receiver after the Yankees season is over – possibly due to one of your decisions – we are confident that the New York Giants would sign him.

Challengingly Yours, NFL Referee Hotline
NFL News

Delivered to your inbox

You'll also receive Yardbarker's daily Top 10, featuring the best sports stories from around the web. Customize your newsletter to get articles on your favorite sports and teams. And the best part? It's free!
PLAYERS:
Eli Manning
,
Odell Beckham
,
Jeremy Shockey
,
Derek Jeter
,
Tim Tebow
,
Chuck Pagano
,
Lonnie Chisenhall
,
Aaron Judge
TEAMS:
New York Giants
,
New York Yankees
,
Indianapolis Colts
,
Cleveland Indians
,
Los Angeles Chargers
,
Tennessee Titans
,
Florida Gators
MORE FROM YARDBARKER:
QUIZ: Name the starting lineups of Super Bowl XLII - New York Giants vs. New England Patriots
The New England Patriots were looking at an undefeated season and the New York Giants were hoping to play spoilers in the final game of the 2007-2008 NFL season. A helmet catch and last minute heartbreak made for one of the most exciting games in Super Bowl history.
Can you name the starting lineups of Super Bowl XLII?
(New York Giants - 17, New England Patriots - 14)
Clue: Team-Position
MORE FROM YARDBARKER
NFL News

Delivered to your inbox

You'll also receive Yardbarker's daily Top 10, featuring the best sports stories from around the web. Customize your newsletter to get articles on your favorite sports and teams. And the best part? It's free!