Raiders' fall from grace shows there's more work to be done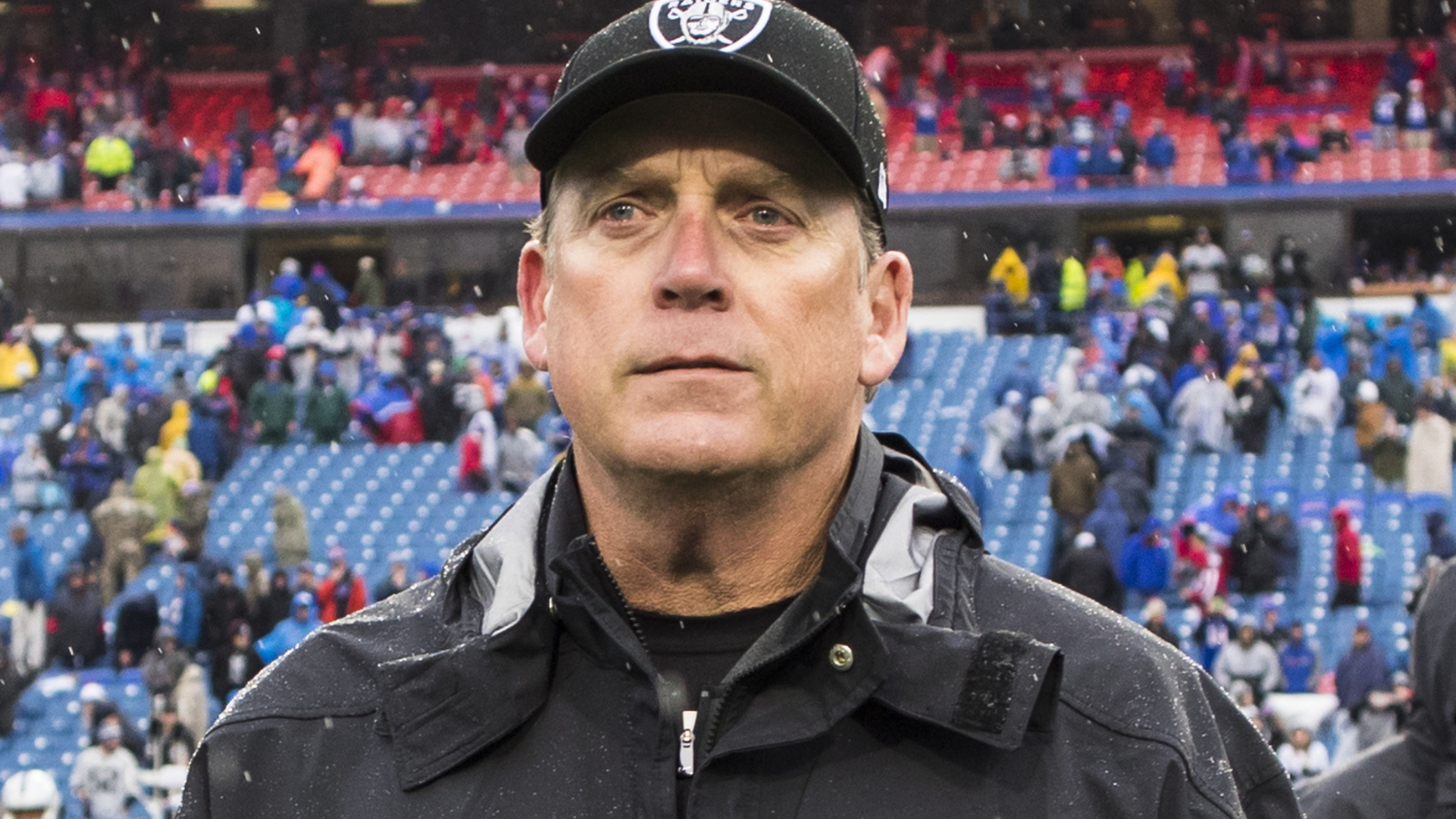 Brett Carlsen/Getty Images
There is no doubt that the Oakland Raiders are one of the most disappointing teams of the 2017 NFL season, and we wouldn't fight you if you said they were the absolute biggest disappointment.
The Raiders were sold as a growing monster in the 2017 offseason, and we were buying. After all, Oakland ended a 14-year playoff drought in 2016, going 12-14, and had a young-ish roster with a great, young core. The Raiders looked set up for not only 2017, but well beyond. For a team that is set to move to Las Vegas in 2020, the Raiders looked like a perfect headliner for the Strip. This was a roster built to last. This was the team that was supposed push New England this season and be the heir apparent to Tom Brady and Co. when it came to AFC dominance.

Some compared this roster to baseball's Chicago Cubs — a sudden contender that was going to stick around awhile. However, one of the biggest stomach punches of Oakland's stunning 4-6 start is it's unearthed signs that all will not be right for the long-term wellness of this team.
There may be more work to do that we thought.

The Raiders may be met with a much longer to-do list in the offseason than expected, particularly if this subpar start turns into a subpar season. Thus, the pressure may be on — in fact, with the firing of defensive coordinator Ken Norton Jr. and some ominous words from head coach Jack Del Rio, the pressure is already beginning to boil over.
The new potential problems start on offense, however. That wasn't expected to be an issue, but the Raiders are showing a hint of a need of new blood on the offensive side. The problem starts with receiver Amari Cooper, the No. 4 overall pick in the 2015 draft. Cooper was drafted to be an elite receiver. That has not happened. He has had one above-average game in the team's past 19 games. This is not a small sample size, and Oakland can only hope it's a prolonged slump nearing its end. Cooper is averaging four catches and 49 yards a game this season. Those are not the numbers displayed by an elite receiver. They basically represent an average No. 2 receiver.

Fellow Oakland starting receiver Michael Crabtree will be 31 at the start of next season. This means the Raiders may need another front-line wideout. With starting tailback Marshawn Lynch being 31 and averaging just nine carries a game, the Raiders may also need a new starting back next season even though Lynch signed a two-year deal after being traded from Seattle in the spring.
Oakland's offensive line may even need an upgrade or two after a somewhat sluggish season. Left tackle Donald Penn, who signed a two-year extension after holding out from training camp this summer, has struggled some and will be 35 next year. The Raiders thought about the future at left tackle when they took David Sharpe out of Florida in the fourth round this year, but he hasn't been active. He'd need to take big strides for the team to feel comfortable there, and right tackle Marshall Newhouse is a journeyman more suited as a fill-in than a full-time starter.

The Raiders have tight end Jared Cook, who is on pace for his best NFL season at the age 30 this year, but they may have to start thinking about the future at tight end as well. They thought Clive Walford, a third-round pick in 2015, aws the answer, but he has been a nonfactor with just three catches this season.
Thus, there may be a lot of work to do on offense to the surprise of many.

The big problem, of course is Oakland's issues on defense — still — a unit that has been so bad it cost Norton his job.
The Raiders have been needy on defense for years. They still are. Oakland general manger Reggie McKenzie did not address his team's biggest defensive needs well in the offseason, meaning Oakland's needs on defense in 2018 will essentially be the same as they were in 2017. The Raiders were last in the NFL in sacks last year with 25. They are tied for last with 14 this season. They need a pass rusher, they need probably two starters at linebacker, and they may need new starters at cornerback and safety.

To further complicate matter, Oakland has free-agency restrictions now that Derek Carr is the second highest player in football, the offensive line is near the top of the pay scale and star defensive end Khalil Mack is line to soon become one of the highest paid players in the league.
The Raiders may not be able to address many needs in free agency, and McKenzie has struggled in the draft the past couple of years.

There are question marks in Oakland that we didn't expect. Suddenly, the soon-to-be Las Vegas Raiders may no longer be a smart bet.
Raiders News

Delivered to your inbox

You'll also receive Yardbarker's daily Top 10, featuring the best sports stories from around the web. Customize your newsletter to get articles on your favorite sports and teams. And the best part? It's free!
MORE FROM YARDBARKER:
QUIZ: Name every head coach in the history of the Oakland Raiders
Dating back to their founding in 1960, the Oakland Raiders have had 22 coaches in NFL franchise history. This list includes two Hall of Fame coaches, one Hall of Fame player and two Super Bowl winners. How many of the leaders of the Raiders can you name?
Clue: Years Active
Note: Two coaches have had two stints with the team.
MORE FROM YARDBARKER
Raiders News

Delivered to your inbox

You'll also receive Yardbarker's daily Top 10, featuring the best sports stories from around the web. Customize your newsletter to get articles on your favorite sports and teams. And the best part? It's free!