Sorry haters: No one is more deserving of the Hall of Fame than Jerry Jones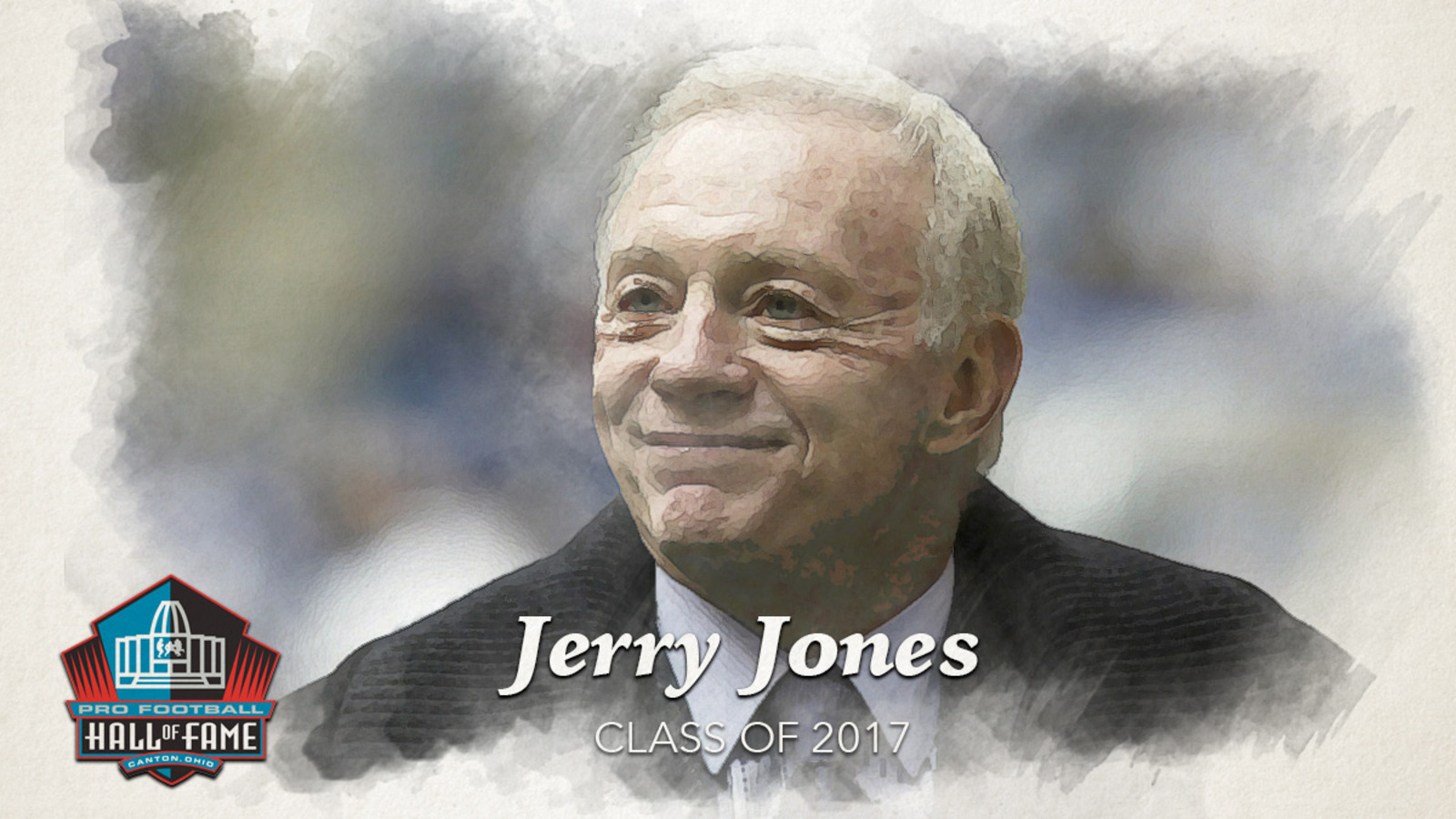 Yardbarker Illustration/Getty Images
This weekend, Jerry Jones — owner, president, and general manager of the Dallas Cowboys — will be inducted into the Pro Football Hall of Fame as a contributor, a category created in 2014 to honor those individuals who were never coaches or players at the pro level but still made huge contributions to the sport of football. This might be a very upsetting statement to a lot of you, mostly because of how justifiably reviled he is, but it doesn't make it any less true: No person in the history of the National Football League is more deserving of enshrinement under that category than Jerry Jones.

To be clear, I'm not saying that he deserves to be in Canton for what he's done with the Cowboys, because that's simply not true. As president and general manager, Jerry Jones has made exactly one good football decision in his entire life, and it happened to be his first as new owner of one of pro sports' most storied franchises.

"The greatest thing that will ever happen to the Cowboys is Jimmy Johnson," Jones prophesied during the February 1989 press conference that served to simultaneously announce his purchase of the team, his firing of legendary coach Tom Landry and subsequent hiring of Johnson.

The boisterous Johnson assembled one of best teams ever in the history of pro football. With the help of Hall of Fame triplets Michael Irvin, Troy Aikman and Emmitt Smith, he led the Cowboys to consecutive victories in Super Bowls XXVII and XVIII. But instead of relishing in what he eventually would refer to as "the glory hole days," Jones felt resentment toward Johnson, whom he felt was consistently undermining him in public (he was).

"Any one of 500 coaches could have won those Super Bowls," the disgruntled owner famously told reporters.

This rift proved to be irreparable. Johnson left before the start of the 1994 season and was replaced with Barry Switzer, who won Jones a third Super Bowl (XXX) with Johnson's team. The following season, the Cowboys won what would be their only playoff victory for more than a decade. Despite recent success, the team has never fully recovered, plagued instead by one bad Jerry Jones decision after another (as a fan of the team, thinking of the Roy Williams trade sends me into a fit of blinding rage). He had been right. Jimmy Johnson really was the greatest thing that would ever happen to the Cowboys.

So why then does Jerry Jones deserve to be inducted into the Pro Football Hall of Fame? Because he essentially did to the NFL what Ray Kroc did to McDonald's. Kroc is credited for taking the moderately successful fast food restaurant started by brothers Maurice and Richard McDonald and growing it into one of the 10 most valuable corporations in the world. Just like Kroc, Jones saw an opportunity for stupidly massive growth, found a way to cut himself into the deal and turned it into a license to print money. He believed that America loved football as much as he did and that he could turn that love into a fortune. In fact, his recognition of the moneymaking potential of owning a professional football team preceded his actual purchase of the Dallas Cowboys by more two decades.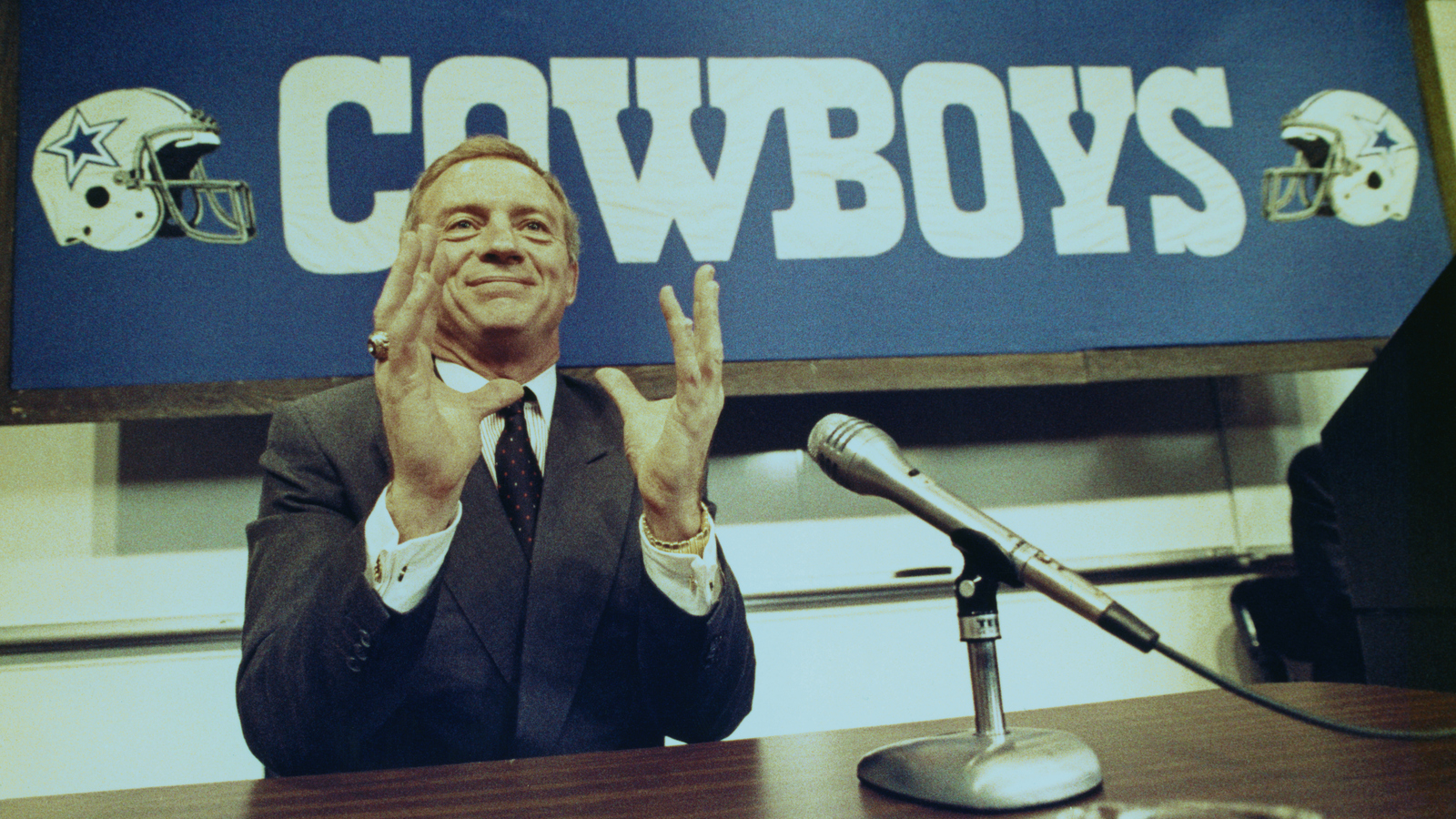 Jones at the Dallas Cowboys headquarters on Feb. 25, 1989 announcing his former college roommate and teammate at Arkansas, Jimmy Johnson, would replace Tom Landry as the Cowboys head coach. 
Bettmann/Getty Images 
In 1966, as a recent college grad, Jones somehow convinced hotel heir Barron Hilton to sell him the San Diego Chargers for $5.6 million. He was so intent on buying the team he almost borrowed the money from mob-connected Jimmy Hoffa and his teamsters. That deal fell apart, and Jones moved on, eventually making his money in oil and gas exploration. At 46, he finally got his wish, buying the Cowboys from H.R. "Bum" Bright for a reported $140 million. The purchase looked to be a reckless one at the time. The team was reportedly losing $1 million a month. It didn't matter.

"I was blindly intoxicated with the idea of being involved with sports and the NFL," he said in a February 2017 interview.

His gamble paid off. Jones's first real chance at growing his investment took place in 1992. At the time, CBS and NBC were the league's two broadcasting partners. Both networks claimed they were losing money under their current deals and approached the NFL about the possibility of renegotiating their contracts. They proposed an annual reduction of $238 million a year, and in turn they would extend their agreements, which ended at the end of the 1993 season, for two more years. The league was set to approve these terms before Jones got in the way.

"Before we took a butt-kicking from the networks, I wanted to see more cards played," he recently told the Dallas Morning News. "I thought we had plenty of time to agree to a reduction. I wanted to see what was out there."

What was out there, it turns out, was Fox. Jones didn't budge, and he convinced his fellow owners to stand their ground. That opened the door for the new and struggling network with no sports division to come in and snatch the NFC broadcasting rights away from CBS by outbidding it by more than $100 million. The new deal brought legitimacy to Fox and made it crystal clear that the NFL had all the leverage in the world. More importantly, it proved Jerry Jones' theory that Americans wanted their football and that they would reward whatever network gave it to them.
Not only is the Super Bowl perennially the most watched televised event of the year, but regular season games draw in a bigger audience than anything the networks have to offer. Professional football has been relatively impervious to the massive fragmentation of TV viewership. That's why in 2013, a decade after Jones's big bet, the NFL signed deals with the major networks — Fox, NBC, ABC and, yes, CBS — valued at $27 billion per year. These lucrative contracts are directly responsible for making every franchise in the league worth on average more than $1.5 billion and the NFL the most profitable sports league in the entire world.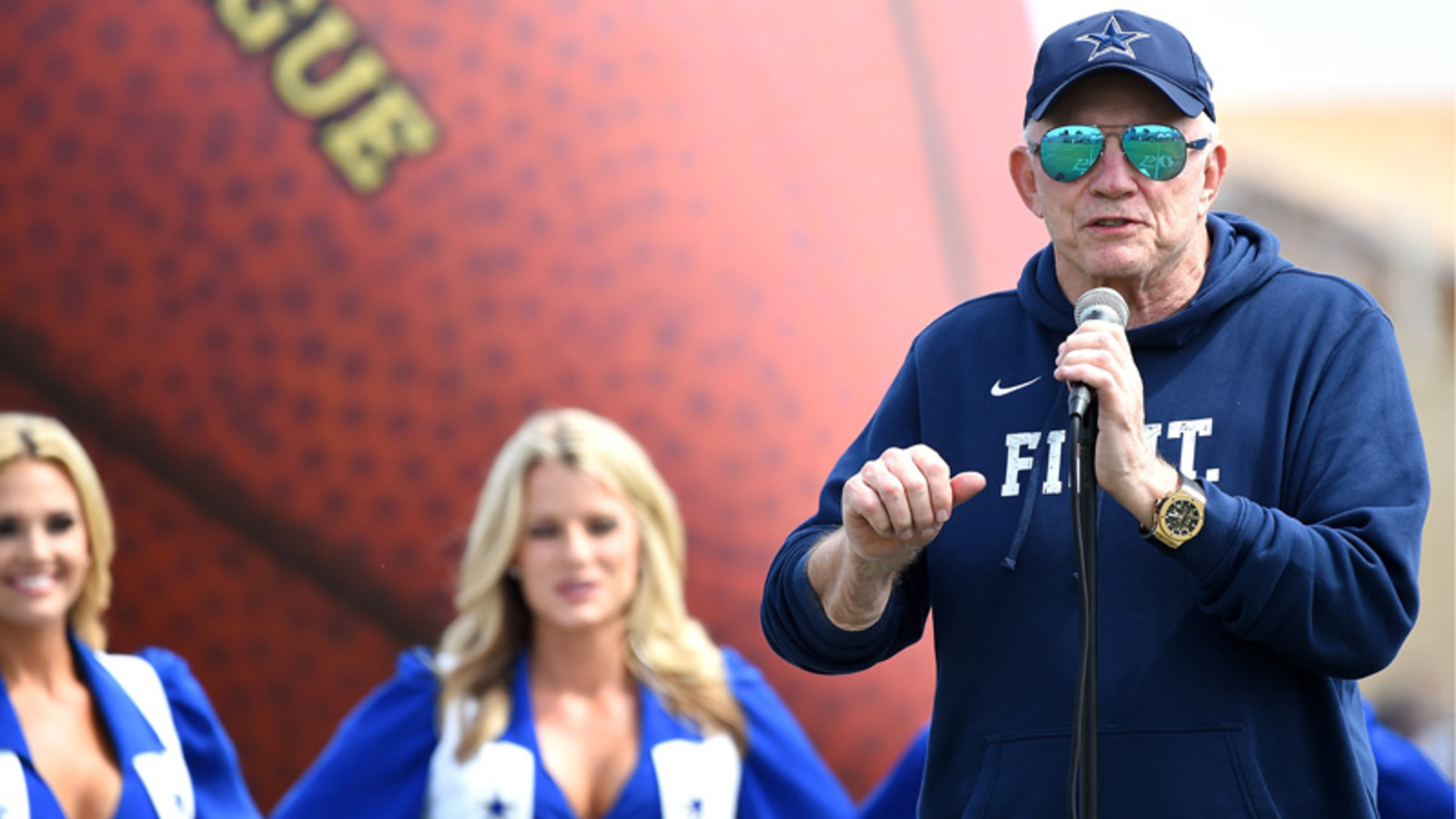 Jones speaking to fans on the opening day of Cowboys training camp on July 24, 2017 in Oxnard, Cali. 
Jayne Kamin-Oncea/Getty Images
Making a lot of rich people even richer has given Jerry Jones a lot of power. The Cowboys owner has made himself such an integral part of the NFL that no major change can happen without his sign off. That proved to be true when it came to bringing a pro football team back to Los Angeles. The majority of the NFL owners favored a plan that would allow the San Diego Chargers to relocate north, with the possibility of the Raiders joining them and sharing a to-be-built stadium in Carson, Calif. Jones, however, backed Rams owner Stan Kroenke's effort to leave St. Louis and return to L.A. — Inglewood, specifically — and he used his outsized influence to make it a reality, brokering a deal that resulted in the Rams opening the 2016 season in L.A. As consolation, the Chargers were allowed to move to Los Angeles at the start of the 2017 and will eventually share the Rams' stadium when it opens in 2018. In the meantime, they'll be forced to play at the StubHub Center, a 30,000-seat soccer stadium and home of the L.A. Galaxy.
But wait, there's more. Jones was also instrumental in not only helping Raiders owner Mark Davis get approval to move his team to Las Vegas, but in finding and securing financing to build a stadium as well. It's this behind-the-scenes wheeling and dealing that has rightly earned him the unofficial title of NFL shadow commissioner.
Jerry Jones is one of the most detestable figures in sports. He fired Tom Landry, he screwed over two cities, he's one of the most ardent deniers of football injuries causing CTE despite the overwhelming evidence linking the two — take your pick. But just as he is deserving of your ire, he's also deserving of having his bust in Canton. Jerry Jones envisioned a world where football owned more than one day of the week, and he made it happen. Love him or hate him, pro football has grown because of him.
Cowboys News

Delivered to your inbox

You'll also receive Yardbarker's daily Top 10, featuring the best sports stories from around the web. Customize your newsletter to get articles on your favorite sports and teams. And the best part? It's free!
MORE FROM YARDBARKER:
QUIZ: Name every NFL Hall of Famer to have played with the Dallas Cowboys
22 players and personnel in the franchise history of the Dallas Cowboys have been elected into the NFL Hall of Fame. How many of these Cowboy greats can you name?
Clue: Position with team/Years active with team
MORE FROM YARDBARKER
Cowboys News

Delivered to your inbox

You'll also receive Yardbarker's daily Top 10, featuring the best sports stories from around the web. Customize your newsletter to get articles on your favorite sports and teams. And the best part? It's free!