The '303 yards and a cloud of dust' quiz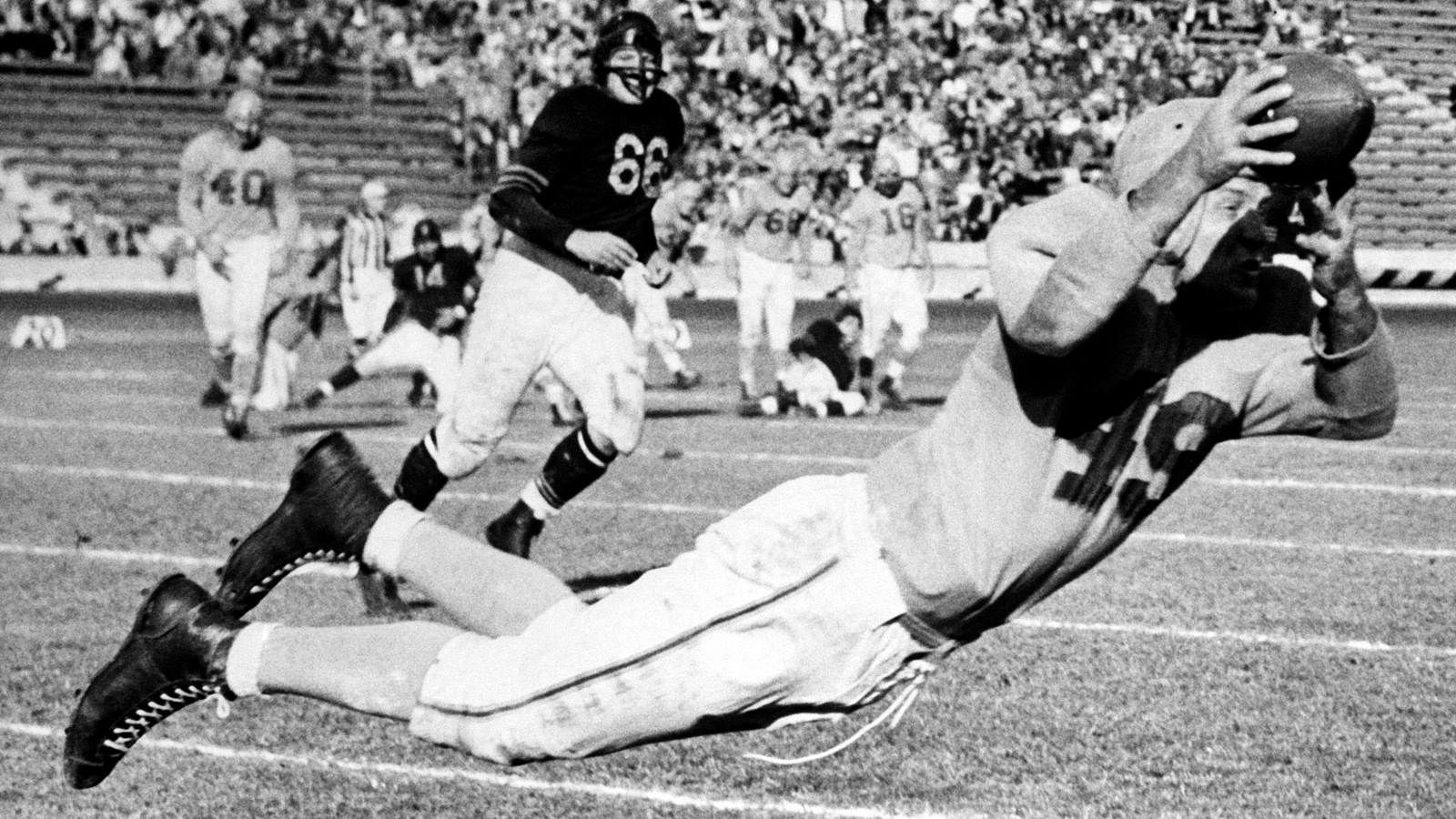 Bettman/Getty Images
When you think of prolific receiving days in the NFL, names like Jerry Rice, Calvin Johnson or Julio Jones likely come to mind. One name that almost certainly doesn't come up for the majority of football fans is Jim Benton. But Benton's name should be more well-known, as he was the first player in NFL history to ever top 300 yards receiving in a game on this date in 1945.
It was Thanksgiving Day. The Cleveland Rams were in Detroit to take on the Lions (seriously, the Lions have been playing on Thanksgiving FOREVER) in a battle to determine who would win the NFL's West division and go on to the league's Championship Game in December. World War II had come to an end just a few months prior, and in the following months, the Rams would indeed go on to win the NFL Championship and subsequently migrate west to Los Angeles (seriously, the NFL has been sticking it to the city of Cleveland FOREVER). Rookie QB and future Hall of Famer, Bob Waterfield was under center for the Rams, and he and Benton were about to have themselves a day.
Benton would proceed to haul in 10 catches (out of Waterfield's 12 completions) for a whopping 303 yards, 66 more than Don Hutson's previous record, including a 70-yard touchdown in the second quarter. Benton was a one-man wrecking crew, but even in the '40s, NFL WRs knew where their bread was buttered, and Benton deflected all praise and instead gave the credit to his QB:
''Bob can put them anywhere with handles on them,'' he once said. ''Whatever I did to get open at the last second, when I do, there comes the ball right when I need it.''
What's most impressive about Benton's career day is just how long his record stood. It would be another 40 years until a player would come along and erase Benton's name from the record books. Even more amazing, in the new pass-happy NFL, Benton's big day in 1945 is still the fourth best receiving day of all-time.
Which brings us to the quiz of the day. In NFL history, only 28 players have managed to total 250 or more receiving yards in one game. How many of these 28 players can you name in five minutes? 
Good luck!
CLUE: YARDS / TEAM / YEAR
QUIZ: Name the NFL players with the most receiving yards in one game
MORE FROM YARDBARKER
Quiz of the Day Newsletter

Delivered to your inbox

Get the Quiz of the Day, Yardbarker's daily newsletter featuring one carefully curated quiz inspired by today's headlines. Compete with your friends and the community. Emailed every weekday. Always free!