The Dirk Koetter gamble looks like a miss for the Bucs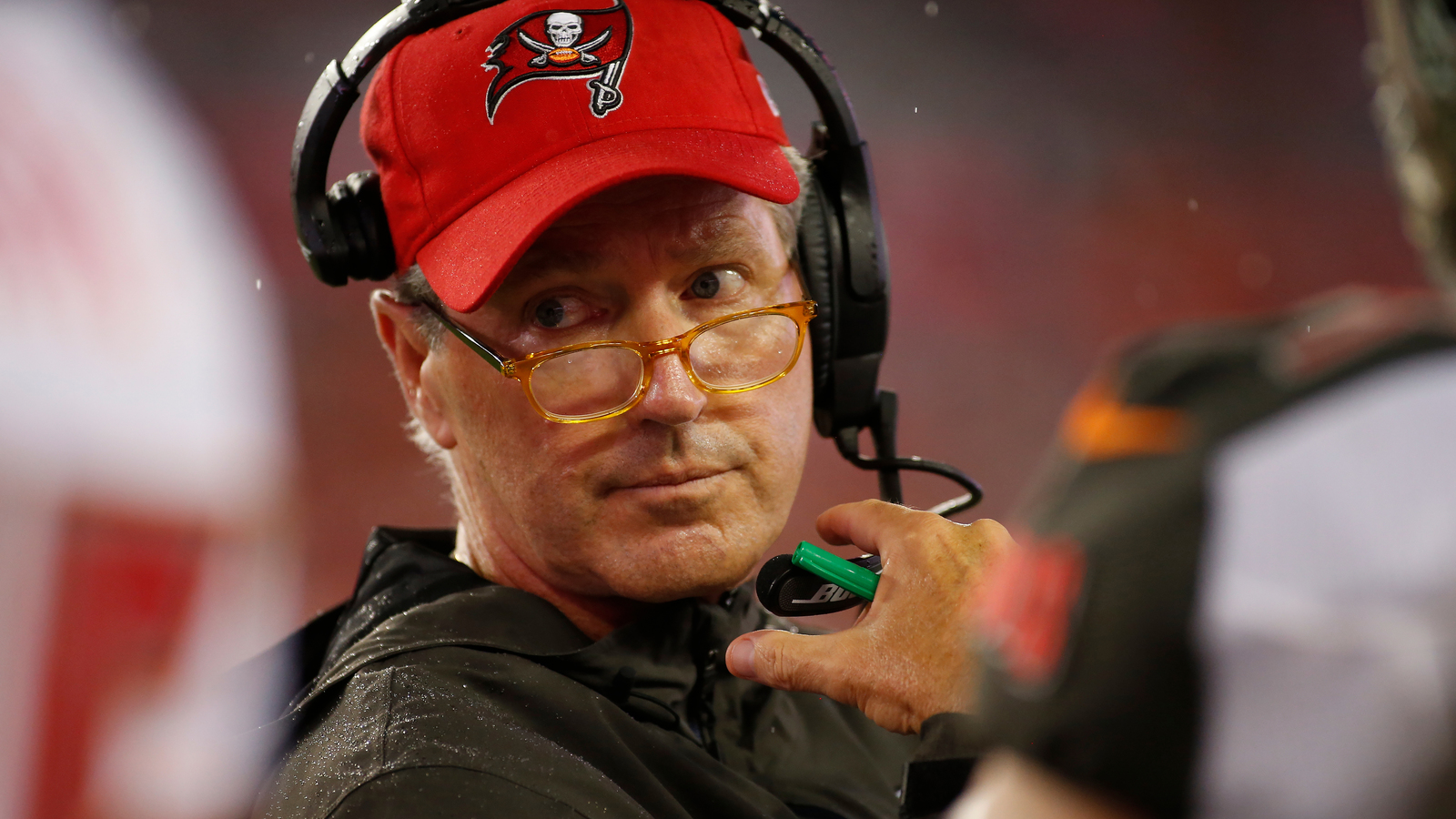 Do the Buccaneers miss Lovie Smith?
Brian Blanco/Getty Images
Two years after the Buccaneers tasked Lovie Smith with rebuilding a franchise buried in the rubble that was left behind by Greg Schiano, the team abruptly fired the head coach the week after the 2015 season ended and promoted offensive coordinator Dirk Koetter to the job.
Koetter is now eight games away from equaling Lovie's stay as head coach. Barring a miraculous turnaround in the second half of the season, that may be all he gets. Sure, Koetter already has more wins to show for his time in Tampa than Lovie did by a count of 11 to eight. Still, when taken in context, it's hard to consider Koetter's tenure as any more successful.

Lovie's first season was a dreadful 2-14. Given the disarray he inherited following Schiano's last year with the Bucs, it's not surprising that they were that bad in 2014. It was that poor finish, of course, that allowed Tampa to select Jameis Winston with the first pick in the 2015 NFL Draft. The following season, the Bucs improved by four games. Evidently, that wasn't enough for the organization. There are reasons to defend the move if you're looking for them. Even if incremental improvement is acceptable, the Tampa defense was the weak point of the team, and Lovie was foremost a defensive coach in his career. The Darrelle Revis situation — Tampa was the only place he really didn't work out as a player, and Lovie brought him on only to rarely use him in man coverage — surely didn't help.
Still, pulling the plug after two seasons is awfully quick on a rebuilding effort. In many ways, Koetter was perfectly set up to thrive. He inherited an offense that he already worked with, led by rising stars like Winston and Mike Evans. Both had enough experience to expect they could win right away. To their credit, the Bucs had immediate returns in 2016, improving by another three games to finish 9-7. The only letdown was that the team was in position to steal the NFC South and didn't. Tampa and Atlanta each went into Week 15 with 8-5 records, but the Bucs lost two of their last three to fall short. The rest is extensively memed Super Bowl history for Atlanta.

Building on that moderate 2016 success, the Bucs' emergence in 2017 was presumed on a level that exceeded trendiness. It was predictable to the point of boring for prognosticators to select them as a breakout team this season. After all, this was the "Hard Knocks" team that brought in DeSean Jackson and Chris Baker onto what was already a borderline playoff roster. At the very least, Tampa would be vying for a Wild Card spot, if not more.
The result: a total washout of a season. Sure, the Bucs won two of their first three. Problem is, those wins came against teams that are presently in last place in their respective divisions. Tampa has dropped the following five games. The last two have been by multiple scores, including a lopsided 30-10 loss to the Saints in New Orleans this past Sunday that resulted in Evans being suspended for a cheap shot and Winston being shut down for several weeks out of concern for a shoulder injury he reaggravated.

Would Lovie Smith have endured the same mess? It's possible, though his track record of consistent success in Chicago suggests otherwise. The knock on Lovie's teams is his offenses were always feeble, though he also never had a quarterback as good as Winston, even with the current concerns about his career trajectory. Koetter was considered a hot coordinator so it's possible if the Bucs kept Lovie they would have lost their offensive coordinator to another team. Right now, that doesn't look like the worst fate in the world.
Minus a thorough tanking over the final eight weeks, chances are Koetter survives for at least one more year in 2018. Football orthodoxy values continuity too much for teams to go through new coaches every year without alarm bells going off. The fact that the Bucs would be firing their second coach in four years would mean they have a highly prized successor lined up. So while Koetter isn't entirely in the clear for 2017, he's probably safer than he should be. If that means the Buccaneers are stuck with an underperforming coach in 2018, they have no one to blame but themselves.
QUIZ: Name every head coach in the history of the Tampa Bay Buccaneers
Dating back to their founding as an expansion team in 1976, the Tampa Bay Buccaneers have had 11 coaches in NFL franchise history. This list includes one coach who lead the team to a Super Bowl victory. While the team has had only a few seasons of success, they appear off to a good start with the new coach. How many of the leaders of the Buccaneers can you name?
Clue: Years Active
Buccaneers News

Delivered to your inbox

You'll also receive Yardbarker's daily Top 10, featuring the best sports stories from around the web. Customize your newsletter to get articles on your favorite sports and teams. And the best part? It's free!
MORE FROM YARDBARKER
Buccaneers News

Delivered to your inbox

You'll also receive Yardbarker's daily Top 10, featuring the best sports stories from around the web. Customize your newsletter to get articles on your favorite sports and teams. And the best part? It's free!