The week in NFL news as explained by Johnny Cash
By Sam Greszes | Last updated 1/9/17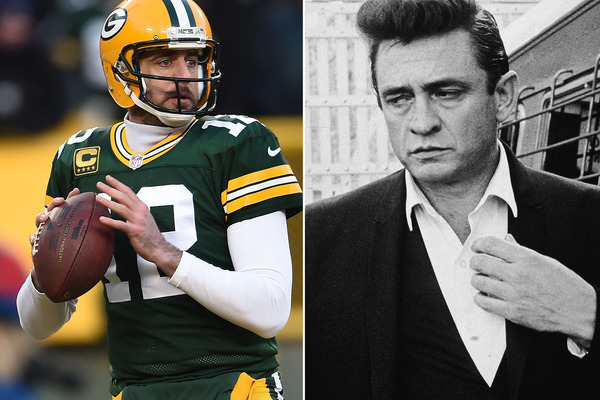 Aaron Rodgers again showed why he was "The Matador" in the Packers' win over the Giants.
Stacy Revere via Getty Images Sports/Hulton Archive/Getty Images
Did you watch this past weekend's Wild Card Weekend games? No? Lucky you! They were all blowouts. Some were predictable blowouts, like the Steelers taking care of the Dolphins, but many of us expected at least the Seahawks-Lions games to be competitive. Not so.

If you missed all of the game action, however, there are a few emerging storylines you'll want to be aware of before the divisional round starts. Well, except for the storyline where the Giants lost to the Packers because Odell Beckham Jr. and friends hung out on a boat. Just... ignore that one. For your sanity's sake.
"Everybody Loves A Nut" - Jon Gruden calls his last game this season and it might be his last for a while


I really hope this isn't goodbye for Jon Gruden: NFL Commentator. Though the swirling rumors regarding his return to coaching are largely unsubstantiated, and it seems unlikely that he would leave a job he obviously loves to coach one of the many terrible football teams in need of a coach, the possibility remains that we have seen the last NFL game Jon Gruden might call for a long time. And, ugh, he might have ended with that awful Texans-Raiders game. Poor guy.

Again, it's unlikely he'll leave for a coaching position, but on the off chance he does, he will be sorely missed. He has always been the best kind of nerd in the booth, legitimately excited about advanced football strategies, and with the unique gift of explaining these complex concepts to the casual viewer.
"Man in Black (And White)" - NFL refs remain terrible


The Lions just can't catch a break. Not to take away from the amazing catch Paul Richardson made against Tavon Wilson, but he did it while grabbing Wilson's facemask. It was blatant, and a flag was thrown. Unfortunately, it was on Wilson, for pass interference.

The Lions also found themselves on the wrong side of four questionable personal fouls during the game as well. Now, that doesn't change the fact that the Lions were outplayed from end to end, but just so we're reminded of the ones who are held back again and again and again and again in the postseason, up front, maybe the men in black and white should get their acts together (or at least, the NFL should pay them more and standardize officiating).
"The Matador" - Aaron Rodgers picks the Giants apart


Last night, I was in the mood for something sweet, so I decided to make some cookies on a whim. My kitchen timer wasn't working right, so I just decided to start baking when the ball was snapped, and to take the cookies out when Aaron Rodgers actually decided to throw the ball. They came out perfect, if a little bit burnt.

Despite the greatness of the Giants' defense, Aaron Rodgers had an eternity in the pocket for the majority of the game, effortlessly dodging the charging rushers as he waited for his receivers to make space. Rodgers seems to be single-minded on reminding the world that he is still an idol, as he was before, and that when he's hot, there is no better quarterback in the NFL.
"Next In Line"- The "Next Man Up" is put to the test


If this weekend had a theme (well, a theme other than "uninteresting football games"), it would be something vaguely related to the concept of the "Next Man Up." We already went over the Raiders, and how Connor Cook was not quite ready to step into the starting role yet, but elsewhere in the league, players that were asked to step up generally, well, did.

Randall Cobb, after Jordy Nelson exited the game with a nasty-looking injury, immediately took over Nelson's role as a #1 receiver, and did so with aplomb. He racked up 116 receiving yards and three touchdowns on the day (including that ridiculous Hail Mary catch you'll see all over SportsCenter for the next forever-and-a-half), despite a mild ankle injury. Thomas Rawls also stepped up big time on Saturday, doing his best to fill the gigantic, beast-sized, Skittles-covered shoes left behind by Marshawn Lynch by being a reliable force in the power running game. He averaged six yards per carry on the day, and his play helped open up passing lanes for Doug Baldwin and Paul Richardson.
"Hurt" The Texans are too much for the depleted Raiders


See, this one works on multiple levels. First of all, pretty much everyone on the Raiders was injured, from Derek Carr, to Matt McGloin, to safety Nate Allen, to tackle Donald Penn. And that's not even mentioning the fact that Amari Cooper, Michael Crabtree, and Andre Holmes were all not playing at 100% with various lingering injuries.

Second of all, such a depressing game deserves a depressing song like "Hurt." In fact, "Hurt" might be the best song to describe this season's Wild Card weekend. So, sorry, guys. Hopefully, things will be better next week. They can't get any worse!
MORE FROM YARDBARKER
NFL News

Delivered to your inbox

You'll also receive Yardbarker's daily Top 10, featuring the best sports stories from around the web. Customize your newsletter to get articles on your favorite sports and teams. And the best part? It's free!