99 years, 99 reasons we love the National Hockey League
By YB Staff | Last updated 11/25/16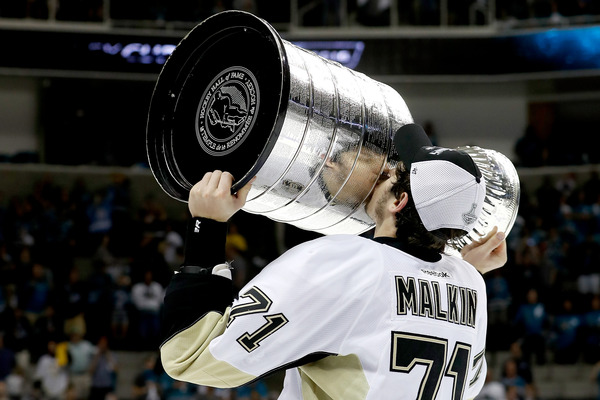 There isn't a trophy as glorious in sports as the Stanley Cup, one more reason we love the NHL.
Christian Petersen/Getty Images
The NHL is in full swing its Centennial Season celebrations; 100 anniversary hockey pucks, the upcoming Centennial Classic on New Year's Day, a Centennial Gala in January, naming the 100 best NHL players of all time at the All-Star Game. 100. 100. 100. (I'd use the '100' emoji here but our CMS would eat it.)

But you know what this weekend is? November 26, 2016 is the 99th anniversary of the NHL's founding. You can't let a date like that go by unnoticed. If you had a 99-year-old grandmother you wouldn't say, "No cake this year. You have to hold out for 100 for that, Nana." Nana might not make it another year! You buy your grandmother a card now and write down all the reasons why you love her and her 99 years on this planet.

With that in mind, here is our list: 99 reasons why we love the NHL. We're excited for your next year making it to 100.
Hating players for the duration of their careers for no reason other than they scored on your team that one time.
That player order coming out of the tunnel has a mystical quality regarding luck.
One of the great ambassadors in sports (and a true gentleman in person), Willie O'Ree.
That no matter how many years go by, we talk about returning a team to Hartford.
The all-consuming stress of watching a single playoff game.
No matter how many years go by, we talk about returning a team to Quebec City.
That time Joel Ward locked himself in a bathroom stall and his teammates live-tweeted it.
Alex Ovechkin doesn't have time for anyone's crap.
Gordie Howe hat tricks, a goal, an assist and a fight.
When a goalie thanks the crossbar:
Mark Messier's guarantee. (Apologies to all the Devils fans out there.)
That guy sitting next to you at the home opener wearing just a jersey and shorts because it's October and warm outside – then pretends he's not actually freezing the whole game.
When goalies get adventurous; aka Karri Ramo put the song "Wipeout" to shame.
Tie Domi fighting with a fan, then making up and becoming friends with said fan years later.
The best movies are hockey movies, proof in the pudding: "Slap Shot", "Goon", "Miracle", "Mighty Ducks", "Clerks", "Love Story", "Sudden Death" - okay maybe not the last one.
The incredible moment when Stevie Y finally won the Cup.
Gretzky's Pro Stars cereal.
When Sam Tageson became a Shark for a Day.
The Alexandre Daigle era that wasn't.
Ray Bourque in accuracy shootout.
Red Wings and their fans' obsession with playing and singing along to Journey.
That time President Obama name-checked Brad Marchand as "the Little Ball of Hate" during the Bruins' White House visit.
Each and every spin-o-rama shootout/penalty shot goal.
Henrik Lundqvist's assistant goalie, the "little snow fort."
Zdeno Chara playing screener on the power play (and his comically large stick).
Love it or love hating it, Don Cherry's wardrobe.
The end of the trap... and the Devils' dynasty.
The Florida Panthers and their adorable rats.
The first Winter Classic, snow and all, Crosby's shootout winner.
Keith Primeau to Sami Kapanen's rescue, leads to series-winning goal.
Zambonis. Who doesn't love zambonis?
Going to a game and throwing away a perfectly good hat just because someone scores three goals.
Wayne Gretzky meeting Gordie Howe as a kid and then sharing the ice with him nine years later at the All-Star Game.
Detroit's octopus affair.
Roberto Luongo's Twitter feed.
You can be the worst-dressed person ever, but even YOU become a fashionista when it comes to specialty hockey sweaters.
That for all the complaining, sometimes Gary Bettman is right and fans did forget about the safety nets soon after they were installed.
Playoff beards: the full bushy ones to the terrible wisps of a shadow, they all count.
Goalies scoring goals.
The epic pregame brawl of 1987, starring the Habs and the Flyers and a lot of guys not in uniform yet.
Hockey team Christmas videos, like when the Caps parodied "A Christmas Story" and Ovi wore the pink bunny costume!
DON'T TOUCH THE CONFERENCE TROPHY! (Unless you do, it really can go either way. Luck is fickle like that.)
Mullets and hockey hair.
Mike Lange and "Get in the fast lane, Grandma, the bingo game's ready to roll!"
Pee-wee games during intermission.
"Hockey players as kids" has its own Tumblr.
The day we learned what would happen if Joe Thornton scored four goals in a game.
Goalie fights. All of them.
Stitches. Lots and lots of stitches.
Line names: Minnesota line, Legion of Doom, AMP, BBC Line.
When the sin bin gets a little too crowded.
Keith Primeau's five-OT playoff winner vs. the Penguins (Sorry, Sarah but then again your team has Cups, mine has zero in my lifetime. - Joe)
Canuck bodysuit guys next to the penalty box (before we got tired of them).
Hockey players have the best Halloween costume ideas.
Patrick Roy and four Stanley Cups.
The "old timers" game during the Winter Classic.
Being a homer and being right that Mario is the greatest player ever down to scoring in his first game back after beating cancer. (And also editing this piece so it stays - Sarah.)
Jaromir is an anagram of Mario Jr.
The unshakeable chill of goalies like Carey Price and Braden Holtby.
Few thing in sports are both as hilarious and as terrifying as a pissed off goalie.
Malkin's momma's borscht.
Everything Erik Karlsson does.
The hideous Canadiens barberpole jersey that they tried to bring back.
Glow pucks happened twenty years too early and now everyone wants data from every part of the game from player heart-rates to goal line lasers.
The mere existence of P.K. Subban; from fashion to celebrations. And oh, even his parents are happy he's in Nashville now.
Jonathan Toews' Twitter account reads like the stuff you'd see on a Lululemon shopping bag.
Scoring your first NHL goal on your first shift in your first game.
Parents who name their kids after teams, players, mascots, and their favorite NHL moments.
Fighting. Straps. Straps to keep your clothes on during fights.
Hockey hugs and victory scrums.
Nashville hockey is a unique NHL experience - and not letting Original Six fans look down their noses at it.
Swearing you won't pay for an overpriced beer in the arena and then buying three.
The star in the bear's eye in the Minnesota Wild's logo as a callback to the North Stars.
Complaining about shootouts never gets old.
The greatest worst re-brand in history: The Islanders' Fisherman!
Two words: Doc. Emrick.
Sidney Crosby's "lucky" jock strap from youth hockey.
When NHL teammates prank each other.
Philadelphia Flyers anthem singer Lauren Hart and the 'duets' with Kate Smith.
One of the greatest video games of all time, NHL '94.
Marathon overtime games in the playoffs, no matter who is playing.
How hockey fans united in our love for Phil Kessel because we felt he was being unfairly maligned by the media in his previous city.
Historical greats such as Jean Beliveau and Maurice Richard.
How everyone acts like touching the Stanley Cup can put a curse on your favorite team or is somehow disrespecting it when the players who have won it put the poor thing through all kinds of ordeals; tossing it off a roof, using it as a planter, letting their babies poop in them (and yet still allowing grandma to drink champagne out of it later on).
When Flyers fans chant "sucks" after every player's name when the opponent's starting lineup is announced in the arena.
The oldest guy on every Stanley Cup winning team.
The joy of watching non-hockey fans suddenly discover the best playoffs in sports every spring.
Who else but The Great One?
QUIZ: Name every NHL player to win the Hart Trophy
The Hart Trophy honors the most valuable player in the NHL.
Can you name every winner of the Hart Trophy since 1924?
Clue: Year-Team
Note: No award in 2005 because of strike
MORE FROM YARDBARKER
NHL News

Delivered to your inbox

You'll also receive Yardbarker's daily Top 10, featuring the best sports stories from around the web. Customize your newsletter to get articles on your favorite sports and teams. And the best part? It's free!