MLS Decision Day: East to be a rumble while West up for grabs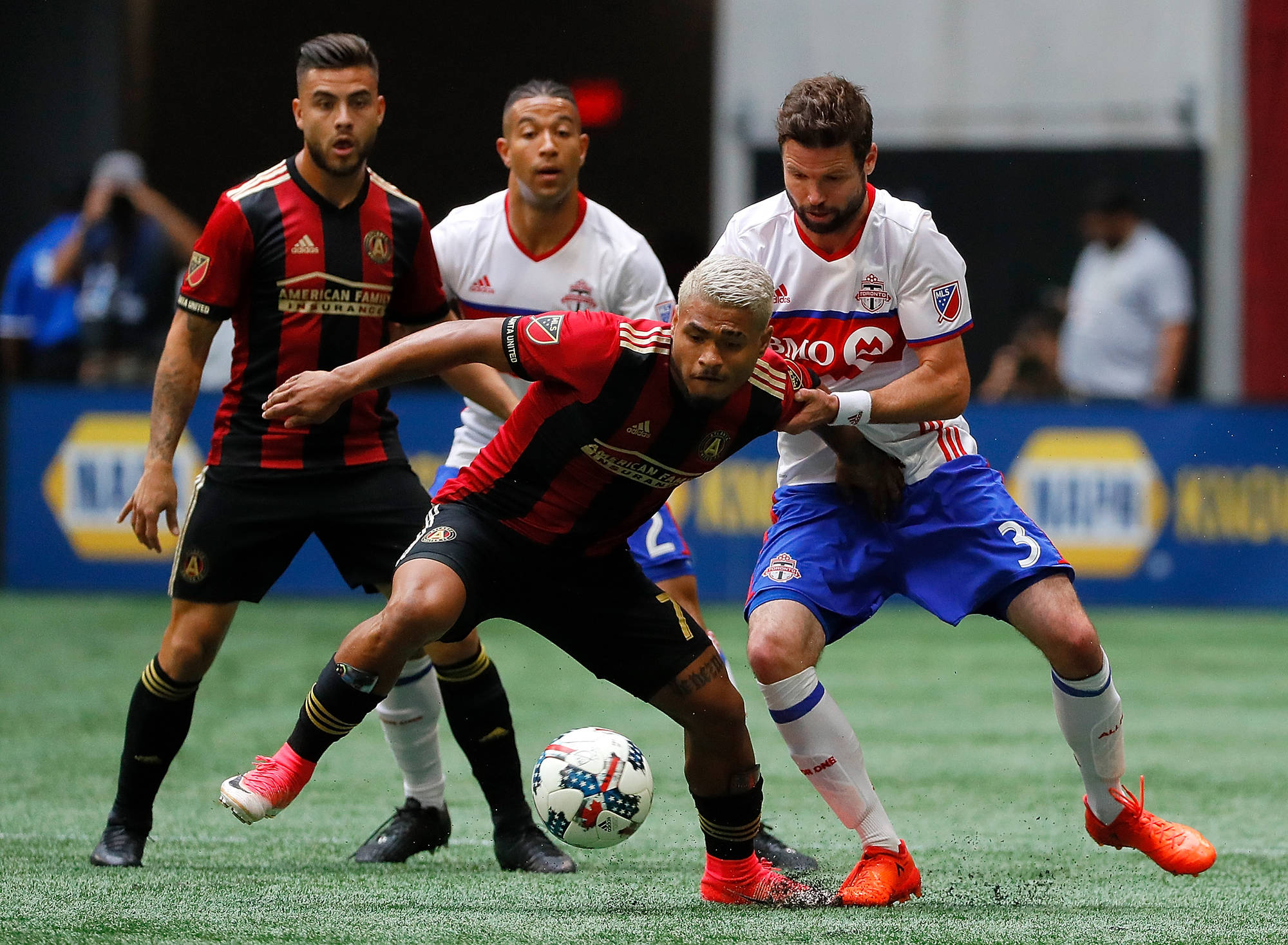 Josef Martinez of Atlanta United is challenged by Drew Moor of Toronto FC at Mercedes-Benz Stadium on October 22, 2017 in Atlanta, Georgia. 
Kevin C. Cox/Getty Images
After an exciting Decision Day 2017 that saw all MLS teams combine for a whopping 46 goals, it's now time to get ready for one of the most wildly underrated events on the North American sports calendar: the MLS Playoffs.

Even though MLS has long since given up trying to "Americanize" the game on the pitch, the rules are still very much in line with what you see with other sports here, which means that even though Toronto FC would have been crowned league champions in almost any other league in the world, the Canadian powerhouse will have to prove it in the playoffs if they want to win this league.

Before we get into talking about what you should keep an eye on as the playoffs start, it's definitely worth taking a look back at the relevant action that took place on Decision Day, as there was a lot to watch on what was a fun (if nerve-wracking) day for plenty of teams around the league.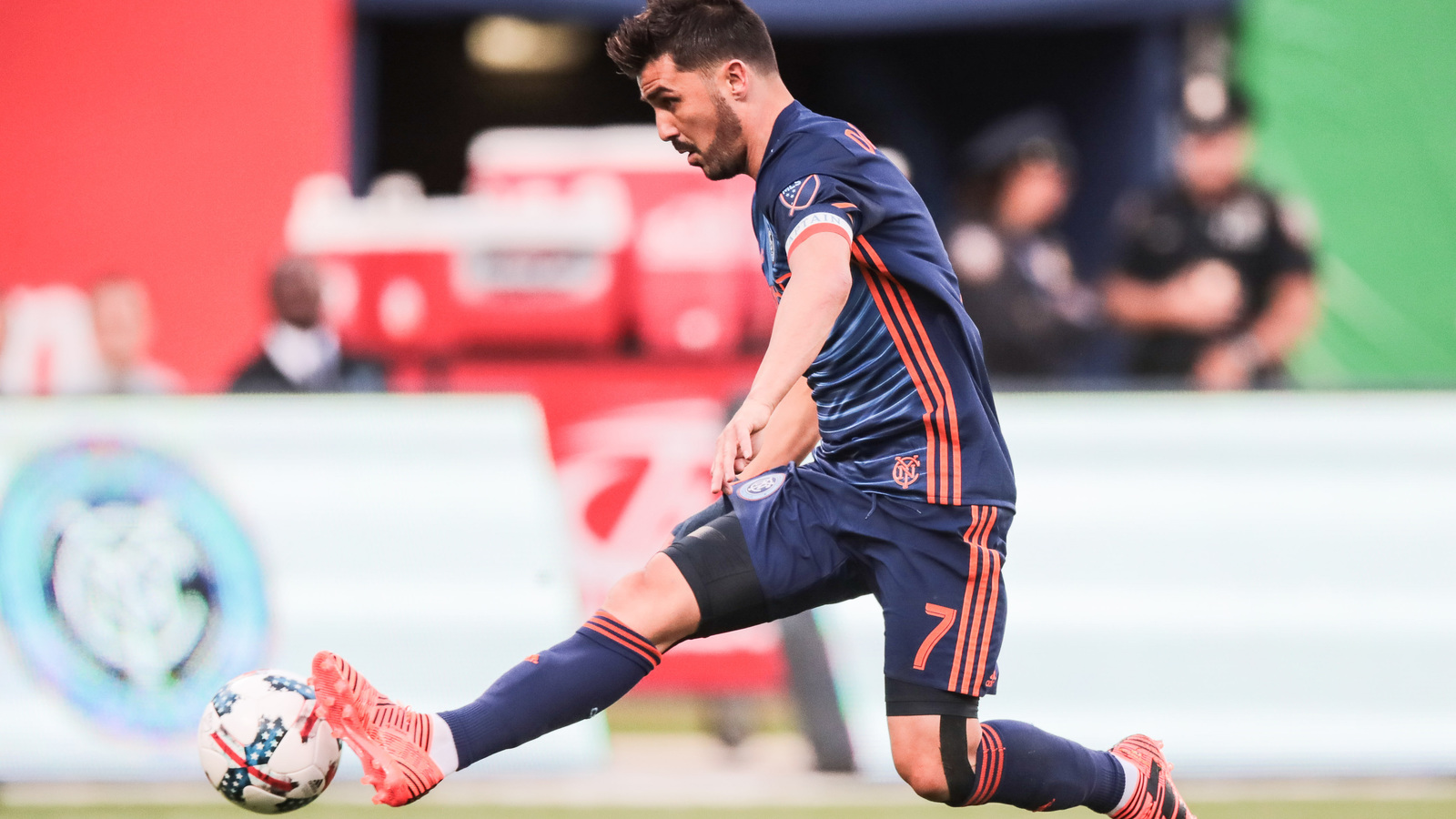 New York City FC forward David Villa controls the ball against the Columbus Crew during the first half at Citi Field on Oct. 22, 2017.
Vincent Carchietta-USA TODAY Sports
For starters, David Villa continued to wreak havoc on any defense that he faces. The NYCFC talisman scored both of their goals against Columbus, but he'll be kicking himself after he missed a late penalty that would have sealed a hat-trick and given City the victory. Instead, NYCFC had to settle for a draw after the Crew got goals from Ole Kamara and former NYCFC defender Josh Williams to tie things up.
It wasn't all bad news for New York City since results elsewhere made sure that despite the draw, they were able to clinch the second seed in the East, which means that they get to avoid the dangerous Wild Card game. Instead, the draw meant that Columbus will have to play a road game, and both Chicago Fire and Atlanta United failed to capitalize. Atlanta played a thrilling 2-2 draw with Toronto, and the Fire completely flopped against the Houston Dynamo as they fell 3-0. Fortunately for the Fire, they were able to clinch the third seed due to having more wins than Atlanta, so they'll be hosting the New York Red Bulls while Atlanta United will welcome Columbus Crew into the snake pit that is Mercedes-Benz Stadium.
The Western Conference was a bit more dramatic, since playoff spots were still on the line going into the final day. If you're a San Jose Earthquakes fan, then drama is nothing new to you. They've made a habit over recent seasons of pulling out victories in the dying stages of games and the Goonies returned to the forefront after Marco Urena scored a winner in the 93rd minute to rob FC Dallas of a playoff spot. Although it's hard to feel bad for any team that misses the playoffs in a league where over half of the league gets in, Dallas will definitely feel hard-done after they finished the season with a goal differential of zero, while the Earthquakes will at least get one more game while sitting on a gaudy goal differential of -21. That's life, though.
Meanwhile, all eyes will be on Cascadia after the three teams from the Pacific Northwest finished 1-2-3 in the West. The Portland Timbers and Vancouver Whitecaps squared off in a huge game, and it was Portland who prevailed in the end by picking up a come-from-behind 2-1 victory to clinch the top spot in the West. The loss ended up being a painful one for the Whitecaps, as the defending MLS Cup Champions Seattle Sounders overcame a foolish red card from Clint Dempsey to easily defeat the Colorado Rapids and earn a bye. The win sent the Whitecaps into the Wild Card round, which is where they'll host the Earthquakes. Finally, Sporting Kansas City failed to capitalize on an opportunity to move up in the standings after they fell 2-1 to Real Salt Lake, which means that they'll be traveling to Houston for their Wild Card game.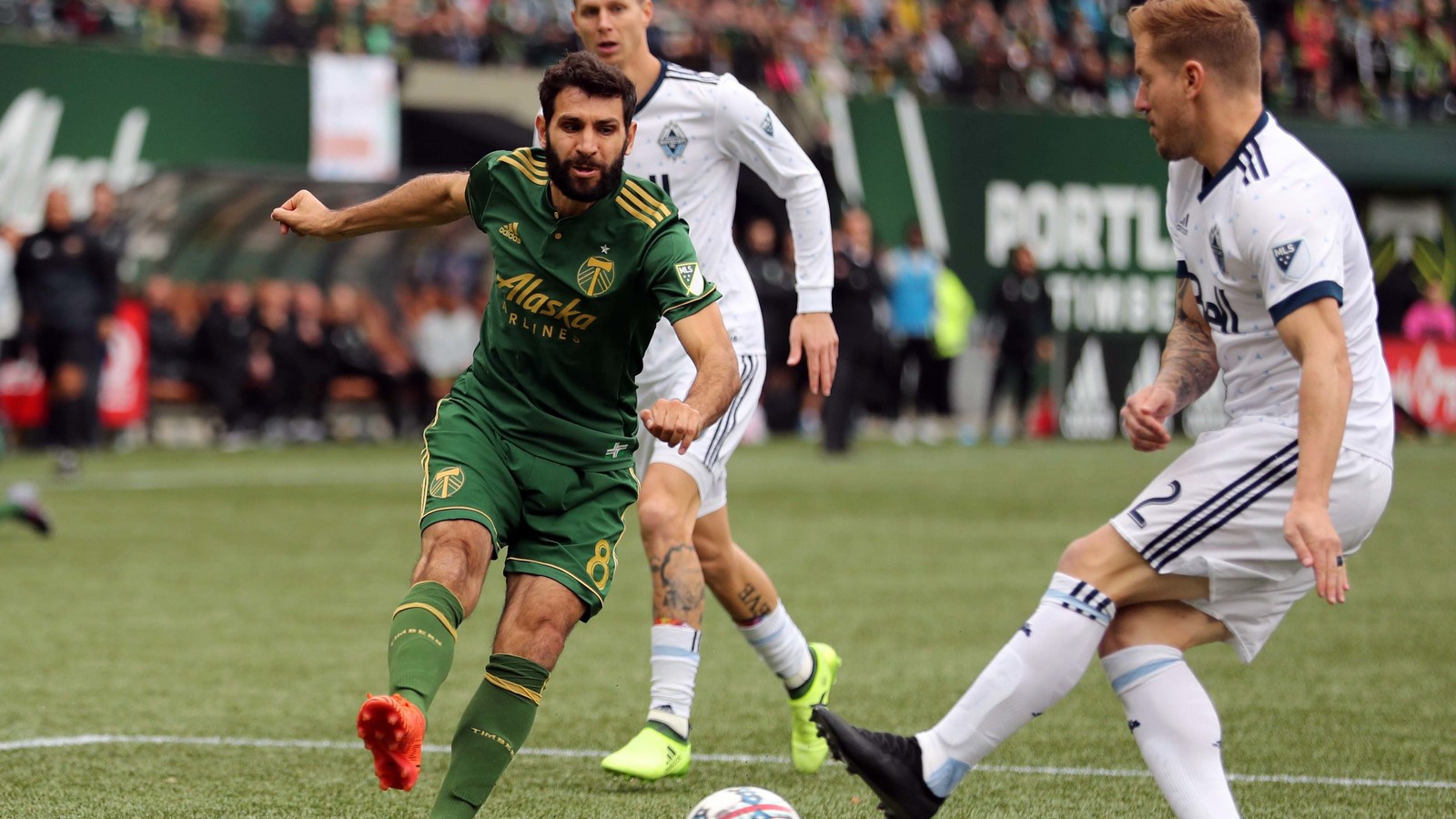 Portland Timbers midfielder Diego Valeri kicks the ball Vancouver Whitecaps in the first half at Providence Park. Valeri gives the Timbers an extra MVP edge in the wide-open West. 
Jaime Valdez-USA TODAY Sports
Now that Decision Day is behind us, what should you expect from the 12 teams who have made it this far into the 2017 MLS campaign? As far as the Western Conference is concerned, it's anybody's guess as to who will come out of there. Clearly the Timbers should be considered the favorites as they've earned the top seed and have a prime MVP candidate in the form of Diego Valeri. However, the Sounders (just as the Timbers do after their 2015 title run) have the recent experience of making a deep run in the playoffs and they know what it takes to navigate through the minefield of the playoffs. Plus they've got decent firepower with the likes of Will Bruin and Nic Lodeiro at their disposal, and being able to consistently score at this stage is crucial.
The rest of the West is intriguing if only because it's not clear as to who else could go deep. The Whitecaps are solid at the back and Kendall Waston has proven that he can bang in goals via set pieces if need be, but they may have been punching above their weight all season. If Erick Torres and Mauro Manotas get hot together, then Houston could make a run. SKC may be heading into the playoffs with a US Open Cup trophy in their pocket, but they've consistently tripped on themselves as the playoffs arrived, and they haven't really given reason to expect anything different. Then there are the Earthquakes, and unless MLS just goes really crazy this year, their Decision Day drama will likely be the high point of the season for them.
On the other hand, the Eastern Conference may very well be a Royal Rumble. Toronto FC, with the deadly trio of Sebastian Giovinco, Jozy Altidore and Michael Bradley are the clear favorites to return to the MLS Cup Final, but they'll have to earn it. David Villa is on form for New York City and that means that NYCFC is just as dangerous as any team left, since he's proven that he can single-handedly turn games around.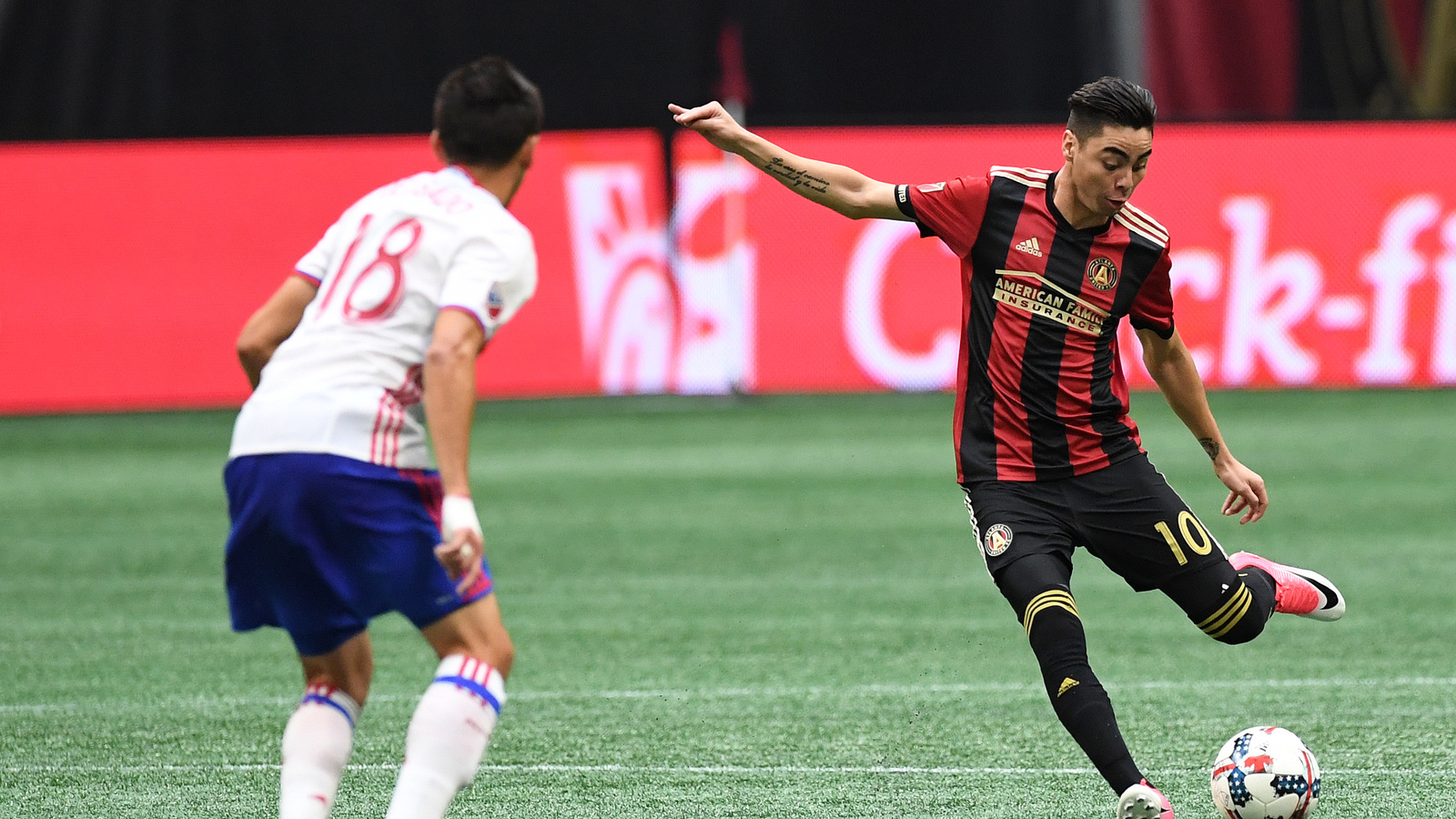 Atlanta midfielder Miguel Almiron is getting healthy just in time for the expansion United's first Wild Card.   
John David Mercer-USA TODAY Sports
2017 Golden Boot winner Nemanja Nikolic has the same ability, and as long as he's active then the Fire will have a shot. Atlanta United will be getting Miguel Almiron healthy just in time for the Wild Card, and their attack is arguably just as dangerous as Toronto's when he's in the lineup and combining with Josef Martinez. The Red Bulls have Sacha Kljestan leading their experience-laden team into the playoffs, and if Columbus Crew can shake off the dark cloud that their owner inflicted upon them and their fans, then they could also upset the apple cart as well. Still, this is very much Toronto FC's conference to lose but it'll still be tough.
Either way, you should prepare for lots of twists and turns for this upcoming month. The MLS Cup Playoffs almost always turn up a few surprises, since the talent gap between the teams isn't nearly as wide as you'd see in other leagues. So while common sense would imply that Toronto FC should roll to the Final and complete their unfinished business from last season, history tells us to expect otherwise.
The only thing that's for sure is that you should probably bet on the home team winning in the Wild Card round – home teams are 11-1 since MLS went to this playoff format. Other than that, you should expect the unexpected and get ready for a thrill ride that will culminate in the trophy being raised in a few weeks time. With that in mind, I'm now going to foolishly try to predict how the playoffs will shake out.
Wild Card East: CHC def. NYR, ATL def. CLB
Wild Card West: VAN def. SJ, HOU def. SKC
East Semis: TOR def. ATL, CHC def. NYC
West Semis: POR def. HOU, SEA def. VAN
East Finals: TOR def. CHC
West Finals: POR def. SEA
MLS Cup Finals: TOR def. POR
Soccer News

Delivered to your inbox

You'll also receive Yardbarker's daily Top 10, featuring the best sports stories from around the web. Customize your newsletter to get articles on your favorite sports and teams. And the best part? It's free!
PLAYERS:
David Villa
,
Clint Dempsey
,
Jozy Altidore
TEAMS:
Toronto FC
,
Chicago Fire
,
Houston Dynamo
,
Columbus Crew SC
,
FC Dallas
,
Portland Timbers
,
Colorado Rapids
,
San Jose Earthquakes
,
Sporting KC
,
Real Salt Lake
MORE FROM YARDBARKER
Soccer News

Delivered to your inbox

You'll also receive Yardbarker's daily Top 10, featuring the best sports stories from around the web. Customize your newsletter to get articles on your favorite sports and teams. And the best part? It's free!