Best of Yardbarker: Basketball never stops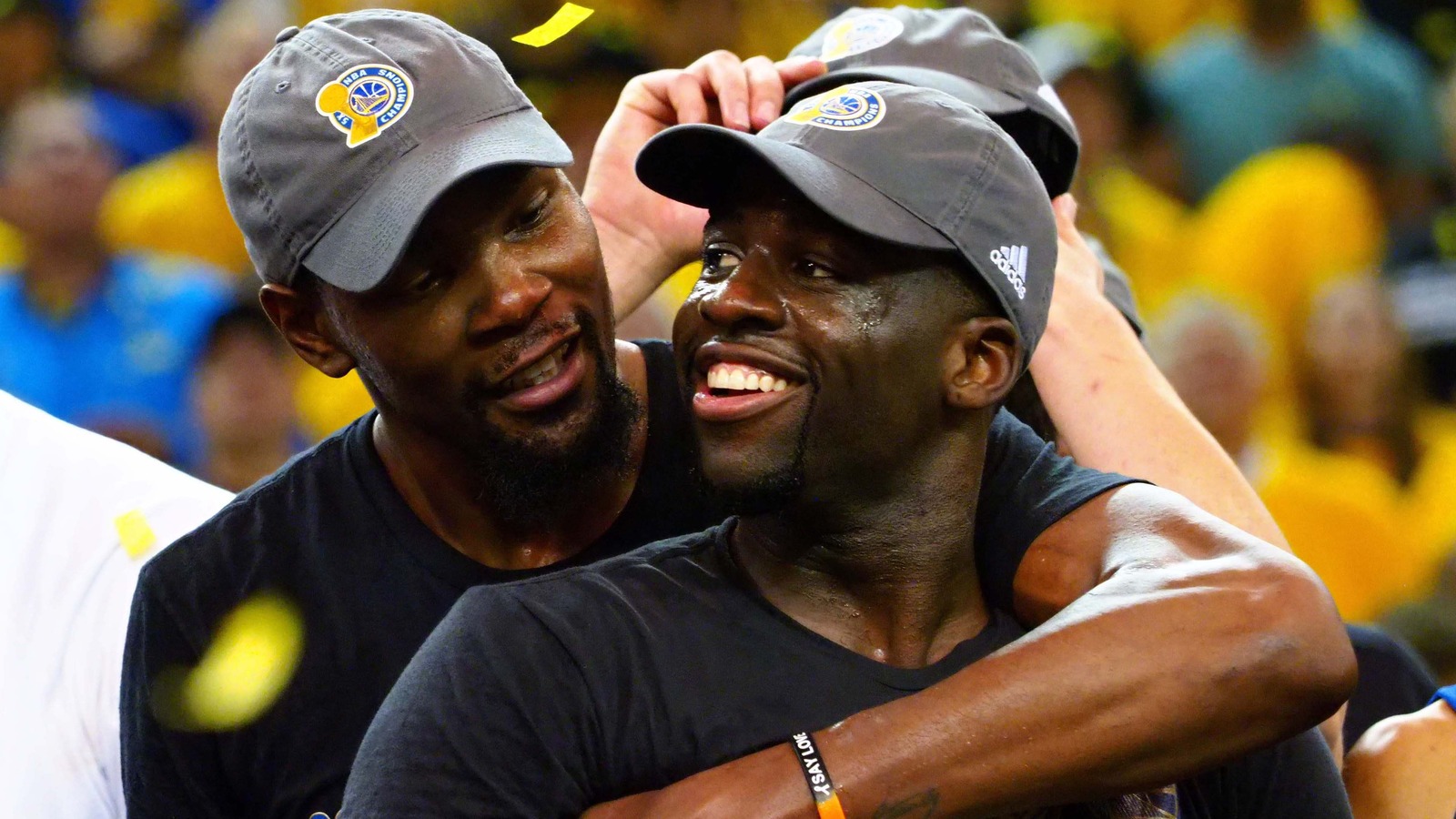 Kevin Durant and Draymond Green helped lead the Golden State Warriors to the NBA title.
Kelley L Cox/USA TODAY Sports
The 2016-17 NBA season is now officially in the books, and we're sure to see a summer-long trolling revenge tour by the Golden State Warriors, who wasted no time giving LeBron James and his Cleveland Cavaliers a taste of their own mocking medicine after reclaiming the Larry O'Brien Trophy.

If nonstop memes, "superteam" jokes and Kevin Durant interviews aren't quite your thing, don't fret — you can still get your basketball fix. Here's how to feed your roundball addiction through the summer months, ranging from the BIG3 to the NBA Draft, Summer League, WNBA, international competitions and more: "So is this another one in the trophy case for Maya Moore and the rest of the Minnesota Lynx? Does the Elena Delle Donne trade pay off for the Mystics? Will the aforementioned Liberty finally take home the title that's eluded the founding franchise? Or do the Sparks prove doubters wrong and repeat as champions? Expect fireworks in the Finals, no matter who ends up playing in them."

Also on the list of summer basketball dates is the NBA Awards ceremony, which takes place Monday, June 26. While we'll have to wait to find out exactly which players and coaches take home which honors, we already know the winners and losers of the 2017 NBA Finals, headlined by the aforementioned Kevin Durant: "Durant's Finals performance, which earned him the unanimous Finals MVP award, left no doubt as to whether leaving the Thunder was the right choice for his career, even if many would still argue it was the incorrect one. 39 points on 14-for-20 shooting in the Finals clincher. 35.2 points, 8.4 rebounds and 5.4 assists on 55.5/47.4/92.7 shooting in the series. All of our Kevin Durant narratives are now officially dead."

Durant's first title inspired us to work up the 'It don't mean a thing if you ain't got that ring' quiz:
QUIZ: Name the oldest active NBA players who have not won a championship
Before the Golden State Warriors defeated the Cleveland Cavaliers for the second time in three years, both Matt Barnes and David West were two of the oldest players in the league without a ring. How many of the remaining ringless NBA elder statesmen can you name in six minutes?
CLUE: AGE / CURRENT TEAM
Given how easily both the Warriors and Cavs reached three straight NBA Finals, steamrolling everyone in the postseason, we decided to give every NBA team not named the Cavs and Warriors a Mulligan: "To every team not named the Warriors and Cavaliers, I would like to say: it's not you, it's them. On their way to a third consecutive Finals matchup, Cleveland and Golden State rendered the rest of the playoffs moot, losing a combined one single game against their opponents, putting together a 24-1 record together."
Even though Cleveland was able to get to a third straight NBA Finals, the Warriors clearly showed they're head and shoulders above everyone else now that they have Durant in tow. In fact, they have historic odds already to win the 2017-18 NBA Finals:
The Warriors are, for all intents and purposes, the NBA equivalent to the New England Patriots in the NFL. So whose continued success is worse for their league: Pats or Warriors? "Both the Patriots and the Warriors are shaping up to remove the suspense of at least the next season. Their respective sports will survive, of course. Except with NFL fans in many cases already looking for excuses to disengage, the Pats are likely to do more damage."
Golden State has been absolutely dominant since Steve Kerr became head coach — just as the Pats have been a dynasty under Bill Belichick — winning two championships in three years and getting to the Finals in each of his three seasons on the bench. Kerr also notably has five rings as a player, and oddly enough, he won his second NBA title as a player with the Chicago Bulls 20 years before earning his second Larry O'Brien Trophy of his coaching career.
You know what also happened 20 years ago? Major League Baseball introduced interleague play for its regular season. Two decades in, interleague play is as progressive (and important) as ever: "What baseball shied away from for so long has now become its normal way of doing things, and despite the ideas that it may, the sky has far from fallen as the MLB has continued to evolve. If anything, it has proved that there are still plenty of ways for an old dog to do some pretty interesting new tricks after all these years."
In those two decades, there have been many memorable moments. Here are 20 highlights from 20 years of interleague baseball:
Of course, everything new becomes old, so where does interleague baseball go from here to keep the intrigue alive? "Basically, there's no real easy answer to the path that interleague play is taking in MLB — other than the fact it appears to be a straight line into stagnancy. It's clear that while it's obviously a success and has helped the game evolve, interleague play at this point in time is nothing more than an temporary change in ballpark scenery and lineup construction. Again, that's not necessarily a bad thing for a sport that is evolving but still revels in the redundancy of the nature of the game."
Finally, we leave you this weekend with a quiz inspired by American League pitchers getting more at-bats these days thanks to increased interleague action — The 'Get you a pitcher who can do both' quiz:
Name the active MLB pitchers with at least two home runs
Everyone loves the long ball, but everyone especially loves it when a pitcher goes deep. How many of the active leaders in home runs amongst pitchers can you name in five minutes?
CLUE: # of HRs / current team. HR totals are accurate as of June 13, 2017. To be considered active, a pitcher must currently be on any MLB roster.
Happy Father's Day to all the dads out there, and enjoy your weekend!
MORE FROM YARDBARKER
All Sports News

Delivered to your inbox

You'll also receive Yardbarker's daily Top 10, featuring the best sports stories from around the web. Customize your newsletter to get articles on your favorite sports and teams. And the best part? It's free!