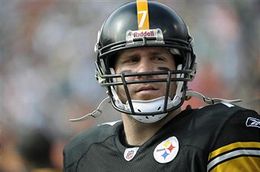 Pittsburgh Steelers quarterback Ben Roethlisberger has been known for some time as one of the better quarterbacks in the league off of play-action, but so far this season, he hasn't been able to use it much. According to Pro Football Focus, Roethlisberger has used play-action on only 12.4% of his drop-backs so far through the first four games and that ranks him 32nd overall when compared to the other starting quarterbacks with enough snaps to qualify. However, it should be noted that Roethlisberger has a 73.7% completion ratio during his 22 play-action passing attempts so far this season and that ranks him fifth overall. So is any of this a surprise? No, not when you consider that the Steelers have been behind seven or more points on the scoreboard for 126 of the 129 second half offensive plays run so far this year. Because the offense has been behind so much in the second half of games, they have attempted to run the ball only 24 times. In addition, Roethlisberger has been in the shotgun

Read the rest of this story...
MORE FROM YARDBARKER
Steelers News

Delivered to your inbox

You'll also receive Yardbarker's daily Top 10, featuring the best sports stories from around the web. Customize your newsletter to get articles on your favorite sports and teams. And the best part? It's free!