We've updated our Privacy Policy.
By continuing to use this site, you are agreeing to the new Privacy Policy.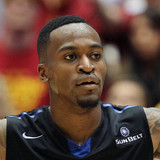 The NCAA dropped the hammer down on the Louisville basketball program Tuesday morning, upholding its initial ruling by vacating all wins and records from 2011-2015, including the team's 2013 NCAA Championship.That said, at least one former Louisville star, Kevin Ware, isn't letting any of this bring him down. In case you forgot, Ware became a national headline when he broke his leg...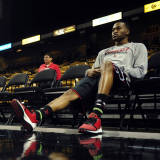 By Darryn Albert. Much like Pink Floyd and concept albums or Arnold Schwarzenegger and cheesy one-liners, former Louisville guard Kevin Ware knows a thing or two about pain. You might remember the gruesome compound fracture that the 22-year-old suffered in an Elite Eight game against Duke in 2013. Well, apparently Ware himself, now a Georgia State Panther, briefly forgot about...
Pete Cautilli – The Cardinal Connect Just two weeks after it was announced that he'd be leaving the Louisville basketball program, Kevin Ware has found a new home. The Atlanta native will transfer to Georgia State. Ware was on an official visit to the school over the weekend and made his decision on Friday night. Jeff Goodman of ESPN.com reported on Saturday that it wasn't official...
LIKE WHAT YOU SEE?
GET THE DAILY NEWSLETTER:
The rumor about Kevin Ware being suspended from the University of Louisville basketball team during the summer originated from a University of Kentucky fan site [run by a UofL hater] . Should have been first clue that there was little substance to the report. Later Rick Pitino denied it, saying he was having too much fun celebrating UofL's third national championship to suspend anybody...
For the past few weeks, we've heard nothing but good news in regards to Kevin Ware's recovery. That trend continued on Friday afternoon when Rick Pitino spoke to the media to talk about his book and preview Saturday's Red & White scrimmage. "Kevin's last x-ray shows that he's perfectly healed," Pitino says. "He's got a clean bill of health and has been cleared to start his workouts...
It's been 88 days since Louisville guard Kevin Ware suffered one of the more gruesome sports injuries ever seen on national television. As he laid on the court with his leg broken in half and bone puncturing through his skin, no one was really sure if Ware would ever play basketball again. You never want to think that way, but considering what we all witnessed, it was normal to feel...
When Louisville sophomore guard Kevin Ware went down with a compound fracture to his right leg in the regional finals of the NCAA tournament, it was tough to predict when exactly he'll be able to return to the court. A gruesome injury like that will require at least eight months of rehab before Ware can even think about participating in full contact practices. However, Ware is as...
Louisville may have done Kevin Ware wrong by attempting to profit off his broken leg while he couldn't get a cut of the proceeds, and it looks like the sophomore guard got them back (intentionally or not). Ware, on crutches, came out of Louisville's tunnel inside the Georgia Dome to join his team for the national championship game Monday. He was shown wearing his jersey, sweat pants...
MORE STORIES >>
College Basketball News

Delivered to your inbox

You'll also receive Yardbarker's daily Top 10, featuring the best sports stories from around the web. Customize your newsletter to get articles on your favorite sports and teams. And the best part? It's free!
THE COLLEGE BASKETBALL HOT 10