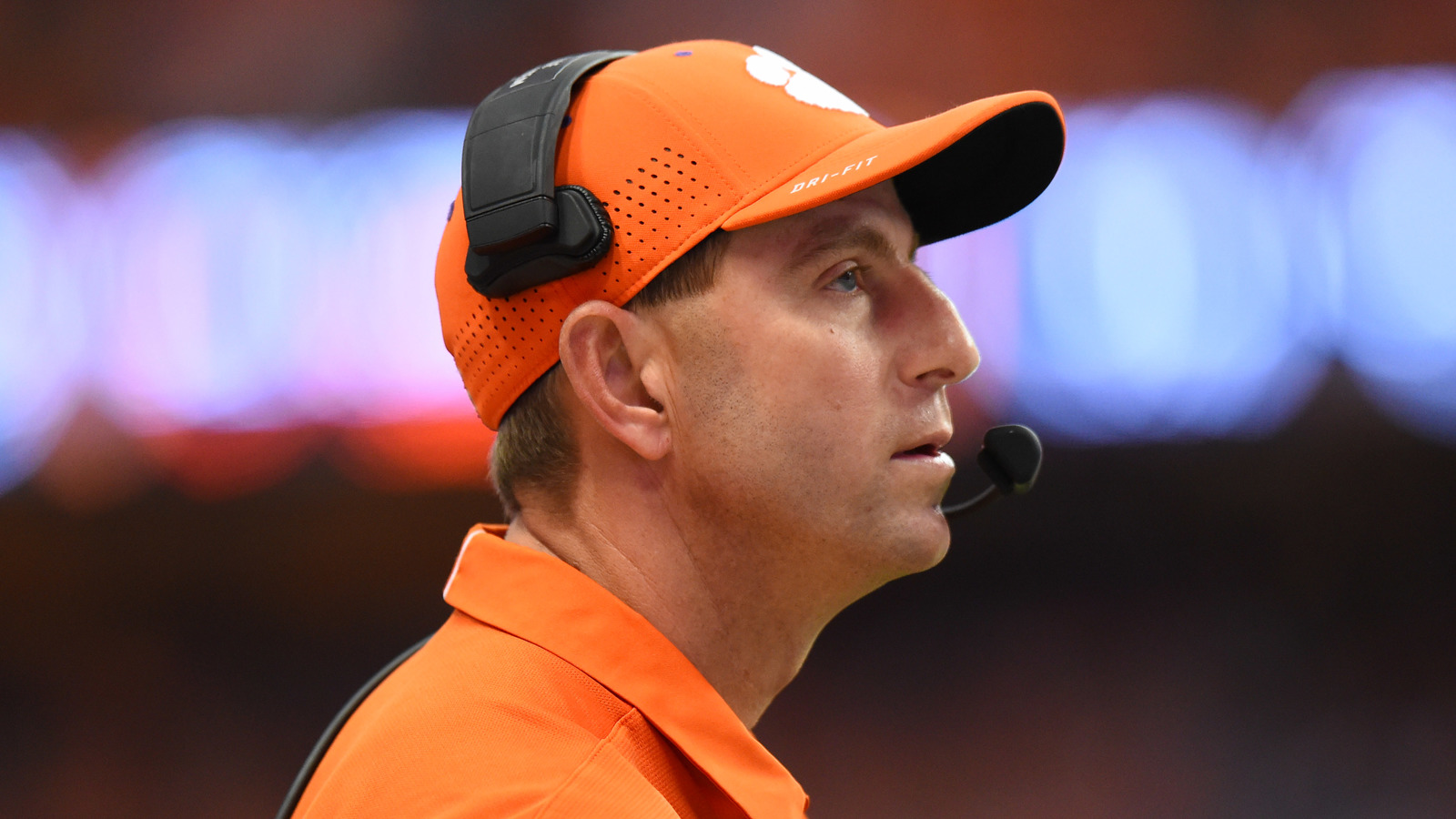 Head coach Dabo Swinney and his Clemson Tigers are reigning champions but were upset by Syracuse last Saturday (Oct. 14).
Rich Barnes-USA TODAY Sports
We remain over a month away from the end of college football's regular season, but that doesn't mean it's too early to take a look at who might find their way into the College Football Playoff field. Some candidates are obvious — Alabama, anyone? — while others may need to mount a late charge to make themselves strong contenders for the field.
The good news for everyone? With the amount of carnage that has happened toward the top of the rankings this season, one loss does not disqualify you from contention. There's a whole host of talented one-loss teams that have a real chance of playing their way into the field.
Here is a look at the twelve teams most likely to make the College Football Playoff, from least to most likely.
12) Notre Dame Fighting Irish
The Irish are at a perpetual disadvantage, lacking a conference or a title game to prove their championship mettle. They are, however, a prominent national brand, and their schedule is certainly tough enough to give them chances to make a few statements along the way. Notre Dame has four ranked teams left on their schedule — plus a fifth in Navy that could be ranked by the time they play each other. Their list of tough remaining opponents includes playoff contenders USC and Miami. Win out and the Irish might just leapfrog enough teams to make the top four, though they'll have a lot of work to do to get there.
11) USC Trojans
The most difficult part of USC's schedule will be behind them after they travel to Notre Dame this weekend. If they win that game, they'll be favorites in every remaining game. Winning all four of their games after Notre Dame would be enough to get them a trip to the Pac-12 title game. Facing Stanford, Washington or Washington State in the conference championship would all be possibilities, but the bottom line is the same — win out and Sam Darnold's Trojans stand a good chance of getting into the field, especially if they do it impressively.
10) Penn State Nittany Lions
The Nittany Lions have a minefield of a schedule left to navigate, but they currently sit unbeaten and second in the nation, so they obviously have a chance to make it happen. They're also bolstered by a Heisman candidate at running back in Saquon Barkley, who is an incredibly difficult matchup for any defense in the country. They'll have to win three straight games against ranked opponents, including trips to Ohio State and Michigan State, to make the CFP. Plus they'd have a likely Big Ten Championship battle with Wisconsin if they can get that far.
9) Clemson Tigers
Clemson looked like a heavy favorite to reach the Playoff until they shockingly lost to Syracuse last week, but that need not be the end of their CFP ambitions. If Clemson can win out — which would include victories at NC State and in the ACC Championship — they'll likely make it as a one-loss team. Remember, these guys were beating up on everyone and getting first-place votes before the shocking loss. They'll need quarterback Kelly Bryant to get healthy quickly, though, if they want to have the chance to defend their championship.
8) Washington Huskies
Washington looked to be in prime position to snap up a second consecutive playoff berth until they too were toppled by lowly Arizona State at the weekend. One loss does not rule anyone out at this point, however, and their situation is pretty much the same as USC's — win your remaining games, including the Pac-12 title game, and you're in. Their schedule is a little tougher than USC's — they still have to face both of their ranked Pac-12 North foes in Stanford and Washington State — but the Huskies had been the better team before the Arizona State defeat.
7) Georgia Bulldogs
The SEC's other unbeaten team has two routes into the Playoff — the most straightforward would be to run the table, beat Alabama in the SEC Championship, and enter the field potentially as the top-ranked team in the country. Their other hope? Run the table during the regular season, put up a good fight in a losing effort against the Crimson Tide, and hope the selection committee is impressed enough to pick two SEC teams. Depending on how everyone else does, the latter scenario may be a bit far-fetched. That's why, despite how good they look right now, the Bulldogs are so low on this list. Taking down Alabama will be very difficult.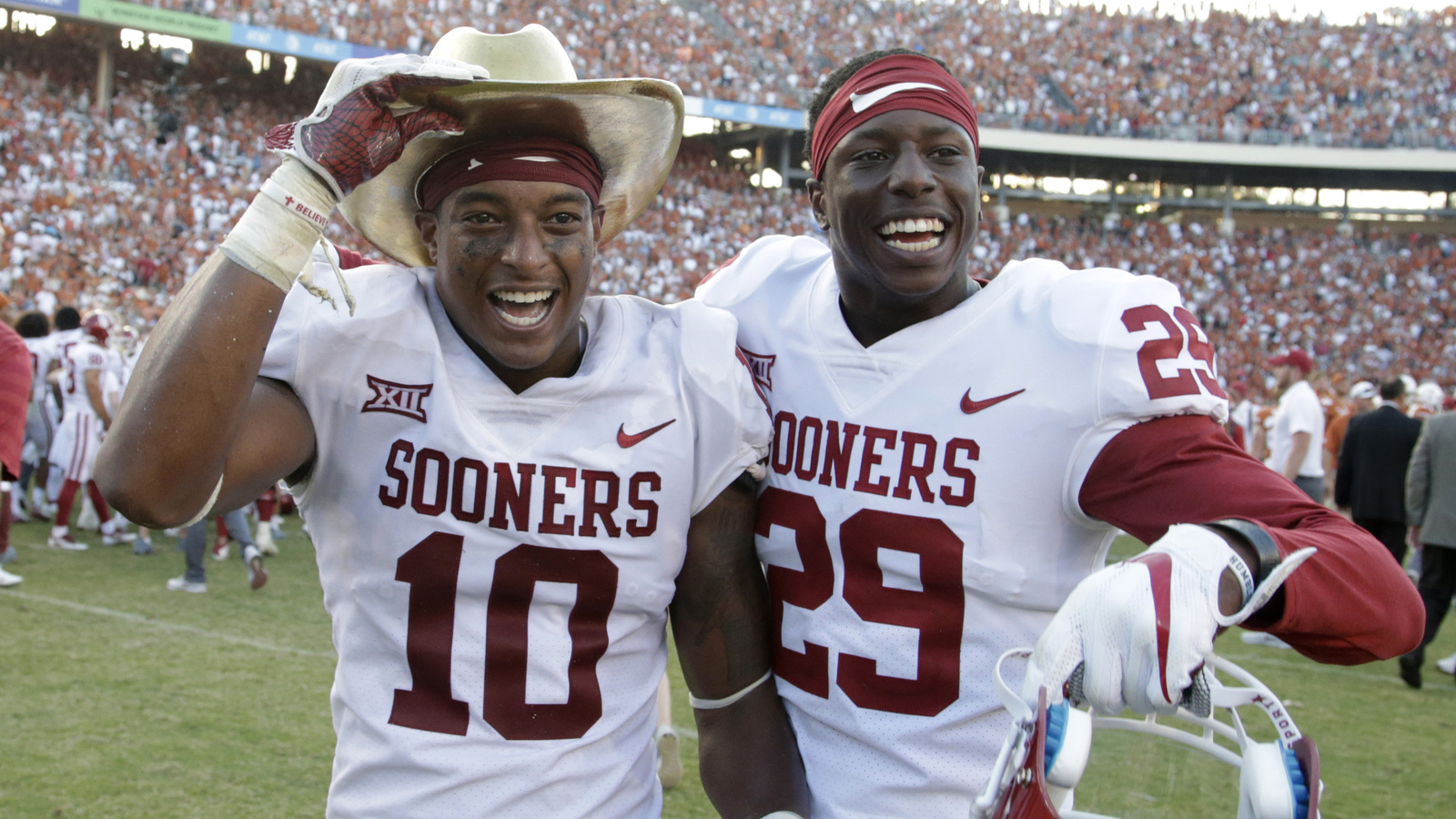 Oct 14, 2017; Dallas, TX, USA; Oklahoma Sooners defensive back Steven Parker (10) and safety Prentice McKinney (29) celebrate after the game against the Texas Longhorns at the Cotton Bowl.
Tim Heitman-USA TODAY Sports
6) Wisconsin Badgers
There are better teams than Wisconsin on this list with worse odds of making the Playoff, but the one thing they have that many of their potential rivals don't is an extremely straightforward route to the field. Playing in the inferior Big Ten West, the only huge challenge on the Badgers' remaining regular season schedule is a home game against Michigan. Even if they lose it, they're probably in the Big Ten Championship game. If they come in having lost a game but win the conference title, they'll be on shaky ground, but still in with a chance. Now if they run the table and win the conference title game, then they're definitely in the field. They'll probably be underdogs against whomever they face in the Big Ten title game, though — Ohio State, Penn State, and maybe even Michigan are all better on paper.
5) Oklahoma Sooners
The Sooners have a tough route to a potential playoff berth, but if they can beat Oklahoma State and TCU, their resume would look amazing. Those two wins, plus their early season road win at Ohio State, could give them the best resume in terms of quality wins in the country, which is why they're up so high. Of course, they're done if they lose another game, and there will be several chances for them to slip up. Keep in mind that this year will be the first Big 12 Championship of the playoff era, which will be a chance to make one last statement — or potentially blow it.
4) Miami Hurricanes
Dramatic wins over FSU and Georgia Tech have preserved Miami's unbeaten status, and they can really start to dream of what they can accomplish now. Their toughest remaining regular season games are both at home — Virginia Tech and Notre Dame will both make trips to Miami before the season is out. They also have a real chance of entering the ACC Championship, likely against NC State or Clemson, without a loss on their resume. It's hard to say what would come from that. Would a one-loss Miami team be able to make the field? Either way, they're in excellent position, and unlike some other contenders, their destiny is entirely within their hands.
3) TCU Horned Frogs
One of the country's most impressive teams, the Horned Frogs will have a fantastic chance of getting themselves into the playoff field if they can win at Oklahoma on Nov. 11. A Big 12 title game would still loom, but that would give them road wins at both Oklahoma and Oklahoma State. And while nothing is certain, the rest of their schedule is straightforward enough that they'd stand a good chance of being unbeaten going into the conference championship. Like Miami, it's too early to say whether they could survive a loss there and still get in, but also like Miami, it's in their hands at this point.
2) Ohio State Buckeyes
Since an early-season defeat at home against Oklahoma, the Buckeyes have stabilized and looked like one of the country's best teams. They'll be given the opportunity to prove it now; they'll face Penn State at home on Oct. 28, then Michigan State two weeks later. The trip to Michigan looms large, as it always does, but the way they've been playing, the Buckeyes are entirely capable of winning all three games. If they do, they'll likely enter the Big Ten title game as favorites, and a win there would put them back in the Playoff field for the third time in four seasons. Urban Meyer's team has the talent and experience to get it done.
1) Alabama Crimson Tide
At this point, it would probably be more surprising than anything else if the Crimson Tide managed to miss the field. Even one loss probably wouldn't keep them out, though a lot depends on the timing and nature of such a loss. It might not matter. Alabama will be favored in every game they play from this point forward, and while the team does have to navigate the Iron Bowl at Auburn, their only real test looks to be an SEC Championship date, likely with Georgia. It's hard to see Nick Saban's team slipping up at any point before they enter the Playoff at this point.
MORE FROM YARDBARKER:
QUIZ: Name every NCAA football national champion since 1950
Since 1950, there have been 83 consensus college football national champions. How many can you name? Only college/university names are accepted as answers, not team names (i.e. 'Lions').
MORE FROM YARDBARKER
Crimson Tide News

Delivered to your inbox

You'll also receive Yardbarker's daily Top 10, featuring the best sports stories from around the web. Customize your newsletter to get articles on your favorite sports and teams. And the best part? It's free!