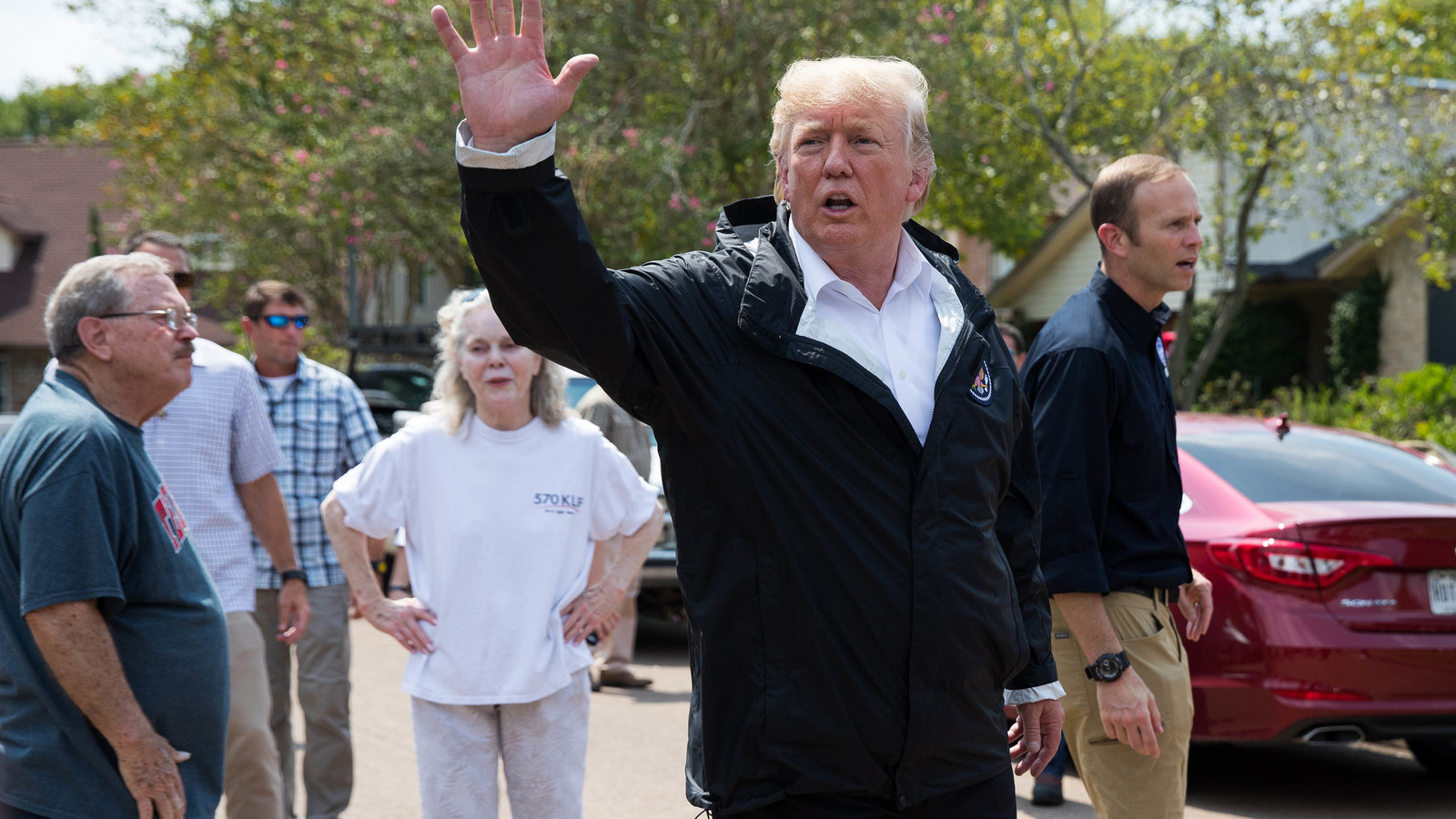 Sep 2, 2017; Houston, TX, USA; President Donald J. Trump stops in a Houston neighborhood to talk to residents. 
Courtney Sacco/Caller-Times via USA TODAY NETWORK
This week, with thousands of American citizens in Houston, Florida, and Puerto Rico still without electricity or running water, his legislative agenda crumpling around him, and a nuclear-armed dictator threatening to attack the United States and its allies, the president decided it would be a prudent gesture to dive head-first into the world of sports. In doing so, he's managed to unite differing viewpoints. He's even managed to galvanize support for Colin Kaepernick in ways that I hadn't believed possible.
For well over a year, ever since his silent protest against police brutality and the racial divide in our nation's criminal justice system was noticed by the national media, Colin Kaepernick has been the most politically divisive athlete this country has seen since Muhammad Ali. By refusing to stand—first by sitting, then by kneeling—for the national anthem while still a member of the 49ers, Kaepernick has drawn attention to the issue closest to his heart. Ultimately, at the expense of his own career.
There's no denying that Kaepernick has the talent and track record to justify an NFL roster spot. That was true before the pathetic display of quarterback play fans were subjected to in the opening weeks. But out of fear of alienating fans who view his anthem protests as offensive and unpatriotic, NFL owners were united in their opinion. That being, he wasn't good enough to justify the negative/unwanted media attention. His "distractions" weren't worth the contract. In some cases, the owners even publicly admitted that fan feedback played a critical role.
This is the point of the article where it simply must be stated that there was no such fan-inspired groundswell when players like Greg Hardy, Ray Rice, Josh Brown, Adrian Peterson, et al were able keep their jobs after abusing women and children.
Yet with his inflammatory remarks at a rally in Alabama last Friday night, where he not only called for Kaepernick and other NFL players who have followed his lead to lose their jobs, but did so with the kind of conviction and enthusiasm that most of the country would like to see him use to condemn white supremacists, even NFL owners have come out in support of the righteousness of their players kneeling during the anthem. This includes Trump's friend and supporter, Bob Kraft.
This is what happens when the President advocates for private citizens to be fired for taking part in peaceful protest. Over an innocuous cause, no less. These players recognize that the color of one's skin plays a big role in how you're treated here. So to call attention to it, they're taking part in a protest that breaks no laws. A protest that inconveniences no people. And, a protest that embodies the very spirit of the issue at hand.
There are far too many people believing they have the right to determine who is and isn't a True American. They do this through compulsory displays of what they believe to be patriotism. Or arbitrary ideals of what does and doesn't disrespect the flag of the United States. But in passing judgment on those who don't mimic their actions, they usually end up telling us more about themselves than those they criticize.
Patriotic Hypocrisy
The United States is home to many people who can't tell you enough how much they love their country. They hang the star-spangled banner outside their house. Or they put yellow ribbon stickers on their car to support the troops. And they stand, removing their hats and putting their hand over their heart while the anthem plays. Unless they need to get to their seat or complete their beer purchase, of course.
On their own, there's nothing inherently wrong with these actions. Sure, those flags usually remain outside at night and during inclement weather in violation of the US Flag Code, but the sentiments behind hanging them are usually coming from the right place. Sure, those yellow stickers are rarely accompanied by any real actions that actually help the troops before and after they come home, but at least it shows a modicum of awareness.
And sure, the national anthem is really only heard by those in the stadium since the networks use that time to bring in more ad revenue, but …. okay, I don't have a justification for this one. If the anthem is such an important ritual, why doesn't it get air time? Why does it get played in smaller sporting venues where there isn't even a flag on display? And why don't we stand and remove our hats before a movie, concert, or theater performance? If overt displays of patriotism are so important, why are sporting events the one activity where they are mandatory?
The answer is as sad as it is obvious. It's because our notion of what constitutes patriotism is based more on appearances than it is on actions and beliefs. That's why a bigot who actively persecutes minorities gets a pass as long as he stands for the anthem, but a person who decides to kneel until the country lives up to the ideals that the flag is supposed to represent gets accused of not being a True American.
On a related note, if you proudly display the Confederate battle flag, kindly shut the hell up about patriotism.
This often gets misconstrued as being disrespectful to the men and women who comprise the United States military. Typically, by service members themselves. These men and women have put their lives on the line in defense of this country and its ideals. They don't want to see someone choosing not to recognize that sacrifice.
However, this is not what Kaepernick and the rest of the players kneeling during the anthem are doing. On the contrary, they are trying to make those sacrifices mean something.
Our brave military personnel have fought for a country where everyone is supposed to be equal. Not just in the eyes of you and me, but the eyes of the law as well. And yet, that is not the reality. They've also fought for the right to speak out against the government when it fails to deliver on its promise. To ignore the gross injustices that pervade our society and criminal justice system is to ignore the blood that our military personnel have spilled while fighting for those American values.
That's why, while some service members disdain the act of kneeling for the anthem, there are many others who recognize the cause that Kaepernick and the like are championing, and appreciate the steps that they've taken to draw attention to it. They see socially-conscious individuals who value equality and fairness. Those who are taking advantage of the very right to free speech and protest that they have fought to protect.
Former Green Beret and Seattle Seahawk Nate Boyer is one of them. After voicing criticism of Kaepernick's form of protest last year (while still expressing support over his right to protest), Boyer reached out to the embattled quarterback. He hoped to have a dialogue and foster a mutual understanding between the two sides. When they met, Boyer convinced Kaepernick that taking a knee instead of sitting is a more respectful way to get his point across, Kaepernick helped Boyer better appreciate why he felt it necessary to take this stand, and both men came away with increased respect for the opposing viewpoint.
And that, above all else, is why Donald Trump can't win this fight. At least, not as long as he sticks to his usual arsenal of bluster and name-calling. By calling the players who have knelt for the anthem "sons of bitches" and using the weight of the White House to call for them to lose their jobs over their peaceful protests, he embodies the institutionalized injustice to which they're calling attention. And, gives added weight to their grievances.
Just don't expect him to understand any of that.
NFL News

Delivered to your inbox

You'll also receive Yardbarker's daily Top 10, featuring the best sports stories from around the web. Customize your newsletter to get articles on your favorite sports and teams. And the best part? It's free!
MORE FROM YARDBARKER
NFL News

Delivered to your inbox

You'll also receive Yardbarker's daily Top 10, featuring the best sports stories from around the web. Customize your newsletter to get articles on your favorite sports and teams. And the best part? It's free!