We've updated our Privacy Policy.
By continuing to use this site, you are agreeing to the new Privacy Policy.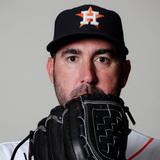 The last 12 months have been pretty great for Justin Verlander.He's married supermodel Kate Upton, won a World Series and he also recently purchased a famous vehicle that many would dream of owning.Verlander bought the Shelby Mustang GT500 from the hit movie "Gone in 60 seconds," and yeah, it's pretty sick. Check it out in the photo below, and it'll be clear why it costs a hefty...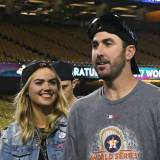 Justin Verlander and Kate Upton this week released details and photographs of their Nov. 4 wedding, which came just days after the Houston Astros won the World Series. The super-couple jetted off to Tuscany, Italy following the Astros' Game 7 win on Nov. 1 for their nuptials. The sudden departure for the big day meant Verlander missed the Astros' championship parade in Houston, something...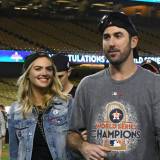 Justin Verlander has once again successfully sidestepped getting in trouble with new wife Kate Upton by avoiding an inquiry out of a TMZ camera crew.Verlander enjoyed a pretty remarkable run last month — to say the least — by winning a World Series with the Houston Astros and then marrying longtime fiancée Kate Upton shortly afterward. But Verlander regrettably missed the Astros...
LIKE WHAT YOU SEE?
GET THE DAILY NEWSLETTER: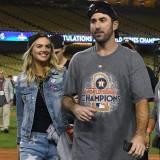 Justin Verlander enjoyed a pretty remarkable run last month -- to say the least -- by winning a World Series with the Houston Astros and then marrying longtime fiancée Kate Upton shortly afterward.Verlander's supermodel wife, however, put him in a real tough spot this week after responding to a tweet the supercouple were tagged in that inquired about their honeymoon when compared...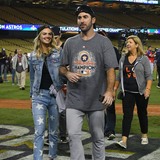 Now that the 2017 MLB season is in the books, Houston Astros pitcher Justin Verlander can spend more time with his wife, Kate Upton, and he's pretty lucky in that regard.And being that it's the offseason, Verlander can work out with Upton, rather than having to report to the team facility to get his blood pumping.The two clearly have a couple's workout thing going on, which is great...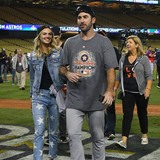 The Houston Astros' championship parade is scheduled for Friday, but one of the team's most valuable contributors in the playoffs is not expected to be in attendance.WXYZ in Detroit confirmed that Justin Verlander is getting married to longtime girlfriend Kate Upton this weekend in Italy. They say that he will miss the team's parade on Friday.Verlander and Upton probably had this...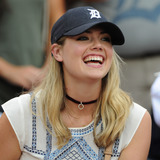 Justin Verlander got a really nice bonus on top of making it to the World Series winning ALCS MVP on Saturday: a huge smooch from fiancee Kate Upton.Upton was in attendance at Minute Maid Park in Houston to watch her fiance's team beat the Yankees in Game 7 of the ALCS Saturday. FS1 cameras showed Upton going nuts when Verlander was named ALCS MVP.During the postgame celebration...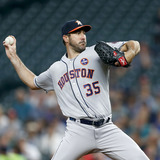 Justin Verlander does not have to make the transition to his new team alone. Thankfully his fiancee is supporting him.Verlander on Tuesday pitched his first ever MLB game for a team other than the Detroit Tigers. He made his Houston Astros debut while facing the Mariners in Seattle. And guess who was there to watch him? Kate Upton was all decked out in new Astros gear: Houston acquired...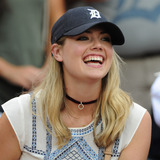 Detroit Tigers pitcher Justin Verlander recently tweeted about his theory that baseballs are juiced. While Verlander's claim has its supporters and critics, the pitcher can at least rely on fiancée Kate Upton's support.The supermodel on Tuesday took to social media to tweet at MLB commissioner Rob Manfred to speak her piece regarding Verlander's juiced baseball theory.Upton's tweet...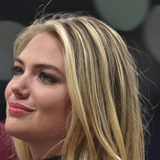 Kate Upton waded into the national anthem protests controversy and gave a very strong rebuke of those who did not stand for the anthem prior to their football games on Sunday. The supermodel sent the following tweets in which she called the protesters' actions "unacceptable." This is unacceptable. You should be proud to be an American. Especially on 9/11 when we should support...
MORE STORIES >>
Entertainment News

Delivered to your inbox

You'll also receive Yardbarker's daily Top 10, featuring the best sports stories from around the web. Customize your newsletter to get articles on your favorite sports and teams. And the best part? It's free!