Craig Robinson, brother of Michelle Obama, is leading a unique approach to player development that the Knicks hope pays big dividends.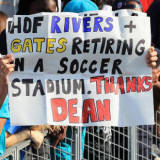 Front Five: The top stories that shaped both sports & politics this week "We embrace any team that comes, we're certainly happy to have the Chargers in L.A., but I think we could have been happy with just one, too." – Los Angeles Mayor Eric Garcetti on whether he wanted two teams in L.A. Week 2 of the NFL season saw two professional football teams play home games in Los Angeles...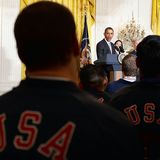 President Barack Obama and first lady Michelle Obama took time out of their busy schedules to send a message to Team USA ahead of the Rio Olympics. Here's the video of their message. "Bring home the gold for the Red, White, and Blue" —@POTUS wishing @TeamUSA luck ahead of the #OpeningCeremony https://t.co/NoPgF3p10T — The White House (@WhiteHouse) August 5, 2016 Indeed, we...
Michelle Obama's viral "Turnip for What" video is back, only this time there are two new VIPs. Back in 2014, the First Lady posted a video of her with a turnip to the "Turn Down For What" beat: On Tuesday, another turnip video made it to FLOTUS' Instagram page, this time featuring Steph and Ayesha Curry: In honor of the turnips being planted in the @WhiteHouse Kitchen...
When we think presidency, we think responsibility. But presidency also has its perks. Nike proved that presidency comes with some unthought of benefits when they presented President Obama with custom Air Jordan 11Lab4s. Both the box and the tongues of the 11Lab4s feature the presidential seal. President Obama received these special Jordan IVs with the presidential seal on the tongue...
View image | gettyimages.com Security was increased at Xfinity Center in College Park, Maryland ahead of the Maryland-Princeton second round game in the NCAA Women's Tournament. The security was heightened after a threat was phoned in toward Princeton's forward Leslie Robinson, the niece of President Obama and First Lady Michelle Obama, according to Christine Brennan of USA...
  A threat against President Barack Obama's niece, a player on Princeton's women's basketball team, prompted increased security at the Tigers' NCAA tournament game at Maryland, said a person familiar with the situation says The person spoke to The Associated Press on condition of anonymity on Monday night because no details had been released about the threat. Princeton was facing...
MORE STORIES >>
Entertainment News

Delivered to your inbox

You'll also receive Yardbarker's daily Top 10, featuring the best sports stories from around the web. Customize your newsletter to get articles on your favorite sports and teams. And the best part? It's free!