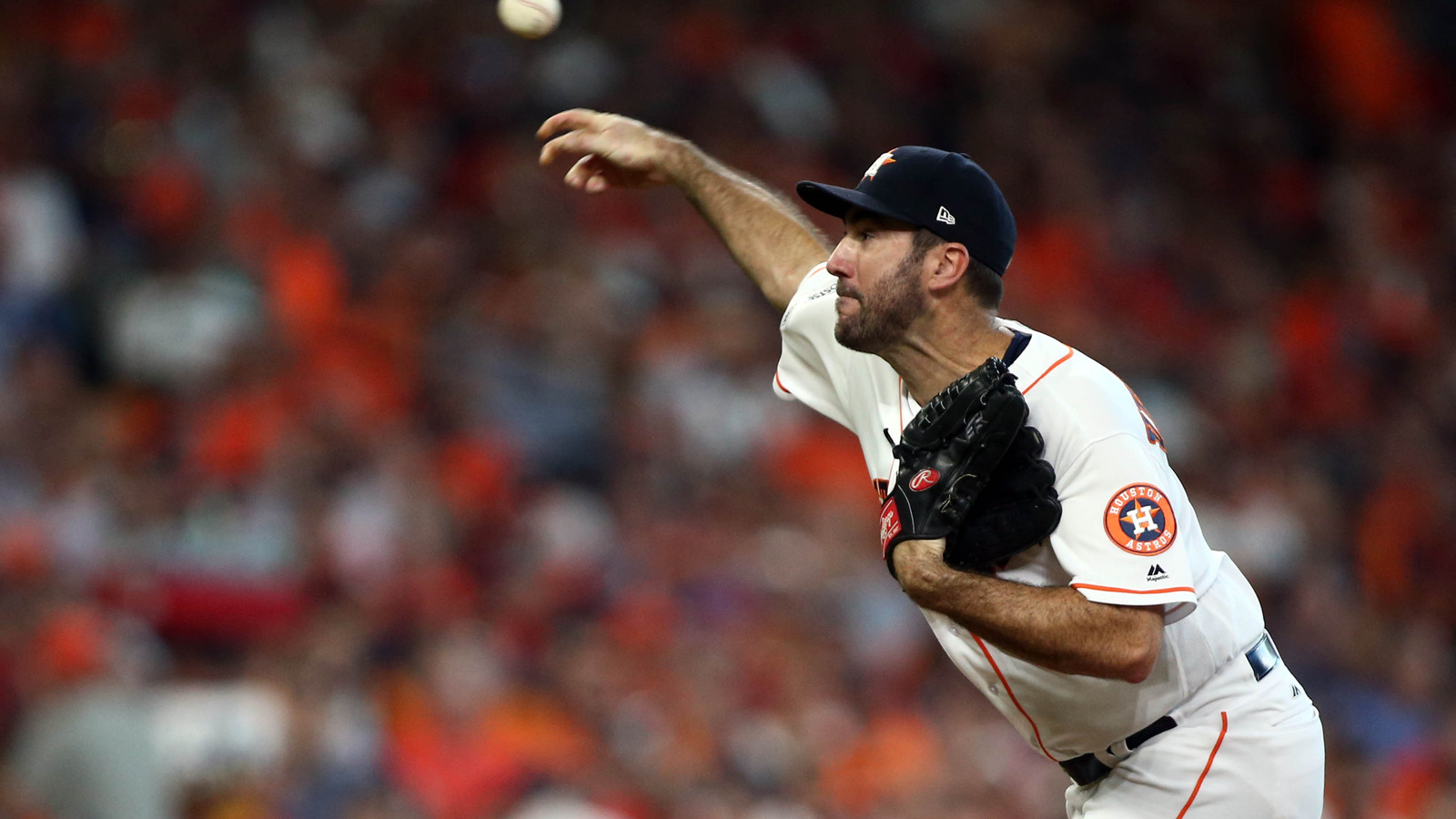 Justin Verlander has shown just how valuable he can be to a post-season starting rotation.
Troy Taormina-USA TODAY Sports
All four division series of the 2017 MLB playoffs are in the books, and now the chase for the pennant is upon us. The Cleveland Indians, Boston Red Sox, Arizona Diamondbacks and Washington Nationals are home with their seasons over. The New York Yankees, Houston Astros, Los Angeles Dodgers and Chicago Cubs have advanced and will have a chance at reaching the World Series.
The four division series taught us a lot about the teams involved. Some of the teams headed home have work to do this offseason, while those that advanced are proving a point to critics.
Here are 15 takeaways from the MLB division series.
1. The Astros' Justin Verlander trade may prove to be the most important in-season trade for any team
Flying high at the end of July, the Astros went 11-17 in August, and there were more than a few theories that the team's lack of trade deadline activity had a major negative impact on clubhouse morale. On Aug. 31, seconds before the waiver trade deadline, the Astros brought in Justin Verlander. It changed the feeling around the organization, which went 21-8 down the stretch after acquiring him.
Verlander pitched twice in the ALDS and won both games, including his first career relief appearance, giving up three runs in 8.2 innings. His ability to outpitch Sale is a big reason why Houston won, and why that trade may prove more important than any other deadline move.
2. The real Dodgers are the elite kind, and they're back
Concerns were high around the Dodgers after their historic pace came to a halt and saw them lose 16 of 17 games between Aug. 26 and Sep. 20. They recovered to go 8-2 in their last 10 games and never looked to be in much trouble against an Arizona team that actually went 11-8 against them during the regular season. The Dodgers were the best team in baseball for a reason, and that bad stretch made a lot of people forget it. Their sweep of the Diamondbacks in the NLDS should serve as a reminder of just how good they are.
3. Terry Francona's rotation gambit backfired
We may never know why the Cleveland manager did what he did — perhaps Corey Kluber was hurt, which contributed to a bad series for him — but the way he set up his rotation was not ideal. Trevor Bauer has been good, but how did he get two starts while Carlos Carrasco, who has comfortably been Cleveland's best pitcher, only got one? Why was the three-man rotation — and Bauer on short rest in Game 4 — necessary when Mike Clevinger, who had a 2.84 ERA as a starter in 2016, was on the roster but punted out of the rotation?
Obviously Kluber not being himself put Francona at a disadvantage from the start, but the Cleveland manager — who usually pushes the right buttons at this time of year — did not optimize his talented rotation for maximum success.
4. Red Sox need a rethink, starting with new manager
It's safe to say that this is not how Boston's 2017 season was supposed to go. You do not trade two of your top prospects to bring in Chris Sale only to win one more playoff game than you did the year before. The team seemed to miss David Ortiz's presence, but beyond that, they were never a dominant force despite Sale exceeding expectations.
Key players underperformed. Mookie Betts could not match his MVP-caliber 2016. Third base was a black hole for much of the season. Not a single regular hit .300. The Sox were last in the American League in home runs. A team that thought they would have three aces in Sale, David Price, and Rick Porcello really only had one as Price got hurt and Porcello underperformed. Rumors flew that manager John Farrell had issues communicating with his players. He was ultimately fired by the team.
Something isn't right in Boston, and it needs to be fixed; this team hasn't won a playoff series since their 2013 World Series title. They need to find a suitable replacement for Farrell.
5. Washington's NLDS issues are officially psychological
It may not be totally logical, but at this point, it makes as much sense as anything else. The Nationals had jumped out to a 4-1 lead over the Chicago Cubs with Gio Gonzalez on the mound, but he gave two runs back, setting up a disastrous relief appearance from ace Max Scherzer that saw the Nationals lose the lead for good.
Every single year, this team underperforms. It doesn't matter how talented they are. This is the fourth NLDS defeat in six years — they just seem to tighten up when put under pressure, and you have to think that the history is starting to wear on them.
6. The Yankees won without their biggest stars stepping up
If you had been told that the Yankees were going to take this series, you'd have probably guessed that the likes of Aaron Judge and Gary Sanchez had big games. That was not the case. Judge had just one hit in the series and struck out 16 times in 20 at-bats, a postseason record for strikeouts in a single series. Sanchez homered twice but hit just .174. The Yankees as a whole hit .201 in the series, gutting out wins with timely hitting and taking advantage of a slew of Cleveland errors.
If they can improve — and there is room for it — Houston is in for quite the tough series.
7. Astros should be taken as seriously as anyone else in the American League
For much of the first half of the season, the Astros were considered the American League's premier team. However, a midseason swoon — coupled with Cleveland's historic run in the second half — meant that it was the Indians who got most of the headlines while the Astros fell back into the rearview mirror a bit. Houston, however, went 21-8 after the calendar turned from August, then beat Boston convincingly in four. Their accomplishment is magnified even further with the Cleveland Indians falling to the New York Yankees, opening the door for Houston.
The Astros have a strong lineup from top to bottom and are the best team left in the American League. They were dismissed too easily before.
8. Clayton Kershaw can win in the playoffs
The seventh inning tripped up Kershaw again in Game 1 of this NLDS, but overall, he put in a very steady performance. Through six innings, he had surrendered only three hits and two runs before a pair of solo home runs chased him, but the Dodgers had built up a big enough lead that it didn't matter.
The Kershaw postseason narrative — which many thought came to an end after his strong effort last year — won't be truly crushed until he turns in a dazzling performance in a victory, but he looked very good against Arizona and got a rather pedestrian win. He'll be fine.
9. Joe Maddon's quick hook paid dividends
Kyle Hendricks went seven innings for the Cubs in Game 1 of the NLDS, and that was the last time a Chicago starter would pitch past the sixth. Maddon was not prepared to let his starters gut through things — mostly because he trusts his bullpen enough to get away with it. He could bring in Pedro Strop and Mike Montgomery early, plus a couple starters as needed, and keep his team in the game at worst or close it out at best.
Maddon has always had a good feel for his pitching staffs. He has the talent and the intuition to make the most of it, and that matters a lot in a short series.
10. The Yankees were well-equipped for the postseason
It was the Kansas City Royals who more or less codified the bullpen and defense strategy to succeed in the playoffs. The Chicago Cubs perfected a higher-powered version of that formula a year ago. Even the Cleveland Indians used it to great effect to get to Game 7 last year, but it was the Yankees who used that formula to the most success here.
The Bronx Bombers leaned hard on power — they hit seven home runs in five games — and their deep bullpen did a lot of heavy lifting. As it turns out, that is what works in October.
11. Cleveland's young stars did not deal well with the favorite tag
Perhaps there's something in Cleveland's mental makeup. They played second fiddle to the Cubs in last year's World Series and went up 3-1, only to collapse once they were pinpointed as the clear favorites in the series. Here, they went up 2-0 before losing three straight in surprising fashion.
Edwin Encarnacion, Michael Brantley, Jose Ramirez, Francisco Lindor, Jason Kipnis, and Carlos Santana combined to go 13-for-97 in the series, a .134 average. Kluber allowed nine runs in 6.1 innings. The team as a whole made nine errors. Cleveland was the best team in the AL this year, and they looked to have this wrapped up, but they seemed to fall under the weight of expectations once more.
12. The World Series champions don't go down quietly
The Chicago Cubs did not play their best series against the Nationals. Their bullpen struggled at times, some of their starting pitchers did not look sharp, and they had the occasional defensive lapse, particularly with Kyle Schwarber in left field. Washington pushed them to the absolute limit, and could have very easily won the series had a few minor things gone differently.
That, though, is why the Cubs are champions. They trailed 4-1 on the road in an elimination game and battled back, fighting off a dogged comeback effort. They know how to win at this stage of the season. That alone will make them an extremely difficult out for the Dodgers in the NLCS.
13. Arizona's future is bright despite the mismatch
Of players who got at least 300 plate appearances for Arizona in 2017, only two — Chris Iannetta and Daniel Descalso — are 30 or older. Paul Goldschmidt, A.J. Pollock, and David Peralta are all 29, but they should still have several good years left provided they can stay healthy. Zack Greinke is 33, but the rest of the rotation is under 27, including 25-year-old All-Star Robbie Ray. Ace reliever Archie Bradley is 24.
The point is most of Arizona's core players are still young enough to make an impact for years to come. If they can add another pitcher or two, they won't be going away anytime soon.
14. Dodgers' pitching depth made all the difference
Arizona had two quality front-line starters in Zack Greinke and Robbie Ray, but beyond that, they had trouble matching up with the Dodgers, who could throw a lot of quality arms one after another. Clayton Kershaw, the obvious ace, heads the rotation. Yu Darvish, who dominated in Game 3, made things even tougher for Arizona. Even when Rich Hill didn't have his best stuff in Game 2, Kenta Maeda was able to come in and shut things down to help the cause. The bullpen depth is also fantastic. Los Angeles had deeper pitching than Arizona, and it made a big difference.
15. Houston's offense is deep, and new stars are emerging
With good reason, most of the publicity around Houston's offense goes to Jose Altuve and, to a lesser extent, George Springer. The ALDS showed that Houston has so much depth and talent that often goes unnoticed.
Yuli Gurriel, for instance, went 9-for-17 in the four game series. Josh Reddick hit .375. Alex Bregman hit two home runs off Chris Sale, including a massive game-tying shot in the eighth inning of Game 4. From 1-9, Houston's lineup is as deep as any lineup in baseball. Bregman, the No. 2 overall pick in 2015, is being talked about by some as a future star and has shown glimpses justifying those beliefs.
MLB News

Delivered to your inbox

You'll also receive Yardbarker's daily Top 10, featuring the best sports stories from around the web. Customize your newsletter to get articles on your favorite sports and teams. And the best part? It's free!
PLAYERS:
Justin Verlander
,
Clayton Kershaw
,
Joe Maddon
,
Terry Francona
TEAMS:
Houston Astros
,
New York Yankees
,
Los Angeles Dodgers
,
Chicago Cubs
,
Cleveland Indians
,
Arizona Diamondbacks
,
Washington Nationals
,
Boston Red Sox
MORE FROM YARDBARKER
MLB News

Delivered to your inbox

You'll also receive Yardbarker's daily Top 10, featuring the best sports stories from around the web. Customize your newsletter to get articles on your favorite sports and teams. And the best part? It's free!