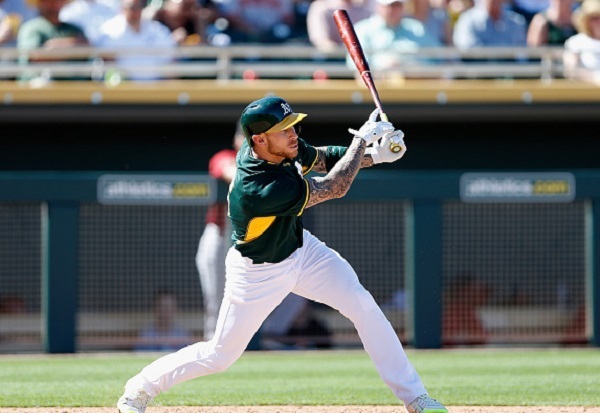 Brett Lawrie had a forgettable game for the A's.
Christian Petersen/Getty Images Sport
By Larry Brown
The Golden Sombrero is a wonderful baseball term used to describe a player who strikes out four times in four at-bats during a game. Wearing the sombrero for a spell is a sure embarrassment to a player, but Brett Lawrie somehow found a way to achieve the most embarrassing Golden Sombrero possible.
In Tuesday's Oakland A's-Texas Rangers game, not only did Lawrie go golden by striking out four times in four at-bats, but he did so on an economical 12 pitches. The guy didn't even force any pitcher to throw one ball.
In his first at-bat, he took the first two strikes looking and then struck out swinging.
In his second at-bat, he took a strike, fouled one off, and then struck out swinging again.
In his third at-bat, he again took the first pitch for a strike and then whiffed on the next two pitches.
Then, in an impossibly perfect ending, Lawrie struck out for the 27th out of the game by taking two pitches and swinging and missing at the third.
If this tweet from Peter Ellwood is accurate, then I think it means the Rangers have found Lawrie's weakness: the breaking ball.
Brett Lawrie tonight (12 pitches, 4 strikeouts) Fastball Slider Slider -- Slider Slider Slider -- Curve Curve Curve -- Slider Slider Slider

— Peter Ellwood (@FutureGM) April 8, 2015
I'm sure A's fans will be comforted knowing that Lawrie just chalked it up to "one of those nights."
Brett Lawrie chalks up his night as "just one of those nights." Wasn't antsy, just falling behind a lot.

— Susan Slusser (@susanslusser) April 8, 2015
The only saving grace for Lawrie is at least he didn't go Platinum Sombrero like this poor sap.
MORE FROM YARDBARKER
Athletics News

Delivered to your inbox

You'll also receive Yardbarker's daily Top 10, featuring the best sports stories from around the web. Customize your newsletter to get articles on your favorite sports and teams. And the best part? It's free!