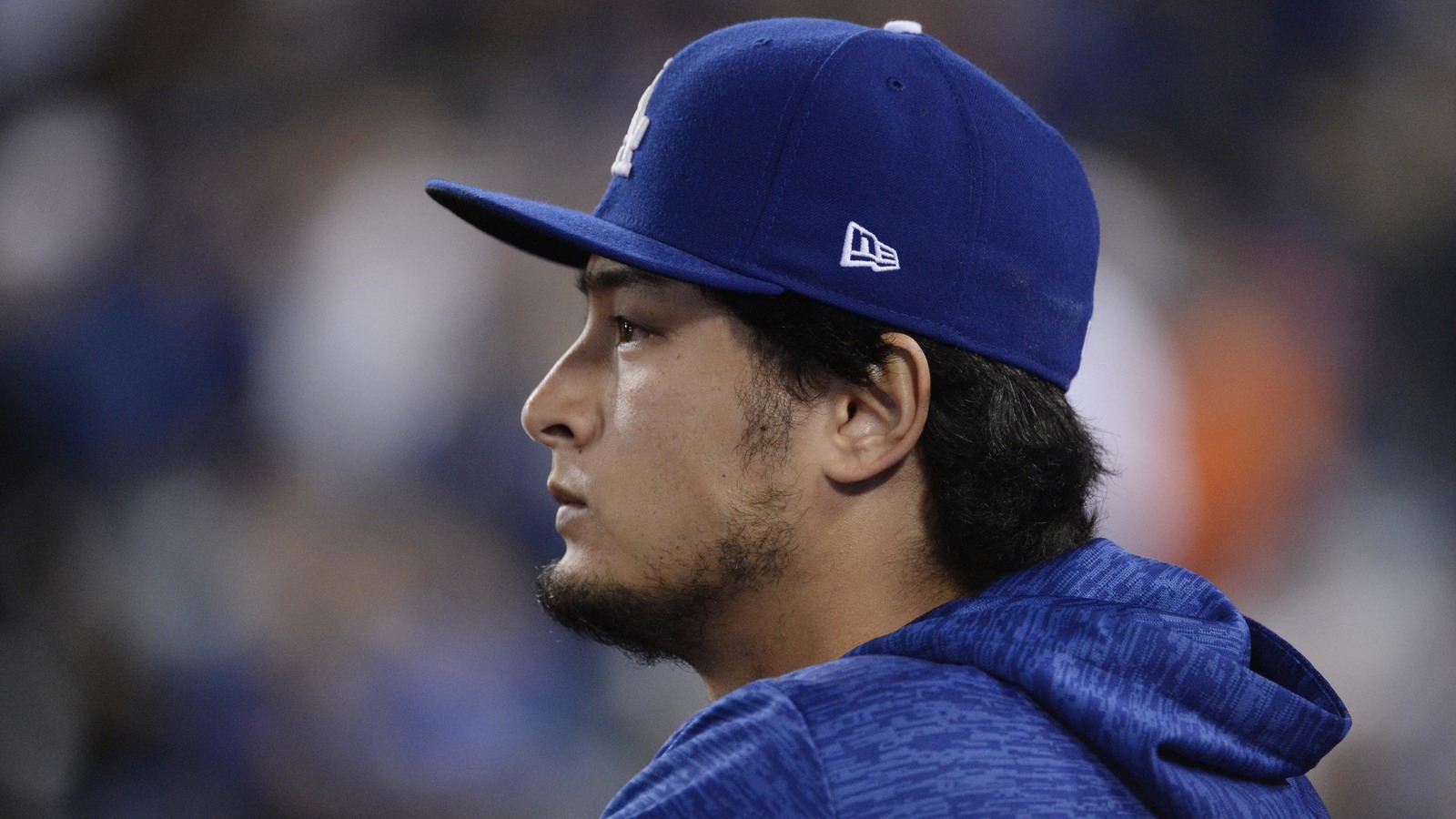 Gary A. Vasquez-USA TODAY Sports
The MLB free agent market has been slow to develop for various reasons, but with pitchers and catchers reporting in a little over a month, odds are that things will pick up sooner rather than later. That means we'll see a rush of signings once the first dominoes fall, leading teams to really consider their options.
Here's a look at an ideal landing spot for the top free agents still on the market.
1) Yu Darvish, P — Cubs
As it stands, the Cubs do not have much of a rotation. Sure, Jon Lester and Kyle Hendricks are there, but John Lackey and Jake Arrieta are both out for the moment, and they'll at least want to replace the latter. If so, why not target the best starter on the market? Reports indicate that the Cubs have spoken to Darvish and registered their interest. They're a big enough franchise to stand out in the big queue of suitors the Japanese ace currently has. They might as well pony up and go for it, even in spite of the bad World Series.
2) J.D. Martinez, OF — Red Sox
This is probably the most obvious marriage of the offseason. The Red Sox are in dire need of a power hitter, and Martinez is easily the best available. Red Sox president Dave Dombrowski was in charge of the Detroit Tigers when they picked Martinez up and revived his career. At this point, the major sticking point simply appears to be whether the Red Sox will be willing to give him the contract he wants. The bet here is that something ultimately gets done. It makes too much sense for it not to happen.
3) Eric Hosmer, 1B — Royals
Hosmer should be one of the most exciting free agents on the market. He's a quality first baseman, only 28 years old, and he hit .318 with some power in 2018. Despite this, not a lot of teams are looking for a first baseman, which could end up driving Hosmer right back to Kansas City. The Red Sox made sense, but they reportedly are out. Hosmer loves Kansas City. The Royals also believe that they could rebuild quickly enough so that Hosmer would still be a factor the next time they contend. That's a big if, but at this point, it's the only situation that seems to be developing for the first baseman.
4) Jake Arrieta, P — Twins
The Twins' top priority is clearly Yu Darvish, but a lot of teams are interested in him and it may be a longshot. If that falls through, the Twins may prefer to look Arrieta's way. A modest regular season gave way to an excellent postseason for the ace right-hander, and that should be enough to convince teams that he can still be a high-level performer. The Twins have long sought a top-flight starter, and they badly missed one even as they made the playoffs. Arrieta would fill that void.
5) Mike Moustakas, 3B — Cardinals
Moustakas' market really hasn't taken hold, which is a bit of a surprise. He's a 29-year-old who plays good defense at third and hit 38 home runs for the Royals in 2017. The Cardinals were repeatedly linked to a trade for Josh Donaldson, but the Blue Jays are stonewalling those efforts, meaning St. Louis will have to look elsewhere. That means Moustakas, the top third baseman on the market, could be the answer if they're willing to spend the money. They clearly want an infield bat, and he fits the bill perfectly.
6) Jay Bruce, OF — Giants
The Giants are badly in need of help in the outfield, and there's a reason they were so aggressive in pursuing Giancarlo Stanton before he blocked their efforts and ultimately went to the Yankees. The aging Hunter Pence is really their only experienced option. Unless the Giants are keen on ponying up the cash for J.D. Martinez, Bruce represents their best option on the market. He's a steady, experienced outfielder who hit 36 home runs last season and would be a big addition to San Francisco. Better yet, the Giants know Bruce wants to play for them.
7) Greg Holland, P — Cardinals
This one has seemed pretty obvious from the beginning. The Cardinals undoubtedly want a closer, Holland is unquestionably the best one left on the market, and the two parties have been linked to each other since pretty much the start of the offseason. The only question is what's taking them so long. Holland would shore up the back end of the St. Louis bullpen, and even though he'll be on the expensive side, it's almost certainly well worth the price tag.
8) Lance Lynn, P — Nationals
Reports have indicated that the Nationals are interested in Lynn, and it's easy to see why. They already have Max Scherzer, Stephen Strasburg and Gio Gonzalez backing them up, but they still haven't made it through a playoff series. Lynn isn't a true ace, but he's a high-end starter with a 3.38 career ERA and the ability to throw a lot of innings. With free agency looming for Bryce Harper, the Nationals really have to go for it this season. Lynn would add valuable depth to the rotation.
9) Lorenzo Cain, OF — Rangers
We already know the Rangers have interest in Cain's services. They don't seem terribly committed to Delino DeShields Jr. as their center fielder, and there are multiple benefits to signing an experienced veteran of Cain's caliber. He has a reputation as a steady defender, and that would benefit Texas in many ways. He's a World Series winner who hit .300 last season. As the Rangers try to get their franchise back on track, he'd be a real boon.
10) Todd Frazier, 3B — Mets
The Mets are going to be looking for peoples' prices to drop, and in that respect, Frazier could represent real value for them. The New Jersey native seems like an ideal fit as the Mets seek a steady option at third, with David Wright's health ensuring that he can no longer be trusted to hold down the job. Frazier hit 27 home runs last season and is familiar with the National League. He is a good veteran leader to have around as the Mets bring through some younger players.
11) Alex Cobb, P — Brewers
Milwaukee may have made the playoffs if they'd had a more reliable No. 1 starter, and the team seems intent on fixing that issue this offseason. While they may not be able to play with the big boys in the top tier of the market, Cobb would represent ideal value for them. He's healthy after Tommy John surgery and is coming off a year where he posted a 3.66 ERA in Tampa Bay. He may not be the top-tier ace the Brewers would get in an ideal world, but he'd be a fine addition and could help solidify them for a playoff run in 2018.
12) Addison Reed, P — Cubs
The Cubs have already brought in Brandon Morrow, presumably to serve as the team's primary closer. That doesn't mean they should be satisfied with their bullpen, however. Chicago is thin in the setup department, and Reed would at least add some depth in that area. He has a 2.40 ERA over his past two seasons and has been a pretty reliable option for the New York Mets and Boston Red Sox during that span. He'd be a good, safe depth signing for Chicago.
MLB News

Delivered to your inbox

You'll also receive Yardbarker's daily Top 10, featuring the best sports stories from around the web. Customize your newsletter to get articles on your favorite sports and teams. And the best part? It's free!
PLAYERS:
Yu Darvish
,
Jon Lester
,
Kyle Hendricks
,
John Lackey
,
Jake Arrieta
,
J.D. Martinez
,
Eric Hosmer
,
Mike Moustakas
,
Josh Donaldson
,
Jay Bruce
,
Giancarlo Stanton
,
Hunter Pence
,
Greg Holland
,
Max Scherzer
,
Stephen Strasburg
,
Gio Gonzalez
,
Bryce Harper
,
Lorenzo Cain
,
Delino DeShields
,
Todd Frazier
,
Alex Cobb
,
Addison Reed
,
Delino DeShields Jr.
TEAMS:
Los Angeles Dodgers
,
Chicago Cubs
,
Arizona Diamondbacks
,
Kansas City Royals
,
Toronto Blue Jays
,
Cleveland Indians
,
New York Yankees
,
San Francisco Giants
,
Colorado Rockies
,
Washington Nationals
,
Tampa Bay Rays
,
Boston Red Sox
,
Texas Rangers
,
Detroit Tigers
,
Minnesota Twins
,
New York Mets
MORE FROM YARDBARKER
MLB News

Delivered to your inbox

You'll also receive Yardbarker's daily Top 10, featuring the best sports stories from around the web. Customize your newsletter to get articles on your favorite sports and teams. And the best part? It's free!