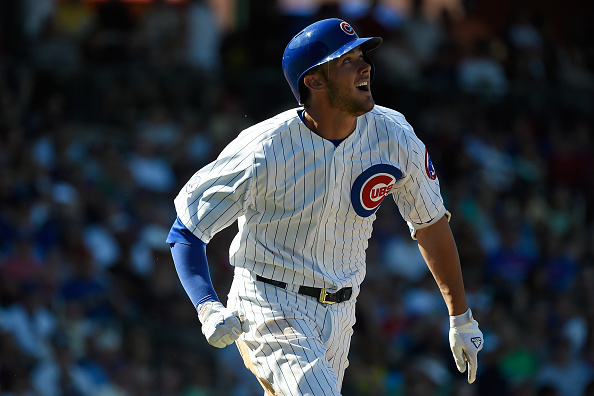 The Cubs have faced criticism for sending Kris Bryant down to the minor leagues.
Lisa Blumenfeld/Getty Images
By Jason Rowan
Chicago Cubs prospect Kris Bryant made his first public comments following his controversial demotion, a presumed outcome that has been the source of much discussion and cause of intense debate throughout spring training.
"I don't want to say I'm mad or anything, I'm just extremely disappointed," Bryant said Thursday, according to ESPN's Jesse Rogers. "I wanted my performance to matter, and to me it felt like it didn't matter as much as I thought it would.
"The dream is on hold for a little bit but I'm hungrier than ever."
Bryant was one of the hottest players in the big leagues during spring training, batting .425 with nine home runs and knocking in 15 RBI in only 14 games. And yet, the Cubs were believed to be planning on sending him down to the minor leagues regardless of how he performed, and the suspicion was it revolved around the team's wish to manipulate his service time. All told, as long as Bryant, 23, spends 12 days in the minors, his free agency is pushed back until after the 2021 season.
This prompted Scott Boras, Bryant's agent, to savage the Cubs organization on multiple occasions. The MLBPA, meanwhile, lambasted the Cubs by issuing a statement, characterizing Bryant's demotion as "a bad day for baseball."
The Cubs defended the move, arguing it was solely a baseball decision, not a business-related one. Cubs president of baseball operations Theo Epstein said he doesn't put players on the opening day roster who hasn't spent time at the major league level previously.
When asked if he was mad at the Cubs for sending him down, Bryant was hesitant to do so.
"I don't want to talk about that right now," he responded. "When I put on a uniform it's an honor to play for this team.
"I'll use this as motivation and fuel the fire. I've been told a lot in my life I couldn't do it. I kind of go back to my high school days when people doubted me. It's OK to doubt me. I think I've done a pretty good job of keeping my head straight and really working hard. Just more motivation for me."
MORE FROM YARDBARKER
Cubs News

Delivered to your inbox

You'll also receive Yardbarker's daily Top 10, featuring the best sports stories from around the web. Customize your newsletter to get articles on your favorite sports and teams. And the best part? It's free!