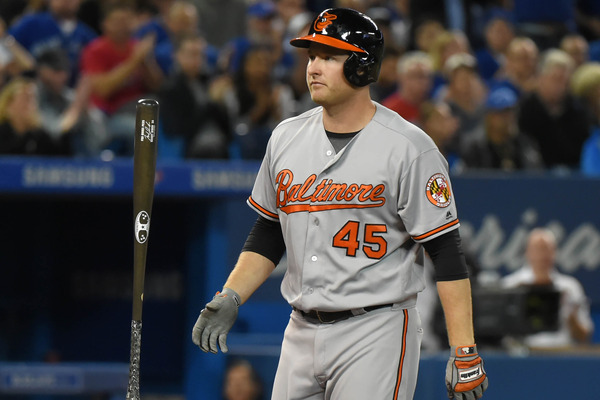 The possibility of the Orioles retaining Mark Trumbo continues to seem less and less likely.
Dan Hamilton-USA TODAY Sports
A Mark Trumbo return to Camden Yards appears to be on life support.
According to a report by Roch Kubatko of MASN Sports on Tuesday, the Baltimore Orioles have made "no movement" towards a deal with Trumbo and are "becoming less likely" to bring him back.
The Orioles reportedly hit a snag last month in their negotiations with Trumbo, who led the MLB with 47 home runs last season, and pulled their offer to him. For what it's worth, they acquired Seth Smith, a player with some pop and some positional overlap with Trumbo, from the Seattle Mariners last week and also have a pair of young right-handed hitters in Joey Rickard and Trey Mancini clamoring for playing time.
Kubatko notes that the Orioles' interest in bringing back Trumbo "hasn't disappeared." But with other teams beginning to knock on Trumbo's doorstep, it's getting increasingly difficult to envision him returning to Baltimore.
MORE FROM YARDBARKER
Orioles News

Delivered to your inbox

You'll also receive Yardbarker's daily Top 10, featuring the best sports stories from around the web. Customize your newsletter to get articles on your favorite sports and teams. And the best part? It's free!