Three Up, Three Down: Don't spend $200 on Wrigley Field ivy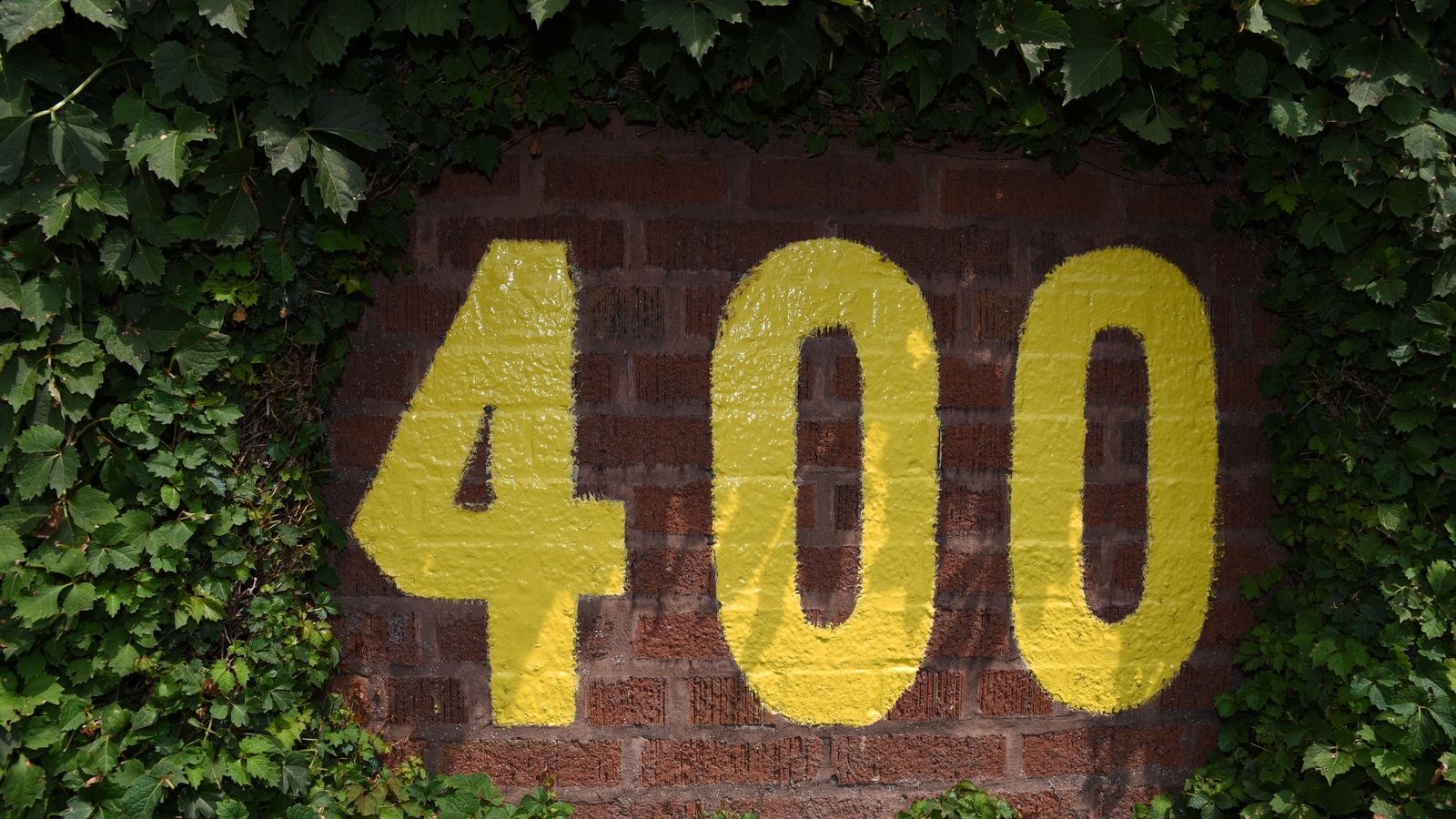 A general view of the Wrigley Field ivy before a game on August 11, 2016 at Wrigley Field. You can own a small piece of this 2016 World Series treasure for the low price of $200.
David Banks/Getty Image
Welcome to this week's edition of Three Up, Three Down — your weekly catch-up of the three best highlights (and lowlights) from around the league. We're here for all of the cheers and the jeers, because it's baseball. You can't have a winner without someone losing along the way.
Up: Aaron Judge is obliterating baseballs right now
Aaron Judge is currently doing all of the right things in the right place at the right times. He's a rookie who is having one heck of a season while playing for the New York Yankees, which means that he will have his own statue and a biography by this time next year if the Yankees continue to play well into October. The Baby Bombers are flying high right now, and his powerful bat is one of the big reasons why.
This past weekend, Judge hit a couple of monster dingers that displayed the terrifying amount of power that Judge is currently wielding in his bat. A homer that he hit on Friday night had an exit velocity that made it the hardest-hit homer in the history of the Statcast Era, and then on the very next afternoon he hit a 495-foot moonshot that actually cleared the bleachers at Yankee Stadium. Judge is laying down the law right now, and nobody in baseball is immune to the brand of justice that he is currently doling out.
Down: Washington's bullpen is dragging them down
We haven't reached the All-Star break just yet, but I feel pretty confident in saying that unless a complete disaster occurs, the Nationals are probably going to win the NL East this season. However, they've got until the trade deadline to fortify the soft underbelly that has emerged beneath the tough turtle shell that represents the rest of the team. The obvious weak spot is Washington's bullpen, and Dusty Baker knows it.
Their offense is fearsome, their starting rotation is solid, and while their defense as a whole isn't impressive, it's enough to where it won't be a liability in the playoffs. Their bullpen as currently constructed would absolutely be a liability, though. If we learned anything from Cleveland and the Cubs' run to the World Series last year, it's that having a solid bullpen can make the difference between success and failure in the playoffs. Right now, the Nationals need to fix their bullpen or they'll have yet another early October exit to look forward to.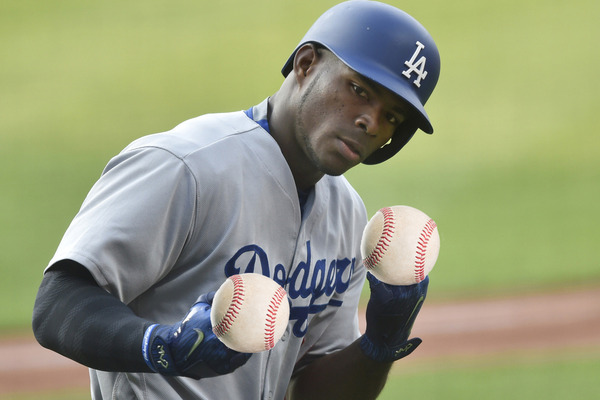 Yasiel Puig reacts to fans behind home plate after hitting a two-run home run in the second inning against the Cleveland Indians at Progressive Field. 
David Richard-USA TODAY Sports
Up: Yasiel Puig Channels the spirit of Steve Austin 
The Dodgers paid a visit to Cleveland to face off with the current AL Pennant holders and things got off to a good start for the visitors from LA as they won the first game of the series. Yasiel Puig played a big part in the victory, as his homer put Los Angeles in the lead in the early stages. As he returned to home plate, Puig decided to let some fans in the stadium know that they were "number one" in his book.
Apparently there were some fans who were heckling Puig, and the Dodgers' slugger decided to rub it in a bit once he came back to home plate. While MLB wasn't amused (he got a one-game suspension for his actions) and his manager was a tad bit concerned, Puig had the full support of the boys in the clubhouse. I'm sure that Stone Cold Steve Austin thought it was awesome as well. As much as I don't condone throwing obscene gestures like that in a place where the youth are present, anything that brings back fond memories of the former beer-swilling pro wrestling champion is fine in my book.
Down: Kevin Kiermaiers adventures come to a halt
Kevin Kiermaier has had a weird year so far. Earlier this year, he made a couple of errors that led to Little League Home Runs and recently he fielded a ball so badly that the umpires were convinced that the ball hit the catwalk at Tropicana Field so the batter was awarded a home run. The ball didn't even come close. However, those were all just strange misadventures. Last week saw Kiermaier suffer an injury in bizarre fashion.
While trying to leg out an infield single, Kiermaier was faced with a horrible choice – either run into the mountain of a man known as Jose Abreu, or slide into first base foot-first and hope for the best. He chose the latter, and the best did not happen. In fact, the worst happened – he suffered a hip injury that will keep him out for at least two months. It's unfortunate, and here's hoping that his recovery is a speedy one. You never want to see players as entertaining and talented as Kiermaier go down, and plus we need more misadventures from the man this season. Get well soon.
Angels left fielder Eric Young Jr. is doused with a bucket of ice water by left fielder Cameron Maybin after hitting a walk off single in the eleventh inning against the Yankees on June 13, 2017.
Jayne Kamin-Oncea-USA TODAY Sports
Up: Angels win another game by bonking the other team
The Angels may not be leading the division (or even close for that matter), but they're leading baseball in one extremely esoteric stat in particular, and that's Walk-Off Victories via Hits Off Of The Opposition's Body Parts. The Angels already won a game after hitting an outfielder in the face with a fly ball, and now they have another win of that variety to brag about.
The Yankees came into town to face the Angels, and they lost Tuesday night's game in 11 innings. The ending came when Eric Young Jr. hit a liner that careened off of the backside of Ben Heller and into the infield. By the time the Yankees infield got to the ball, Andrelton Simmons was at home plate and the mob scene began. The Angels are winning games by hook or crook or by face or butt. Either way, they're out here scrapping and that's always appreciated. 
Down: The Cubs are selling ivy for $200 – seriously 
It's mid-June 2017 and even though they were far-and-away the best team for long stretches of 2016, I still can't quite believe that "Chicago Cubs: World Series Champion" is an actual thing that we have to reckon with. It's still cool that their long streak is over, but there are times where the celebration can seem like less of a genuine expression of joy and more like a cynical cash grab at times, and one of their recent promotions is reaching the latter level.
The Cubs have decided to sell ivy leaves from the 2016 World Series for the bargain bin price of $200 a leaf. Now, I understand that the ivy at Wrigley Field is about as iconic as anything else that exists at the old, venerable ballpark. With that being said, I'm imploring any of the people who are eligible to buy the ivy leaves not to do this. I'm sure that it's lovely having a piece of history in your possession, but please do not drop $200 on ivy. Just imagine what you could do with those two C-notes instead of blowing it on ivy. Think of the thriftiness!
PLAYERS:
Aaron Judge
,
Yasiel Puig
,
Kevin Kiermaier
,
Jose Abreu
,
Andrelton Simmons
,
Eric Young Jr.
TEAMS:
New York Yankees
,
Los Angeles Dodgers
,
Tampa Bay Rays
,
Chicago White Sox
,
Los Angeles Angels
,
Chicago Cubs
MORE FROM YARDBARKER:
QUIZ: Players with a multi-homer game in the World Series since 1985
Cleveland Catcher Roberto Perez hit two home runs in Game 1 of the World Series on October 26, 2016. Can you name the other players who have hit two or three home runs in a World Series game since 1985?
Clue: Year/Team
MORE FROM YARDBARKER
MLB News

Delivered to your inbox

You'll also receive Yardbarker's daily Top 10, featuring the best sports stories from around the web. Customize your newsletter to get articles on your favorite sports and teams. And the best part? It's free!