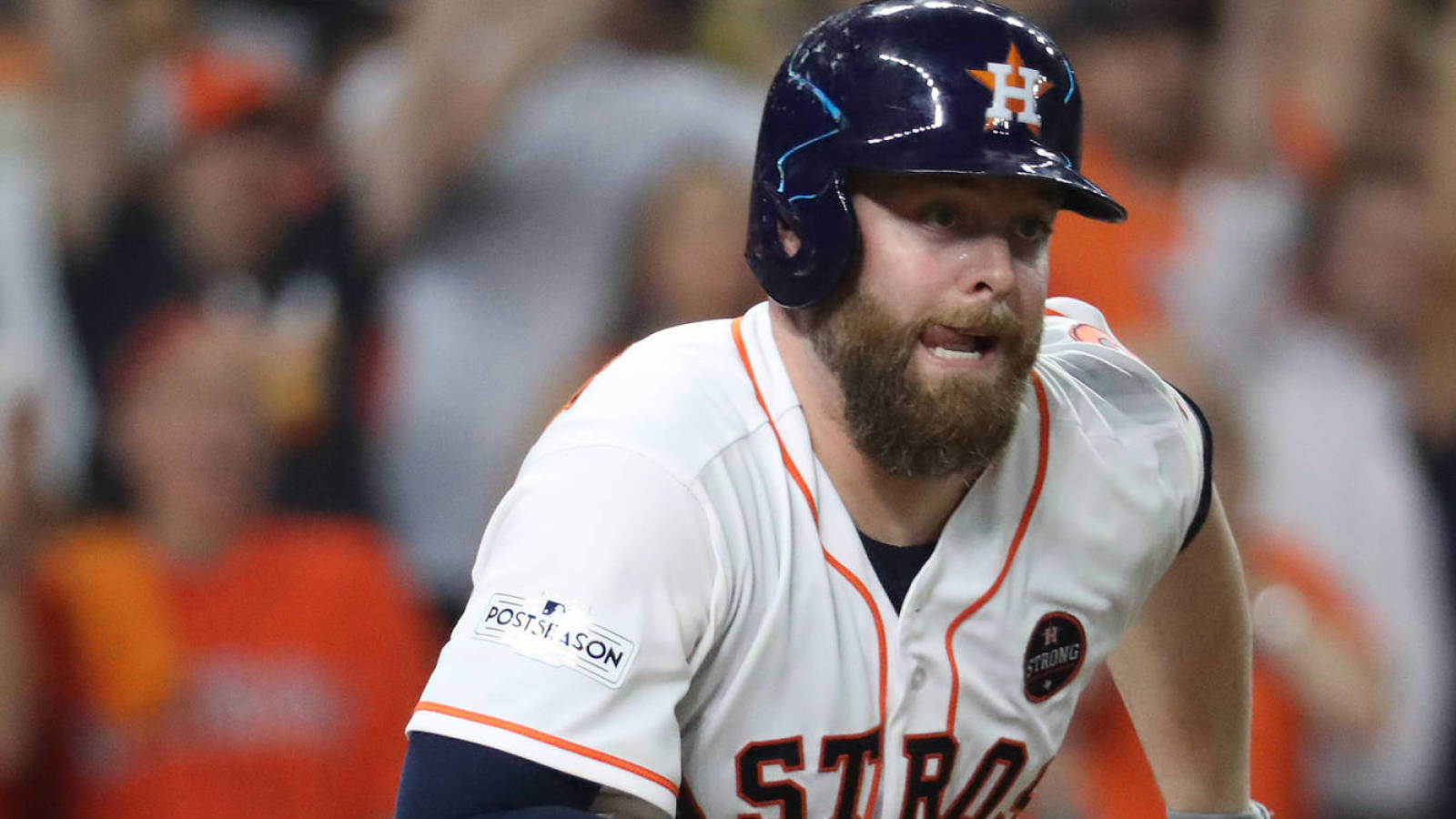 Oct 21, 2017; Houston, TX, USA; Houston Astros catcher Brian McCann (16) hits a two RBI single in the fifth inning against the New York Yankees during game seven of the 2017 ALCS playoff baseball series at Minute Maid Park. 
Thomas B. Shea-USA TODAY Sports
The New York Yankees falling behind the Houston Astros in Game 7 of the ALCS was bad enough, but the way it happened had to be especially painful.
Prior to the 2014 season, the Yankees made a big free agent splash by signing Brian McCann to a five-year, $85 million deal. The catcher delivered in the power department with 69 home runs over three seasons. However, he failed to hit above .242 in any season for the Yankees, making him a disappointment overall.
The Yankees decided to trade McCann in the offseason and found a taker in Houston, which offered two low-level pitching prospects for him. But there was an important catch: the Yankees agreed to kick in some money to help Houston pay his salary. The Yankees are paying $5.5 million to the Astros for McCann this year and next.
Ordinarily this might not be a big deal, but it turned out to be a huge one in Game 7.
McCann made a strong defensive play in the top of the fifth inning to keep a run off the board. Then in the bottom half of the inning, he knocked a 2-run double to make it 4-0.
Do you think that when they traded McCann to Houston the Yankees ever envisioned him coming back to haunt them and prevent them from reaching the World Series? Probably not.
MORE FROM YARDBARKER:
QUIZ: Name every MVP and Cy Young winner in Yankees franchise history
The New York Yankees have 25 MVP award winners and 5 Cy Young award winners in franchise history. How many of these MLB superstars can you name?
Clue: Year award was won
MORE FROM YARDBARKER
MLB News

Delivered to your inbox

You'll also receive Yardbarker's daily Top 10, featuring the best sports stories from around the web. Customize your newsletter to get articles on your favorite sports and teams. And the best part? It's free!