We've updated our Privacy Policy.
By continuing to use this site, you are agreeing to the new Privacy Policy.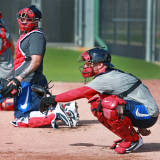 If you've noticed some extra pep in the step of your extremely online baseball fan friend over the last couple of days, it's no coincidence. Pitchers and catchers reported to spring training this week, meaning the MLB season is officially here. Like most sports fans, your last few months were likely occupied by keeping up with either the Winter Olympics, the Josh McDaniels saga or...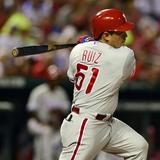 On Thursday, Carlos Ruiz was traded from the Phillies to the Dodgers. Before leaving, he had a few final words for his teammates. Ruiz was drafted by the Phillies back in 1998 and since breaking into the majors in 2006, Philadelphia is the only team he's played for. It's understandable departing would be emotional for the 37-year-old catcher as he's made a lot of friends throughout...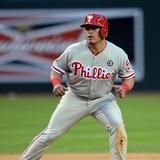 Last night, the Dodgers and Phillies made a deal that, on the surface, is your typical minor August move of minor role players. The Dodgers landed Carlos Ruiz, a 37 year old catcher, in exchange for A.J. Ellis, a 35 year old catcher, and a prospect of dubious quality. The impetus for the trade seems pretty clear; Ruiz can still hit lefties a bit, and so he's a better fit as Yasmani...
LIKE WHAT YOU SEE?
GET THE DAILY NEWSLETTER:
Philadelphia Phillies' catcher Carlos Ruiz is temporarily leaving Spring Training to chase what may be a unique opportunity.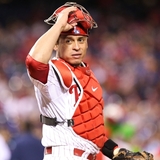 CLEARWATER, Fla. (AP) Philadelphia catcher Carlos Ruiz, one of the last remaining members of the team's glory years, is eager to win his starting job back this spring in what's likely his final season with the Phillies. Ruiz has been working with pitchers and fellow catchers the past week since camp opened in Clearwater, Florida. In 2015, his 10th season with the Phillies, Ruiz...
Long-time Philadelphia Phillies' catcher Carlos Ruiz provides strong praise for the man who may eventual be his replacement.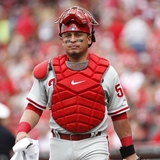 (Photo: Matt Rappa/Philliedelphia) With the 10th season officially in the books for 2008 World Series champion catcher Carlos Ruiz, Philliedelphia's latest installment of "Season in Review" will examine the Panamanian-native's 2015 contributions to the Philadelphia Phillies. At the Plate Excluding his rookie season, Ruiz's production hit career-low marks nearly across...
View image | gettyimages.com The Philadelphia Phillies will honor the career accomplishments of catcher Carlos Ruiz this afternoon in the season finale against the Miami Marlins. The following is from a team press release: Chooch Recognition Ceremony: Phillies catcher Carlos Ruiz, who this season caught the fourth no-hitter of his...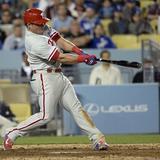 New Philadelphia 76ers draft pick Jahil Okafor was invited by the Philadelphia Phillies to toss out the ceremonial first pitch Tuesday night before taking on the Milwaukee Brewers. For a basketball player, it was not a terrible first pitch, although it ended up getting away from the Phillie Phanatic, who was none too pleased with his glove afterward. ICYMI: #Phanatic wasn't happy...
Last weekend, Phillies Nation was granted VIP Access to Sports Vault's All Access program at the Philadelphia Sports Card Show and Convention. There, we were able to speak to a number of the guests which included many Phillies, past and present. For the next week, please check out our exclusive interviews and give our friends at Sports Vault a click for the best sports memorabilia...
MORE STORIES >>
Mariners News

Delivered to your inbox

You'll also receive Yardbarker's daily Top 10, featuring the best sports stories from around the web. Customize your newsletter to get articles on your favorite sports and teams. And the best part? It's free!