Ian Happ looks to have solidified his place in the lineup—at least for now—as the Cubs' lead-off hitter. But while Happ has earned the chance to be in the lineup every day, it's unclear exactly where he fits in the field. The Cubs will likely start the 2018 season with an outfield comprised of Kyle Schwarber, Happ, […]
Kyle Hendricks had another outstanding performance on Thursday against Arizona at Sloan Park. A little power from an unexpected source supplied the Cubs offense. (Box score) Why the Cubs Lost The D-Backs hit a pair of garbage-time jacks to take a lead in the 9th inning. Key Moment Jason Heyward blasted a two-run homer to … The post CI Recap (3/15/18) – Diamondbacks 3, Cubs 2: Hendricks...
The Chicago Cubs have an overcrowding problem developing in their outfield. With Kyle Schwarber, Ian Happ and Albert Almora are all emerging as everyday options, what does that mean for Jason Heyward? When the Chicago Cubs signed right fielder Jason Heyward three years ago expectations...
Jason Heyward struggled to produce during his first two seasons with the Cubs. With the North Siders aiming to win a second World Series title in three years, will anything change with Heyward in 2018?
In a slight change from what we've seen thus far in the leadoff spot, Jason Heyward will get a chance start the offense this afternoon. Heyward wasn't among those players widely presumed to have the best shot at the role, but spring training is all about experimenting. It's also starting to look as though Kyle … The post Chicago Cubs Lineup: Heyward Leads Off, Bryant Returns in Quintana...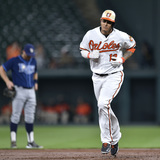 Some significant news has already come out of the Orioles' annual FanFest event, and here are some more items from some reporters on hand (including Eduardo A. Encina and Jon Meoli of the Baltimore Sun, PressBoxOnline.com's Rich Dubroff, and MASNsports.com's Roch Kubatko)… The Orioles expect Manny Machado to be on the roster on Opening Day and, while they didn't entirely close the...
As a self-proclaimed, high-ranking member of the Jason Heyward Fan Club, the past calendar year-and-a-half hasn't been particularly easy. Despite his glove being as elite as advertised, the lack of offensive production that Heyward has demonstrated at the plate has proven to be too much (too little?) for most Cub fans to handle, leaving the […]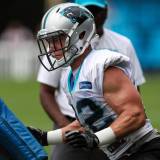 Want more news first thing in the day? Sign up for the Yardbarker Morning Bark newsletter here.Good morning and welcome to the YB Box Score, what we're reading while sorting through all of our fantasy football notification emails. Happy birthday today to Jason Heyward, JaMarcus Russell, Joel Anthony, Chamique Holdsclaw, Matt Morris, Derek Fisher, Rod Brind'Amour, Deion Sanders, Vinny...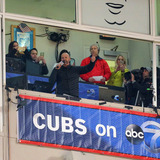 David Ross put himself to good use between innings during Sunday's Chicago Cubs-St. Louis Cardinals game.Ross, a former Cubs catcher who retired after winning the World Series, is now serving as a broadcaster for ESPN. He was an analyst on "Sunday Night Baseball" in place of Jessica Mendoza, who's covering the College World Series, and decided to warm up ex-teammate Jason Heyward...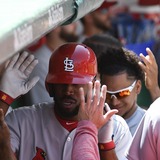 Friday marked Dexter Fowler's return to Wrigley Field for the first time since leaving the Chicago Cubs. It was certainly a memorable return.Prior to the game, Fowler, now with the St. Louis Cardinals, finally received his well earned World Series ring. Jason Heyward and Anthony Rizzo presented the ring to Fowler in a pregame ceremony, which included a standing ovation from the Wrigley...
MORE STORIES >>
Cubs News

Delivered to your inbox

You'll also receive Yardbarker's daily Top 10, featuring the best sports stories from around the web. Customize your newsletter to get articles on your favorite sports and teams. And the best part? It's free!