We've updated our Privacy Policy.
By continuing to use this site, you are agreeing to the new Privacy Policy.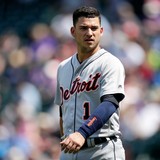 The Tigers announced that they've agreed to a one-year deal with shortstop Jose Iglesias for the 2018 season, thus avoiding arbitration. Terms of the deal weren't disclosed, though Anthony Fenech of the Detroit Free Press reports that Iglesias will earn $6.275M on the deal (Twitter link). That rather handily tops the $5.6M projected arbitration salary from MLBTR contributor Matt...
Jose Iglesias is a shortstop capable of doing some pretty terrific things on a baseball field. I say that now because there's going to be plenty of .gifs in this post that paint Iglesias in a not-so-positive light, and it can be a weird feeling to make a player look bad based solely upon which clips you've hand-chosen to show, so here, look at all the incredible things Jose Iglesias...
Detroit Tigers shortstop Jose Iglesias says he has no regrets about the dugout altercation between him and catcher James McCann in last nights loss to the Boston Red Sox. With that comment in addition of the comments he made in the very brief media session today before the beginning of the game proves that he just doesn't get it. Here is more on what he said to the media from Chris...
LIKE WHAT YOU SEE?
GET THE DAILY NEWSLETTER:
mlb.com When your glove is as good as Jose Iglesias', you don't even need to look.  On Saturday against the White Sox, Iglesias battled the sun on a soft liner hit right at him.  At the last second, he had to look away.  He stuck up his glove and…happy birthday to him.  There's nothing worse on the baseball field (injuries aside) than losing a ball in the sun. Sometimes it's better...
Jose Iglesias Detroit Tigers Shortstop, Jose Iglesias came out of the game in their 3-2 loss  to Houson Astros Saturday afternoon after he was attempting to beat out a throw to first, which he did, but it came with a price. Iglesias ran down the first baseline and as he hit first base clipped first baseman, Chris Carter and he tumbled to the ground almost doing a somersault. The...
Most players make it to Major League Baseball without a fully refined skillset. Some players make it to the majors with a particular skill so great it outweighs a lack of skills normally required to function at the major-league level. Sometimes, it is an electric fastball despite a lack of command or secondary pitches. For […]
Tigers shortstop Jose Iglesias is celebrating his 25th birthday today and preparing himself for the 2015 season where he will be a key player in the Detroit Tigers World Series hunt. Iglesias missed all of the 2014 season after suffering stress fractures in his legs during spring training. In 2013 the Tigers used a combination of Alex Gonzalez, Andrew Romine, Eugenio Suarez and Hernan...
Remember Jose Iglesias? You know, the guy we traded away in exchange for now-San Francisco Giant Jake Peavy in a three-way deal? After missing the entire 2014 season with stress fractures in both of his shins, word is that the 24-year old shortstop will be 100% healthy for the 2015 season. Perhaps the slickest Red Sox defensive shortstop in a generation, Iglesias began to show surprising...
Detroit Tigers GM Dave Dombrowski stated that whatever the results of Jose Iglesias' most recent checkup reveal, that he is not expected to play for the team at any point in 2014. Well, I guess that ends that discussion. What it also does is open up a whole new can of worms. Do the Tigers once again hit the trade market in mid to late July and add a shortstop, most likely one in...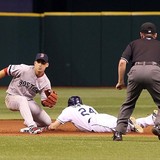 The Detroit Tigers remain atop the standings in the American League Central, even after a rough stretch of games that included dropping four of seven on the west coast. Their shortstops however, are bottom-feeders to the core. Before we get too far into this it is worth noting that yes, Andrew Romine's defense has been commendable. But enough with the accolades already… How about...
MORE STORIES >>
Tigers News

Delivered to your inbox

You'll also receive Yardbarker's daily Top 10, featuring the best sports stories from around the web. Customize your newsletter to get articles on your favorite sports and teams. And the best part? It's free!