Good morning Mets fans! Today, Matt Harvey will face off against the St.Louis Cardinals. After striking out eight Marlins in five innings his last time out, Harvey will look to keep the good times rolling. Today's game will broadcast on 710 WOR. Yesterday, Steven Matz silenced any concerns about his poor spring, pitching six innings of two-run ball against a potent Astros offense...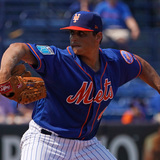 Mets left-hander Jason Vargas suffered a non-displaced fracture of his right hamate bone during his outing Friday, the team announced. It's unclear how long Vargas will be on the shelf, though Kristie Ackert of the New York Daily News estimates two to six weeks, depending on whether he undergoes surgery. General manager Sandy Alderson told Tim Britton of The Athletic and other reporters...
It has been a long time since Matt Harvey's "Dark Knight" days. Harvey Day was a holiday at Citi Field, Mets fans came expecting a dominant and well-pitched game from their ace. There has not been a Harvey Day since 2015. This was the last time the "Dark Knight" made an appearance at Citi Field. Two years later, Harvey is looking to regain a semblance of his former self. 2018 will...
  New York Mets' starting pitcher Matt Harvey made some notable comments yesterday, as per Kevin Kernan's article this morning for the New York Post, after an encourage outing in which the 28-year-old struck out eight batters in five innings of work. The fact that he allowed six hits and three earned runs is an afterthought to Harvey as he talks about his changeup, "That's the big...
PORT ST. LUCIE — What a change from a year ago. In more ways than one for Matt Harvey and the Mets. Harvey has a feel for the baseball again, something he didn't have last year because he was recovering from thoracic outlet syndrome surgery. That change Thursday was obvious as Harvey struck out the...
After two good starts to open Spring Training and a poor start Saturday, Mets right-hander Matt Harvey combined a little bit of all three in his fourth outing. Harvey allowed three earned runs on six hits over five innings in his deepest start so far against the Marlins at First Data Field on Thursday.
New York Mets pitcher Matt Harvey discusses his outing on Monday, a successful start which lasted three scoreless innings in Port St. Lucie.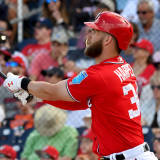 It took longer than expected, and a select few big names do remain unsigned, but the main free agents of the 2017-18 class are largely signed. What caused the slow signing class is a matter of some debate between MLB and the MLBPA (which you can read about here). But one potential cause of the slow activity was the loaded free agent class of 2018-19.It's certainly possible that teams...
New York Mets pitcher Matt Harvey talks about his first start of Spring Training, in which he tossed two innings of one-run ball.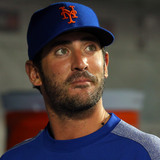 The New York Mets are still hoping to find something left in Matt Harvey's once-vaunted right arm.As Harvey finishes off another poor, injury-plagued campaign, Mets general manager Sandy Alderson said Friday that the team intends to tender him a contract, and he expects the right-hander to stay with the Mets this winter. It's hard to believe that it's been less than two years since...
MORE STORIES >>
Mets News

Delivered to your inbox

You'll also receive Yardbarker's daily Top 10, featuring the best sports stories from around the web. Customize your newsletter to get articles on your favorite sports and teams. And the best part? It's free!