We've updated our Privacy Policy.
By continuing to use this site, you are agreeing to the new Privacy Policy.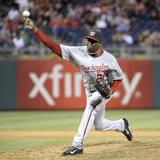 From the beginning of 2013 until now, Rafael Soriano has been the closer for the Washington Nationals. After a rough start to the second half of the season, however, his future in this role appears to be in doubt. After struggling to a save while allowing one run in Friday night's victory over the Pittsburgh Pirates, Soriano gave up three runs in 1/3 of an inning on Sunday evening...
So Rafael Soriano took the opportunity to rip Bryce Harper last night for his miscue in the 9th inning on Gregor Blanco's game-tying triple. Via USA Today Sports: "With two outs and the tying run at first, you have to play the outfield so the ball doesn't go over your head,'' Soriano said in Spanish. "It may not have been a catch-able ball, but if we're positioned...
(Photo of Raffy in the cold on Sunday in Viera by @djbinFl) On Sunday, Adam Kilgore of the Washington Post Tweeted a link to a 2012 WSJ story about Rafael Soriano's entrance song: "El Rey de Monticulo—"The King of the Mound." The song is about Soriano, was written for Soriano by a family friend in the Dominican Republic, and features inspirational lyrics (in Spanish) like "Pitch...
MORE STORIES >>
MLB News

Delivered to your inbox

You'll also receive Yardbarker's daily Top 10, featuring the best sports stories from around the web. Customize your newsletter to get articles on your favorite sports and teams. And the best part? It's free!