We've updated our Privacy Policy.
By continuing to use this site, you are agreeing to the new Privacy Policy.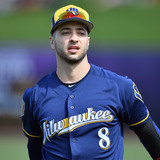 The Milwaukee Brewers have a lot of outfielders. Depth is good, of course. But in Ryan Braun's case, that means having to try out new things. Specifically, first base. But right now, he's nowhere near comfortable."I don't feel remotely comfortable now. I'm doing the best I can with it. Guys have to make sacrifices. Ultimately, if you want to get where we want to be as a team, based...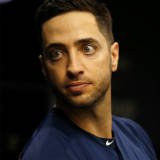 From Pete Rose hitting the ring in three separate WrestleManias to Wade Boggs inducting his friend Curt Hennig into the WWE Hall of Fame in 2007, baseball and professional wrestling has had a lengthy relationship.This is another one of those tales.When Adam Scherr was trying to figure out what his WWE alter ego would be, he was without a name for a while before one stuck."I had pitched...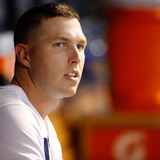 Pirates GM Neal Huntington suggested today that he expects new acquisition Corey Dickerson to handle the bulk of the action in left field for he coming season, as MLB.com's Adam Berry report on Twitter. No doubt the Bucs will end up giving Dickerson some time off against lefties; while he performed well against southpaws last year, he has long carried wide platoon splits. But it...
LIKE WHAT YOU SEE?
GET THE DAILY NEWSLETTER: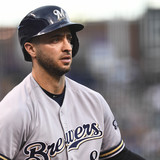 A few notes from the National League… Alex Anthopoulos hasn't made many headline-grabbing transactions this winter, his first as Atlanta's GM, though he revealed Saturday that the Braves "kicked around trying to get a (number) one- or two-type starter." They're holding off on that for the time being, though, per the Atlanta Journal-Constitution's Jeff Schultz, who relays that the...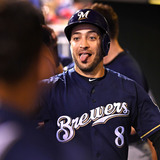 The big-name arrivals this week of Christian Yelich (via trade) and Lorenzo Cain (via free agency) could mean some major lineup shuffling for the Milwaukee Brewers next season.Brewers general manager David Stearns said on Friday that the team has spoken to former National League MVP outfielder Ryan Braun about the possibility of moving to first base, per Bob Nightengale of USA TODAY...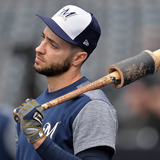 Ryan Braun is a name that has been linked to the Los Angeles Dodgers for nearly a year now, but it sounds like the team has never really been close to acquiring the slugger.According to Jon Heyman of FanRag Sports, the Dodgers have had "no serious talk" about Braun since last year. And even last year, Heyman says a deal between L.A. and the Milwaukee Brewers "didn't come as close...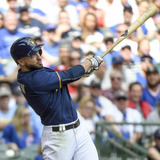 Rumors of a potential Ryan Braun trade to the Dodgers continue to swirl.During the week, MLB.com's Jon Paul Morosi reported that the Milwaukee Brewers and Los Angeles Dodgers remain in contact about a potential trade of Braun. On Saturday, the Boston Globe's Nick Cafardo reported the same.The Dodgers and Brewers were in talks last year about a potential trade involving Braun but...
Ryan Braun is not exactly helping his public image with quotes like these.Braun on Thursday ripped spring training for being too long, and he did not mince words. Yes, that's Ryan Braun, who makes $19 million a season, complaining that players don't get paid by the hour.This isn't the first time Braun has gone down this road when it comes to complaining about spring training.Braun...
MORE STORIES >>
Brewers News

Delivered to your inbox

You'll also receive Yardbarker's daily Top 10, featuring the best sports stories from around the web. Customize your newsletter to get articles on your favorite sports and teams. And the best part? It's free!