We've updated our Privacy Policy.
By continuing to use this site, you are agreeing to the new Privacy Policy.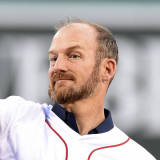 Ryan Dempster on Tuesday took to Twitter to apologize for a joke about the recent death of a beloved minor-league bat-dog.Derby, the revered team bat-dog for the Trenton Thunder, a Double-A affiliate of the New York Yankees, succumbed to cancer and passed away at the age of nine over the weekend. "Derby was one of the biggest parts of our identity in the nine years of his life and...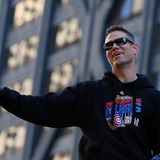 When your plan for the season was written on a hotel bar napkin and you ultimately ended up a World Series Champion, you're allowed to do anything you want. This includes taking batting practice off of a former All-Star pitcher during spring training.Cubs president of baseball operations Theo Epstein recently took his front office baseball skills to the cage. He took a pitch off...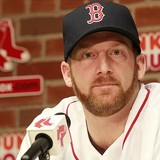 Your browser does not support iframes. Ryan Dempster may be taking off the 2014 MLB season — and leaving $13.25 million on the table by doing so — but that does not mean he has retreated from the public eye. In fact, in light of the former (current?) Boston Red Sox pitcher's role as color […] The post MLB Network debuts 'Ryan Dempster and the Amazing Technicolor Dreamcoat' (video...
LIKE WHAT YOU SEE?
GET THE DAILY NEWSLETTER:
Ryan Dempster wore a bright red suit while on MLB Tonight and, thanks to some TV wizardry from the studio technicians, it turned into different colors while on the air.Dempster's 50 shades of fashion had his studio co-hosts cracking up and wondering if the always stylish former MLB pitcher was plugged into something under his desk Thursday night.Just guessing that red is the new...
The relatively surprising news that Ryan Dempster will not be pitching in the 2014 season is a  blessing in disguise for the Boston Red Sox. It does a couple things for them: By losing Dempster to temporary retirement, the Red Sox have now freed up the log jam that was their starting rotation. It also puts a nice chunk of money ($13.25 million) back on the books for Ben Cherington...
Pitchers and catchers have been in camp less than 48 hours and we already have our first casualty of the 2014 season. Ryan Dempster has announced that he'll sit out the upcoming year to address neck pain that has been making it increasingly difficult to pitch. Signed to a two year deal in 2012, the Dempster gave us pretty much what we expected last season, if not a little less: an...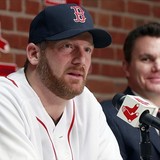 At a press conference earlier today, Red Sox swing man pitcher Ryan Dempster announced he will not be pitching in 2014. He didn't call it a career though, and said he would be open to the idea of pitching again in 2015, an idea which seems far-fetched. Dempster, 36, was scheduled to earn $13.25 million this season but was battling to earn a roster spot which seemed unlikely for him...
The Boston Red Sox just won the World Series , so you know the drill ... a few hours later we can expect to see photos of the players partying it up in a nightclub somewhere, right? Not Ryan Dempster. Apparently the Boston hurler was content to stay until closing time at Fenway, throwing batting practice pitches to anyone still hanging around the ballpark. That is Ryan Dempster...
Canadian Ryan Dempster went back to his roots breaking out a suit that resembled something a lumber-jack would wear falling tress deep in the Canadian forest. Dempster boarded the plane to St.Louis pimping the threads for the flight and no doubt garnered praise from his bearded lumber jack resembling cohorts. No question about it, they know how to have fun in Boston   The post...
Sunday night the Boston Red Sox lost their third series in a row but it wasn't completed without some controversy. Starting Pitcher Ryan Dempster began Sunday Night with a scoreless first inning and was given a 2-0 lead entering the 2nd inning. Public Enemy number one Rodriguez led off the 2nd inning against Dempster. After missing on his first attempt of hitting Rodriguez he tried...
MORE STORIES >>
MLB News

Delivered to your inbox

You'll also receive Yardbarker's daily Top 10, featuring the best sports stories from around the web. Customize your newsletter to get articles on your favorite sports and teams. And the best part? It's free!