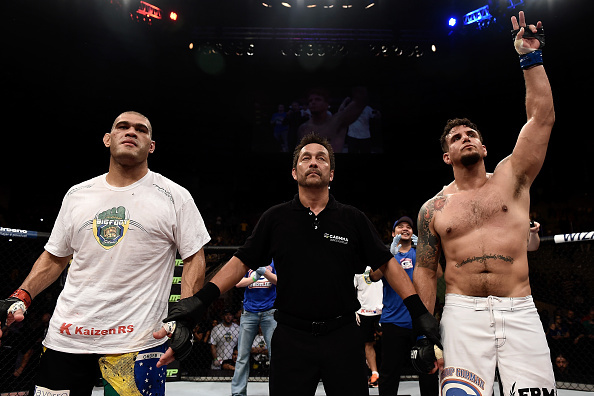 A bettor won nearly $50,000 on a $1 UFC parlay.
Buda Mendes/Zuffa LLC/Zuffa LLC via Getty Images
By Steve DelVecchio
Hardcore UFC fans who missed the live broadcast of UFC Fight Night 61 in Brazil on Sunday were likely stunned when they looked over the results. Antonio "Bigfoot" Silva and Edson Barboza were defeated on a night that was loaded with upsets, as 10 betting favorites lost their fights. That resulted in a huge payday for one savvy gambler.
The sports gambling website Bovada shared a slip on Monday morning that showed a bettor won $48,291 on a nine-leg, $1 parlay. He bet on nine underdogs.
Check out our biggest winner from #UFCFightNight 61. Player bet $1 on a 9-leg all-underdog parlay and won $48,291! pic.twitter.com/bfMDzy7hre

— Bovada Official (@BovadaLV) February 23, 2015
You want to know what's even more crazy? The guy didn't even hedge his bet after he went 8-for-8. He let everything ride on Frank Mir against Silva in the main event. Either the bettor didn't realize he was one win away from $50K, or he has some serious stones.
@john_drama He did not hedge!

— Bovada Official (@BovadaLV) February 23, 2015
That may be the craziest parlay we have ever seen, and we've shown you some insane ones in recent months. Good for that guy.

MORE FROM YARDBARKER
MMA News

Delivered to your inbox

You'll also receive Yardbarker's daily Top 10, featuring the best sports stories from around the web. Customize your newsletter to get articles on your favorite sports and teams. And the best part? It's free!