We've updated our Privacy Policy.
By continuing to use this site, you are agreeing to the new Privacy Policy.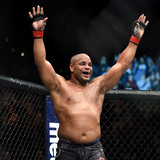 Get ready, UFC fans. You're about to get another clash of champions.Heavyweight champion Stipe Miocic is going to defend his title at UFC 226 on July 7. But here's the catch: it's against UFC light heavyweight champion, Daniel Cormier. But that's not all. These two title-holders, of course, will star as coaches during The Ultimate Fighter 27. Excited yet?Both Miocic and Cormier have...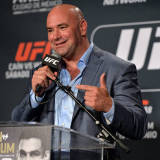 By Michael Stewart  An altitude difference of 7,000 feet and a 602-day layoff were enough for former UFC Heavyweight Champion Cain Velasquez to cough up his belt at UFC 188 against Fabricio Werdum. The new "Baddest Man on the Planet" won his sixth consecutive fight (and ninth out of his last 10) to achieve what once was thought of as an impossible dream after Werdum was initially...
Cain Velasquez showed that he had a warrior's heart and an iron chin at UFC 188, but his lungs were not match for the high altitude in Mexico City. The post UFC 188: Werdum Wins And Velasquez Gasps For Air appeared first on The Sports Fan Journal.
LIKE WHAT YOU SEE?
GET THE DAILY NEWSLETTER: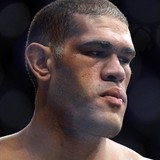 Junior dos Santos (pictured) wasn't fighting for the title Saturday at UFC 188, but the former heavyweight champion still had plenty of skin in the game. Needless to say, dos Santos left Mexico a happy hombre. Well, MMA's nicest 265-pounder is always all smiles anyway, but Cain Velasquez's upset loss to Fabrico Werdum probably had JDS flipping countless Yes! Cartwheels. It was...
By Larry Brown Maybe Cain Velasquez was a lot more rusty than most people anticipated entering his fight against Fabricio Werdum. Velasquez, who hadn't fought in a year and a half, lost to Werdum by third-round submission at UFC 188 on Saturday night in Mexico City. The former UFC heavyweight champion showed signs of being gassed towards the end of the first round, which could...
The folks at EA Sports have released a video simulating Saturday night's UFC 188 pay-per-view main event bout between UFC heavyweight champion Cain Velasquez and interim title holder Fabricio Werdum. After a back-and-forth start, Velasquez is able to pull away in the third round to earn a TKO victory as he retains and unifies the UFC belts. Do you agree with how the EA Sports UFC...
Now tell me if this ain't the pot calling the kettle black. A 33-year-old heavyweight who tested positive for elevated levels of testosterone just 20 months ago is now thinking aloud whether reigning UFC heavyweight champion Cain Velasquez hasn't been taking performance-enhancing drugs his whole career.Veteran Ben Rothwell (pictured), who is three days removed from a submission victory...
Jon Jones has flirted with the idea of moving up to heavyweight, and now he feels pretty comfortable with pursuing that goal. In fact, Jones believes he can beat current heavyweight champion Cain Velasquez. Jones spoke at the "UFC: Welcome to the Show" event in Los Angeles last week and again expressed interest in moving up in weight and eventually facing Velasquez. "I don't know...
Cain Velasquez appeared on the latest edition of 'The MMA Hour' radio show on Monday to discuss his continued knee troubles that kept him from defending his heavyweight title at UFC 180 against Fabrico Werdum this coming weekend in Mexico. Velasquez had been set to come back after shoulder surgery which kept him out of action this year, but once he was back in training it became...
UFC heavyweight champion Cain Velasquez just can't seem to get any luck injury wise with it now emerging that his latest knee issue has turned out to be worse than was originally anticipated. Velasquez had originally been dealing with a slight tear to his miniscus during fight camp, but had intended to compete against Fabricio Werdum at UFC 180 with it anyway. However, a slip during...
MORE STORIES >>
MMA News

Delivered to your inbox

You'll also receive Yardbarker's daily Top 10, featuring the best sports stories from around the web. Customize your newsletter to get articles on your favorite sports and teams. And the best part? It's free!