We've updated our Privacy Policy.
By continuing to use this site, you are agreeing to the new Privacy Policy.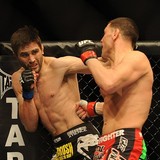 There are plenty of things that separate combat sports from the numerous other sports that fill our television screens each week. The violence involved in a sport where knockouts earn you paychecks is slightly different from the ball and stick games that have captured American imaginations. But the other major factor that separates combat sports from everything else is how championships...
Kids, take note. What you see above is what happens when one attempts to block elbows and punches with their nose.That is the broken beak and mangled mug of former UFC welterweight top contender Thiago Alves. Granted, it isn't as battered and bloodied as it was Saturday night in the cage when Carlos Condit decided to unleash a diversified flurry of strikes on it, but as the old adage...
After spending over a year away from the octagon due to a torn ACL, Carlos Condit returned to do what he does best last night – inflict his unapologetic brand of ultraviolence. The man they call the "Natural Born Killer" was given a tough test in his return in the form of 19-fight UFC veteran Thiago Alves. Condit's output in his first fight back was something to behold. NBK landed...
LIKE WHAT YOU SEE?
GET THE DAILY NEWSLETTER:
Carlos Condit (pictured) said he thought a win over Thiago Alves could put him right back in the UFC welterweight title mix, and Condit decided to go all "Natural Born Killer" to prove it.Condit can thank his sharp and vicious elbows for his TKO victory over Alves. Things swung in Condit's direction in the second round when he dropped Alves with a quick standing left elbow to the...
When you watch a UFC event you want to see some fast and furious action. You don't want to see a couple of dudes dance around the ring, throw a couple of punches, hug, break apart, and do it all over again. That's just boring Floyd, and it is not what UFC fans got that were watching Carlos Condit and Thiago Alves fight in Brazil Saturday night.Condit, aka the Natural Born Killer...
Carlos Condit broke Thiago Alves nose with an elbow tonight at UFC Fight Night 67 which eventually led to a doctors stoppage in-between the second and third rounds of this entertaining main event scrap. Round One: Condit with a high body kick to start. He comes forward with punches, but Alves backs away. Leg kick for Condit. Hard high kick for Alves that's blocked. Condit...
According to Comissao Atletica Brasileira de MMA (CABMMA), the Brazilian committee sanctioning Saturday's UFC Fight Night 67 event inside Goiania Arena in Goiania, neither Thiago Alves (pictured) nor Carlos Condit were required to submit random, pre-fight drug tests prior to headlining Saturday's show. "We have not drug tested Carlos and Thiago yet; no 'camp' tests have been done...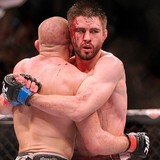 Carlos Condit Vs Thiago Alves is rumored to be going down at UFC Fight Night 67 on May 30th. Condit will be returning following a year long lay-off after he suffered a torn ACL and partially torn meniscus that required surgery during a takedown in the second round of his fight with Tyron Woodley at UFC 171. Defeat that night left him with just one win in his last four fights, though...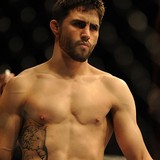 Carlos Condit lost to Tyron Woodley at UFC 171 by TKO on Saturday night after being unable to continue following a major knee injury. Condit was kicked by the Woodley in the left knee, then spun back to remain standing, but his right knee gave out. The right knee is where he reportedly suffered a […]
During Thursday's UFC 171 conference call, former interim welterweight champion Carlos Condit (pictured) revealed he will earn next dibs status with a win over Tyron Woodley in the March 15 event. According to Condit, UFC brass have informed him that he will get first crack at either Johny Hendricks or Robbie Lawler, who battle for the vacant 170-pound crown that same evening inside...
MORE STORIES >>
MMA News

Delivered to your inbox

You'll also receive Yardbarker's daily Top 10, featuring the best sports stories from around the web. Customize your newsletter to get articles on your favorite sports and teams. And the best part? It's free!