We've updated our Privacy Policy.
By continuing to use this site, you are agreeing to the new Privacy Policy.
Tito Ortiz doesn't really care about what MMA fans think about him, and he even embraced the haters at Bellator 180 on Saturday night. Not only was Ortiz completely unfazed when the fans started a "F— you, Tito!' chant, but he even incited them to be louder in doing so, turning to the crowd and motioning for them to give more. So, in case watching Chael Sonnen and Wanderlei Silva...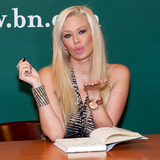 Jenna Jameson responded to a vulgar zinger she was the target of during Thursday's Bellator 170 press conference between Tito Ortiz and Chael Sonnen.Sonnen and Ortiz are fighting on Saturday in a heavily hyped fight. Sonnen is known for having a big mouth, so it's no surprise he brought out the blasts during the press conference. That included a reference to Jameson, whom Ortiz dated...
Tito Ortiz is an MMA legend. He was once considered a very bad man in the Octagon, but that was a long time ago. The veteran fighter is still plugging away at it though. He just doesn't win as often as he used to. He had won his last two heading in to Saturday night's fight against Liam McGreary at Bellator 142, but had lost six of seven prior to that.Things didn't go so well against...
LIKE WHAT YOU SEE?
GET THE DAILY NEWSLETTER:
Despite appearances to the contrary, Tito Ortiz is not about to lose his competitive edge anytime soon. The former light heavyweight world champion and UFC Hall of Famer may be into his fifth decade – he was 40 on January 23rd – but his appetite for confrontation and his desire to compete at the very highest level remain as ferocious as ever. After 17 years in the game, he's still...
Tito Ortiz registered a win over Alexander Shlemenko in his Bellator MMA debut on Saturday night. Ortiz defeated Shlemenko with a first-round arm triangle choke submission, and very few were surprised. Shlemenko is a small middleweight who had to move up to fight Ortiz and the odds were stacked against him. In fact, the size […]
Before you ask--yes, that is the Tito Ortiz; the guy you used to watch from back in the day. He was a beast at one time in the UFC, but had a hard time winning when he tried to make a comeback. So when his contract ran out it was bye bye UFC and eventually hello to Bellator.Saturday night in Memphis Alexander Shlemenko probably wished Ortiz had stayed with the UFC.@ZProphet_MMATo...
Tito Ortiz is back all over the MMA scene and may be returning to fight Bellator middleweight champion Alexander Shlemenko on May 17. Ortiz appeared on Bellator's show Friday and discussed the fight with Shlemenko. Accompanying him at Pechanga Resort & Casino in Temecula, Calif., for the show was his new girlfriend, model Amber Nichole […]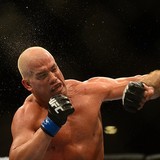 Tito Ortiz just did Cris "Cyborg" Justino (pictured) the biggest favor of her life – that is, if you were to ask UFC president Dana White. Ortiz has officially stepped down as Justino's manager, presumably helping ease her path towards the Octagon. Here is Ortiz's statement to "Inside MMA": "I can live with Dana not liking me but what I can't live with is Dana using me to hurt someone...
Tito Ortiz was arrested for DUI after a night of partying at the Playboy Mansion, according to a report. The MMA legend ran his 2012 Porsche Panamera into a concrete median on the 405 early Monday morning, TMZ reports. They say he was partying at the Playboy Mansion for a BCS football party before driving […]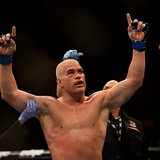 Former UFC light heavyweight champion and Tito Ortiz has suffered a fractured neck that will put him out of action for several months while also cancelling his scheduled bout against Quinton "Rampage" Jackson on November 2. Ortiz was set to come back to the sport after retiring in 2012 following a loss to Forrest Griffin and his induction into the UFC Hall of Fame. Following his...
MORE STORIES >>
MMA News

Delivered to your inbox

You'll also receive Yardbarker's daily Top 10, featuring the best sports stories from around the web. Customize your newsletter to get articles on your favorite sports and teams. And the best part? It's free!