BIG3 Week 4: Shine on me, Philadelphia three-dom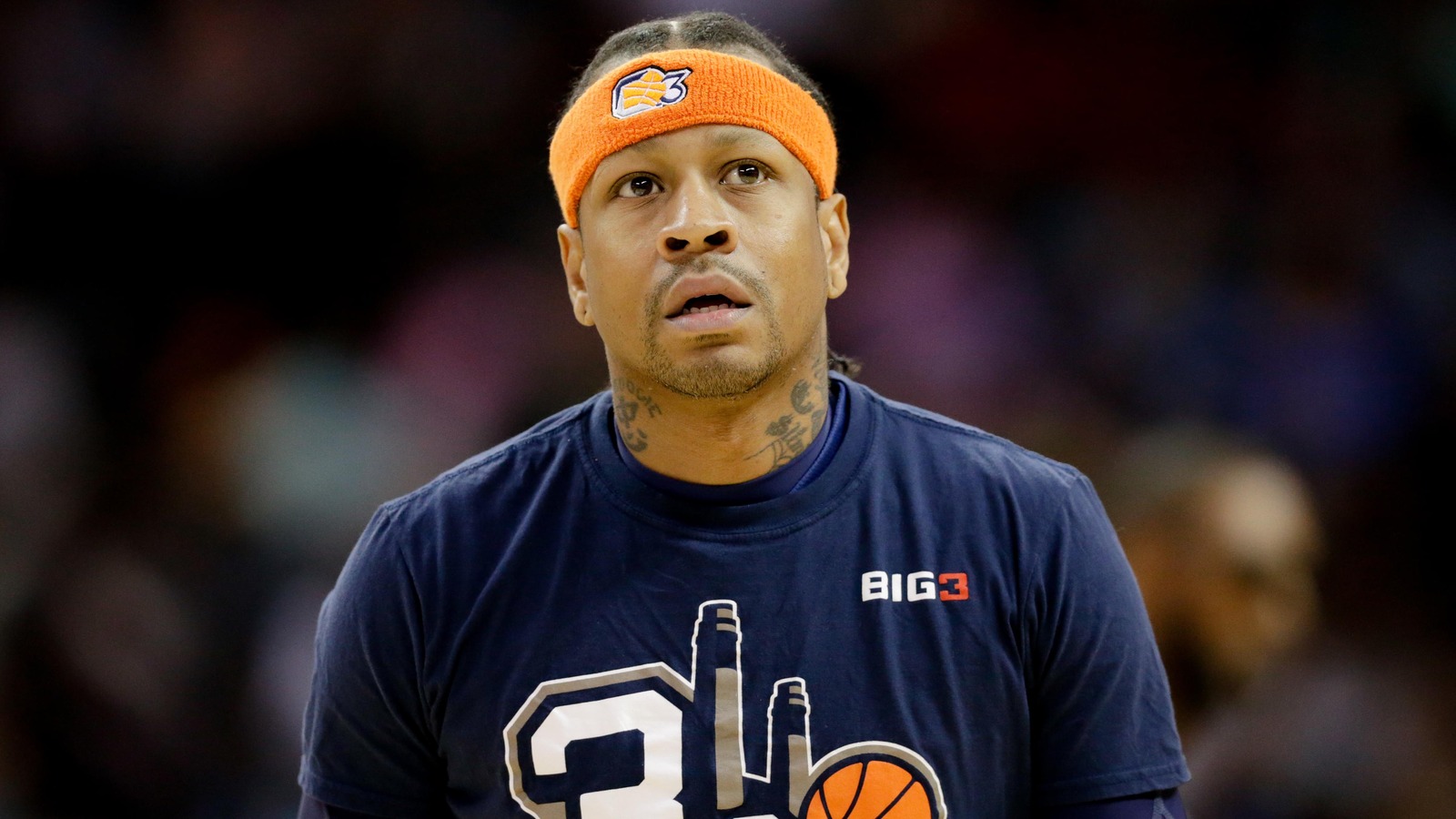 3's Company player Allen Iverson stands on the court prior to the game against the Ghost Ballers at Spectrum Center on June 2, 2017. This weekend marks Iverson basketball homecoming in Philly. 
Jeremy Brevard-USA TODAY Sports
The BIG3 makes its way to the City of Brotherly Love for Week 4, joining the pantheon of great Philadelphia basketball moments. 1983: Moses Malone leads the Sixers to Fo', Fo' Five and a title. 2001: Allen Iverson steps over Tyronn Lue in the Finals. 1959-1962: Wilt Chamberlain makes love to 1,500 women. 1990: A couple of guys that were up to no good beat up Will Smith on a playground. And now, the BIG3!

Philly is ready for the BIG3 because they've had four years of The Process, with the 76ers intentionally losing games, trading away any veteran with talent, and watching lottery pick after lottery pick get injured. Yes, this will be a less-athletic, lower-scoring version of NBA basketball, but then again, that's also true for the Sixers. At least old guys have an excuse: what's Jahlil Okafor's excuse for his immobility? So punch some frozen beef, jog up the steps of the Art Museum, and enjoy a Shirley Temple with Joel Embiid while you check out another week of BIG3 action.

Game One Ghost Ballers (2-1) vs. Power (2-1)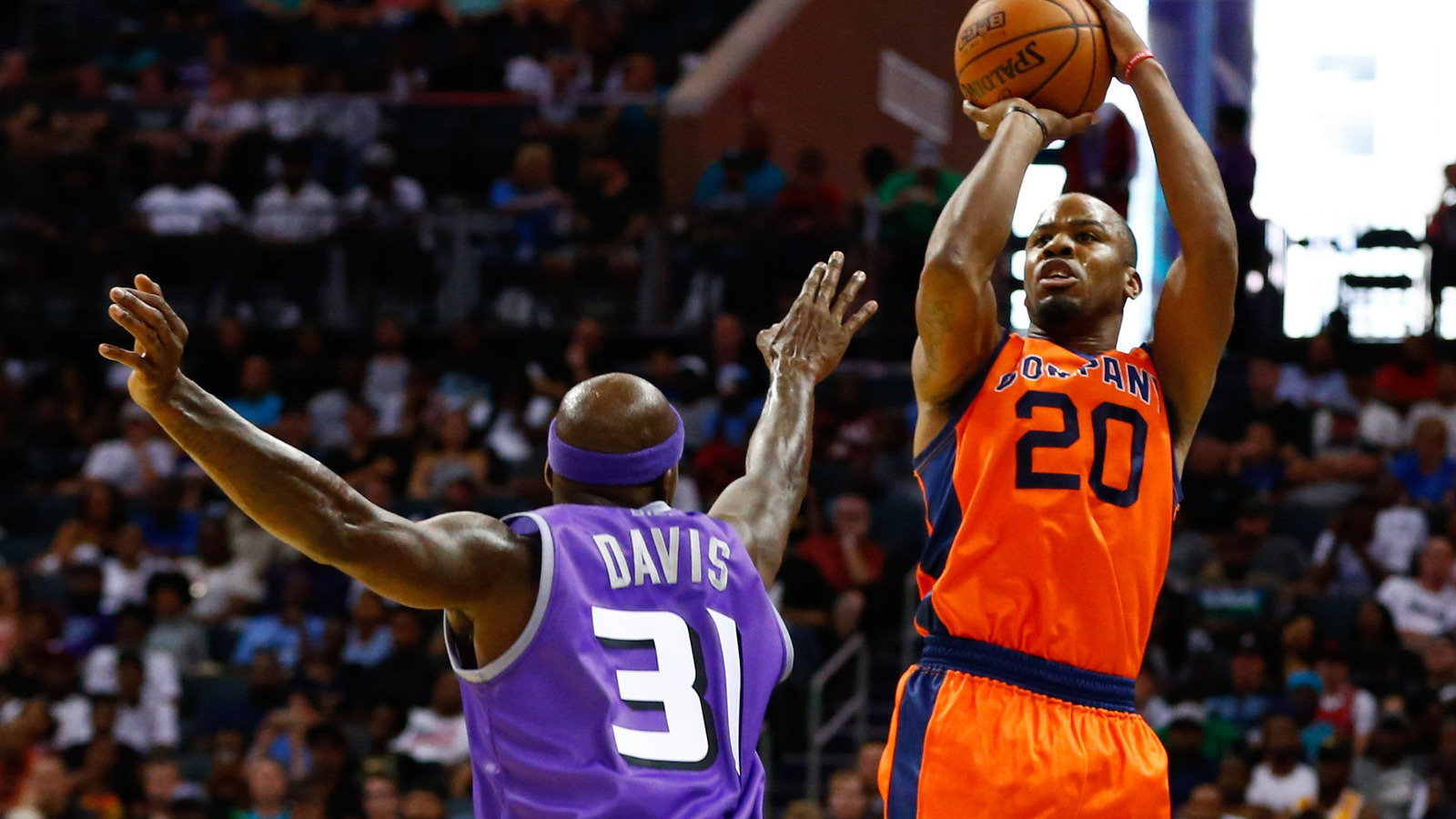 3's Company player Andre Owens shoots a three point shot against Ghost Ballers player Ricky Davis at Spectrum Center.
Jeremy Brevard-USA TODAY Sports
The Ghost Ballers finally got the Ricky Davis everyone had been expecting. Mike Bibby followed up his Player of the Week performance by taking only one shot – an air-balled four-pointer. But this was Ricky's element; shooting, shooting, and shooting some more. Meanwhile, just like all his NBA opponents, children in the crowd, sharks, and pit bulls, the Ball Hogs were scared of Ivan Johnson. He racked up 16 points, 9 rebounds and a permanent place in Brian Scalabrine's nightmares.

Previously undefeated Power had a nightmarish game against 3 Headed Monsters, getting blown out by 18 points. They allowed 58% shooting, and DeShawn Stevenson missed seven threes. If they can't get out on Ricky and Bibby, they could get blown out again – especially if Jerome Williams can't deal with Ivan Johnson. Junk yard dogs are mean, but not nearly as mean as Ivan.

Prediction: Ghost Ballers take it, 50-44, with the Ricky Davis scoring inferno raging for one more week.
Game Two Trilogy (3-0) vs. Ball Hogs (1-2)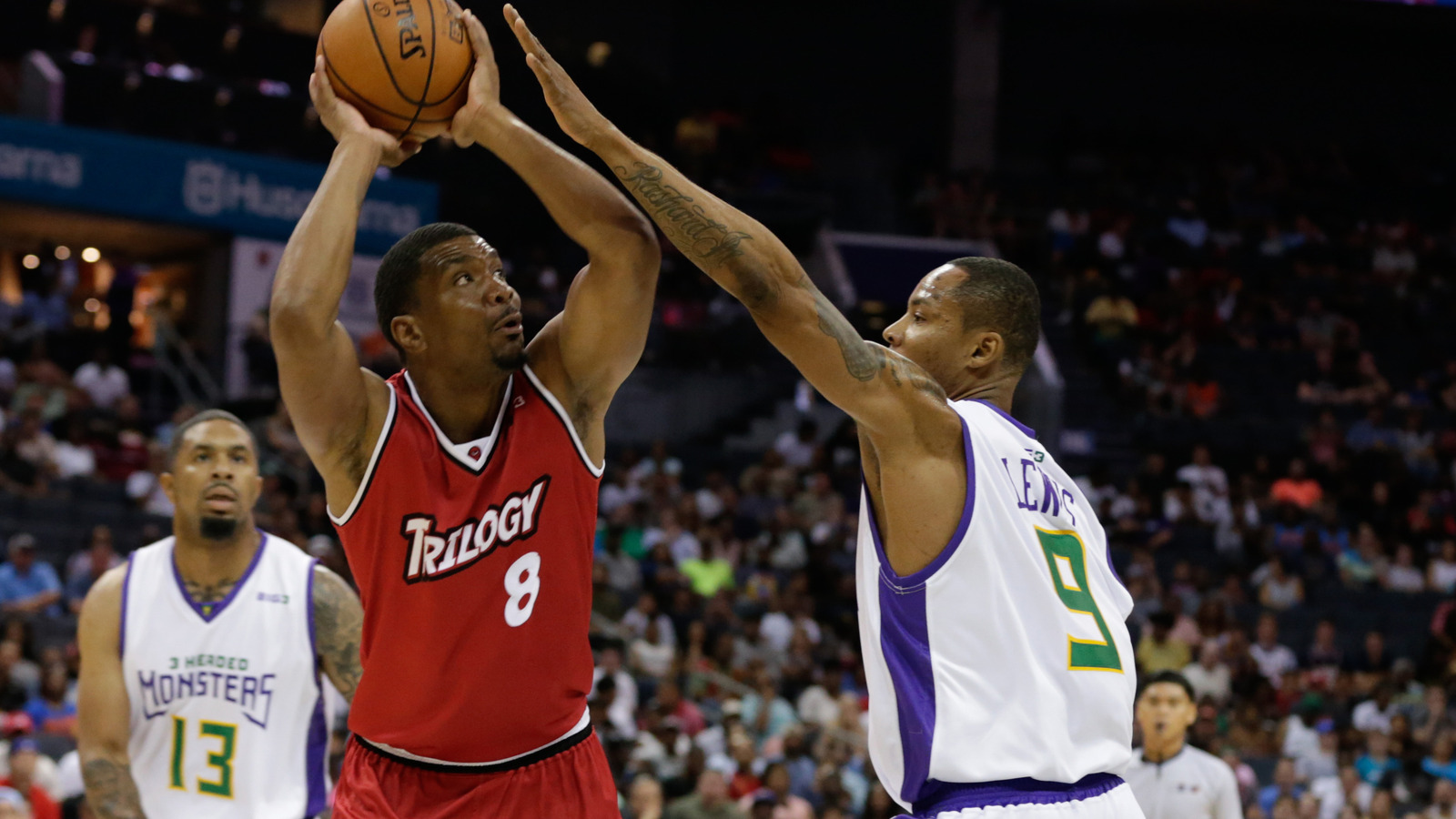 Trilogy player James White shoots the ball against 3 Headed Monsters player Rashard Lewis at Spectrum Center.
Jeremy Brevard-USA TODAY Sports
Al Harrington was Player of the Week in Charlotte, with a line of 18 points, five rebounds, and two assists. He's now hit the game-winning basket in all three games. Last week, it truly was a Trilogy, as three players – Harrington, James White, and Rashad McCants – scored all the points. Trilogy only played one other guy, Dion Glover, and he didn't even shoot. Kenyon Martin has been sidelined for weeks, but when White is getting ten boards a game, Trilogy barely needs him. They're 3-0, they've won by an average of 12 points per game, and with guys at ages 32, 34, and 37, they're easily the youngest starting lineup in the BIG3. And crucially, winning big means there's fewer possessions for someone to pull a muscle.

Ball Hogs failed to build on the momentum from their Week 2 comeback win, though they played Ghost Ballers close. They shut down Mike Bibby, Rasual Butler continued to score, they shot 40% from three-point range, but the one thing they didn't do was make their free throws. They went 1-5 from the FT2 line, and even missed an and-one. You know Coach Rick Barry has been harassing them all week to start shooting underhand, but I just don't see Derrick Byars or Josh Childress switching it up like that. Brian Scalabrine, on the other hand…

It is going to come down to Rasual Butler again for Ball Hogs, but even if he stays hot from outside, it's not clear that anyone on the team can guard White and McCants, who have started bullying defenders in the post as well as killing teams from the perimeter. The scary thing for the league is Trilogy's not even at full strength yet. If K Mart can return and they become a Quadrology, look out.

Prediction: Trilogy wins 50-39, with Harrington dunking the game-winning basket. 

Game Three Killer 3's (1-2) vs. 3 Headed Monsters (2-1)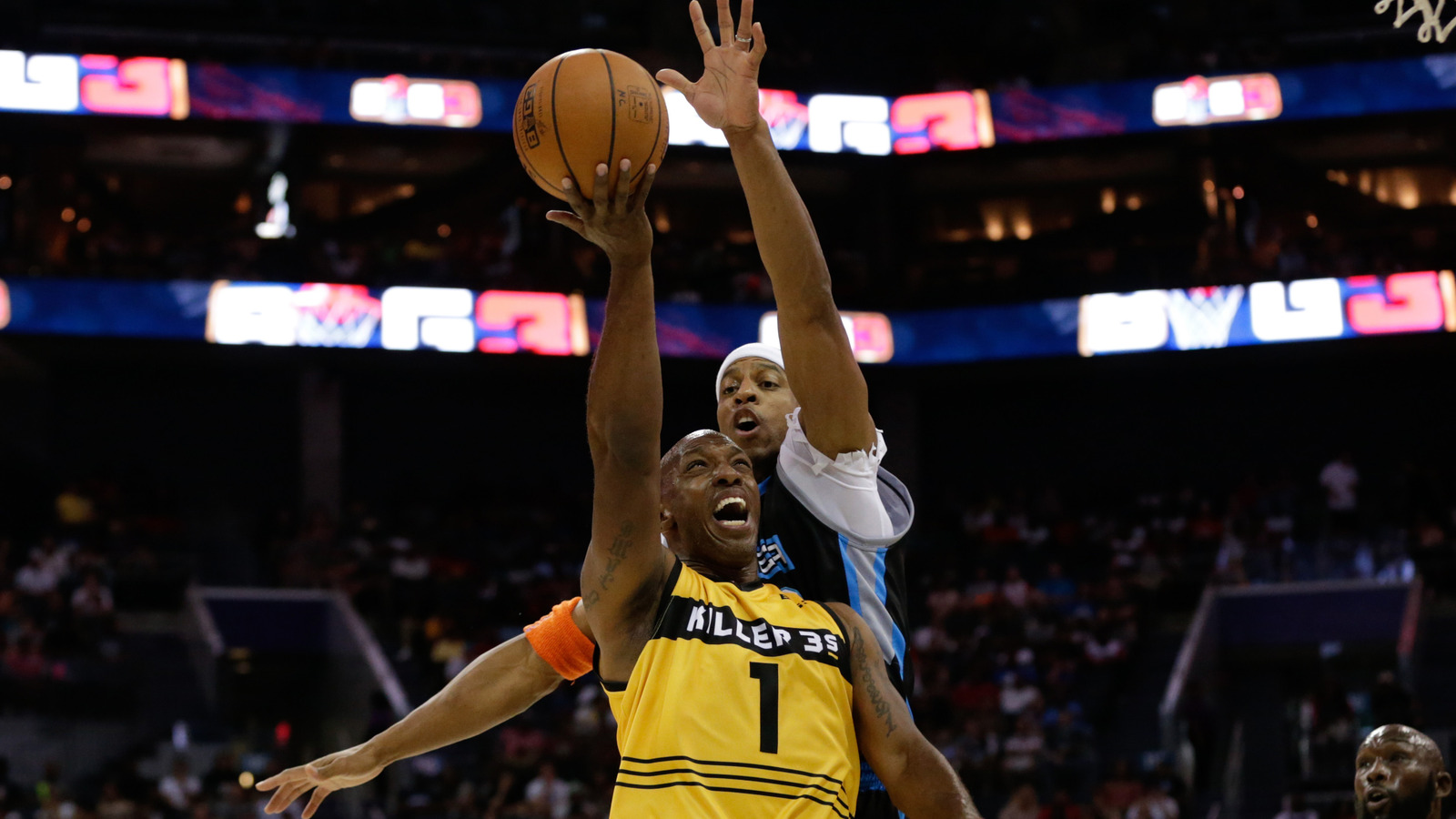 Killer 3s player player Chauncey Billups goes up for a shot against Power player Jerome Williams at Spectrum Center on July 2, 2017.
Jeremy Brevard-USA TODAY Sports
It took about a game and a half for him to truly get his three-on-three legs under him, but Chauncey Billups is committed to the Killer 3's, and he's dangerous. Locked in a tight battle, Billups and Stack Jack kept drawing fouls, and clinging to a small lead, Mr. Big Shot drilled a dagger four-pointer. Actually, "dagger" seen insufficient for four points - it was more like a machete four-pointer. Trailing by 11 at halftime, Killer 3's won it at the line, including a couple of technical fouls. Shockingly, the team with Stephen Jackson kept their composure and let Tri State beat themselves. And it was a perfect Reggie Evans game: he made 4 of 5 shots, he grabbed EIGHTEEN rebounds, and he had six fouls. All he was missing was a gratuitous nut punch.

Meanwhile, Mahmoud Abdul-Rauf turned back the clock to his LSU days, with 22 points, five assists, and four three-pointers. BIG3 scoring leader Rashard Lewis had his usual 20 points, and when anyone besides Lewis is hitting jumpers, that team is hard to beat. That being said, the Killer 3's backcourt will absolutely attack the 48-year-old Abdul-Rauf - age has never stopped Stack Jack from getting physical with somebody before. That being said, the two most crucial matchups are Kwame Brown vs. Reggie Evans in the post, and Charles Oakley vs. Gary Payton in trash talk. Both should be tight battles, both will probably lead to technicals, and while I like the Glove's verbal dexterity, I like the toughness of the Killer 3's.

Prediction: Killer 3's in a thriller, 51-48.   

Game Four 3's Company (1-2) vs. Tri State (0-3) 
3's Company player Allen Iverson (3) smiles during the game against the Ghost Ballers at Spectrum Center.
Jeremy Brevard-USA TODAY Sports
If we are ever going to see a throwback Allen Iverson game, it's going to be this week in Philadelphia. This could be the week that player-coach Iverson emphasizes the "player" half, especially facing the BIG3's other legend, Coach Julius Erving of Tri State. These are the two greatest 76ers in history (apologies to Hal Greer, Billy Cunningham, and Michael Carter-Williams) and the loser gets booed off the court. This is Philly, baby!

Both teams are struggling. Tri State lost to the previously-winless Killer 3's, and even Dermarr Johnson's four-point shooting excellence couldn't help 3's Company against Trilogy. For the second week in a row, Tri State blew a giant halftime lead. Clearly, Doctor J needs to step up his halftime speech game. Maybe he can get a hologram of Burgess Meredith as Mickey to fire up the team.

On the court, it's all about Tri State's ability to play defense without fouling. Jermaine O'Neal picked up six fouls last week, and Mike James had a whopping 8. They've got the size to bother 3's Company, but the question is, do they have the endurance? If the game was only played to 40, I'd like Tri State, but expect a big closing push from Andre Owens to pull it out for 3's Company.
Prediction: 3's Company takes it, 50-45, with Iverson notching a season-high of points that's still in single digits.
MORE FROM YARDBARKER:
QUIZ: Name the Top 25 all-time leaders in rebounds in the NBA
Some of the greatest big men in the history of the NBA are notorious for their rebounding skills. Can you name the Top 25 career leaders in rebounds in the NBA? All stats current through the end of the 2016-17 season.
MORE FROM YARDBARKER
Bulls News

Delivered to your inbox

You'll also receive Yardbarker's daily Top 10, featuring the best sports stories from around the web. Customize your newsletter to get articles on your favorite sports and teams. And the best part? It's free!